The roots of Greek cuisine lie in the home kitchen, rather than in restaurants: The country was largely agrarian until the middle of the 20th century, and Greek women, not professional chefs, found creative ways to use each season's produce. Important ingredients all over Greece have long included grains, legumes, vegetables, olive oil, and dairy (made into the country's famous cheeses and yogurt).
With its many islands, Greece has probably more boats per capita than cars. Nevertheless, fish and seafood have never been plentiful enough to become a staple for most people who live near the sea. Meat was also eaten in small amounts until fairly recently, but since the mid-1960s, as the country has become more affluent, it has taken a more significant role in people's everyday diets.
Greek food still follows the seasons. Home cooks don't make stuffed tomatoes or melitzanosalata (eggplant spread) in the winter, although these vegetables are now available year-round. Many traditional dishes are still closely related to religious holidays. Magiritsa, a delicious soup made with chopped lamb's innards, scallions, and dill, with a tart egg-and-lemon sauce, is eaten only on Good Saturday, after the midnight Resurrection Mass. Pork is associated with the Christmas and New Year table, while fish is consumed on March 25, Annunciation Day, and always at the solemn meals that follow funerals.
Lunch, eaten around 2 p.m., and dinner, eaten after 8.30 p.m. and often at 10 p.m. or even later, are the two principal meals of the day. Breakfast is usually just a cup of coffee, occasionally accompanied by a cookie or biscuit. Meals include a fresh salad of raw or blanched seasonal vegetables or greens, and end with seasonal fruits. Sweets were originally part of the festive table but now tend to be eaten at all times of the day.
Though Greece doesn't have a longstanding restaurant tradition — many Greeks describe good restaurants as serving "home-cooked" food — there are plenty of great places to eat, including casual tavernas; hasapotavernes (butcher's taverns), which serve charcoal-grilled meats such as pork and lamb that are hard to make at home; seaside restaurants serving simply cooked fresh fish; farmers' markets; and a growing crop of fine dining restaurants, particularly in Athens. We've included regional culinary specialties and where to find them. Also be sure to ask the locals where they eat wherever you go.
Athens
Taking the cue from high-end Greek restaurants abroad, some talented chefs in Athens have started to leave behind the mediocre imitations of French and northern Italian cooking and are trying to create dishes inspired by the foods of their mothers and grandmothers. While there are expensive restaurants, some of the best and most authentic food is found inside humble downtown taverns and at stalls on the street.
If you follow the downhill trail at the southwestern part of the Acropolis, you will find the upper entrance to the Agora, the ancient marketplace of Athens. A visit to the site and to the Agora museum, which has many ancient cooking and serving utensils, gives a sense of the everyday life during classical times. A short walk through the narrow streets of the Monastiraki neighborhood (which is mainly occupied by kitschy "Greek Arts" stores) leads to Athinas Street, where the modern agora is located. The triangle enclosed by the streets Athinas, Evripidou, and Sophocleous comprises the core of the market.
Although many stores and stalls have undergone serious renovation in recent years, you'll still see whole slaughtered animals and parts of meat and innards hanging in the corridors of the vast hall. At the fish market, seafood of all kinds lies on crushed ice atop marble counters. The scent of fresh blood and fish intermingles with the aroma of garlic, oregano, and other dried herbs sold by vendors at every corner. Walking down Evripidou Street, you smell cumin, cinnamon, and other spices, often mixed with the sweet intoxicating aroma of incense, all sold at spice shops here.
This is the area for street food, including gyro, souvlaki (pork or lamb kebobs), tyropita (cheese pies), and spanakopita (spinach pie). Bakeries on every corner have their own versions of savory pies; seek out horiatki pita, "country pie" made with thick olive oil–phyllo pastry, filled with spinach, scallions, and Feta, and baked in large round pans.
While the central market doesn't have a lot of vegetables and fruits, produce can be found at touring farmers' markets that appear once a week in every Athenian neighborhood. The huge Saturday market of Neos Kosmos, behind the Intercontinental Hotel, is one of the best ones, while on Fridays there is a farmers' market in Koukaki, a short walk from the Acropolis.
If you're looking for bars, coffee shops, and clubs, head to Herakleidon Street in the old neighborhood of Thission — it's the meeting point for Athenian youths. On sunny days you can enjoy a frappé (ice-cold foamy instant coffee) sitting at a sidewalk café, as the locals do. Southwest of the central market is Psiri — it seems that every house in this once-dilapidated neighborhood has become a restaurant or a bar, and many have live music (particularly on Sunday afternoons during the winter).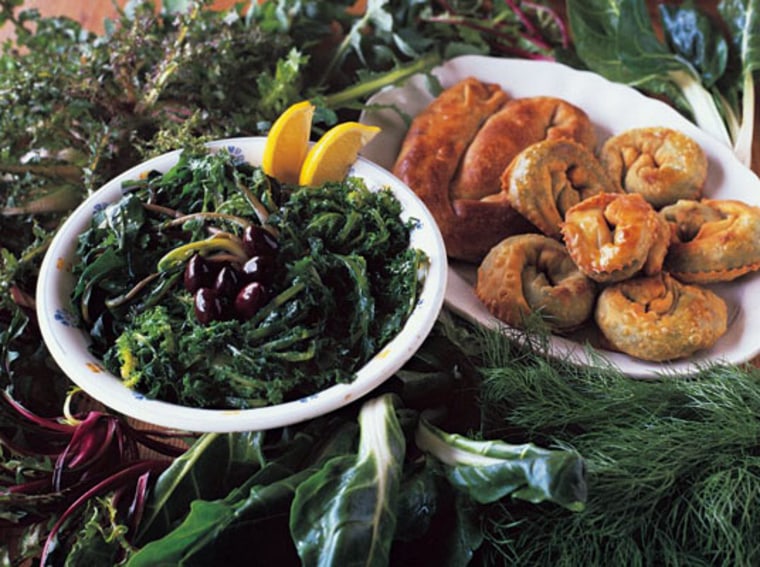 Mount Parnassus, less than a three-hour drive from Athens, is a favorite winter destination, with ski slopes and plenty of hotels in the surrounding villages. This is shepherd's country, where the Sarakatsani nomads have settled permanently and continue to herd sheep and goats. My favorite Feta cheese, creamy and rich, is made in Parnassus, as is katiki, a slightly tangy spreadable fresh cheese made from a combination of goat's and sheep's milk that's the perfect addition to salads and grilled summer vegetables.
Further north, the mountainous and once isolated prefecture of Evrytania has become a favorite weekend destination for young Athenians, with luxurious small boutique hotels in some villages. Stremmenos Pork Meat Factory in the picturesque village of Proussos produces exquisite organic ham, sausages, and other products according to traditional recipes.
Wines/grapes native to this region: Savatiano, which is made into Retsina and also an eponymous fruity and versatile white wine.
Aglaia Kremezi is a cookbook author, journalist, and photographer. She was born in Athens and now lives in Kea, Cyclades. Her books include "The Foods of the Greek Islands" and "The Foods of Greece."