The 26-year-old Chinese entrepreneur who was carjacked by alleged Boston Marathon bomber Tamerlan Tsarnaev described a frightening encounter.
"I think I was really lucky,'' Danny said of his escape. "God was with me."
To protect his privacy, the man spoke with Matt Lauer on TODAY with his face concealed and his voice modified, going only by his nickname, "Danny,'' to describe the events of April 18. Three nights after the bombing, Danny was sitting in his new Mercedes when a man came from behind the car, put his hand through the open window and opened the door from the inside before pointing a gun only inches from his head.
Danny did not know it was Tamerlan Tsarnaev. His attacker asked him if he had been following the news of the bombings.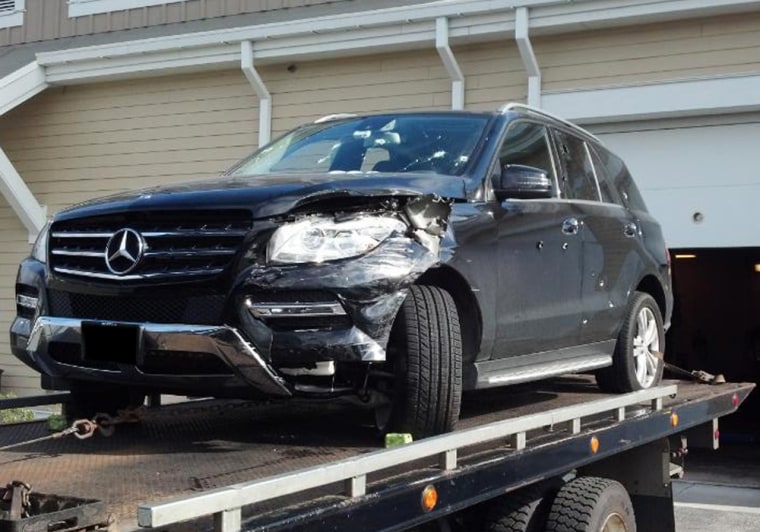 "I said, "Yes, of course,''' Danny told Lauer. "Then he said, 'I did that. And I just killed a policeman in Cambridge.'''
Danny drove as Tsarnaev pointed the gun at him. Tsarnaev's younger brother, 19-year-old bombing suspect Dzhokhar, followed them in a sedan.
"At first, I can't manage to drive,'' Danny said. "I was shaking. My body was shaking. Tamerlan told me, 'Relax, man. Slow down. Don't drive too fast.'''
Tamerlan soon took over the wheel and Dzhokhar joined them in the Mercedes. The brothers loaded items from the second car into the Mercedes, which Danny said he now knows were explosives but did not know at the time. The two stopped at a gas station in Cambridge.
Green Honda could prove crucial if Tsarnaev charged in MIT officer's killing
"I think Dzhokhar is, like, a follower,'' Danny said. "He went out to the A.T.M. (at the gas station). He went out to get the gas. Tamerlan never got out of the car."
At one point in the carjacking, Danny received a call from his roommate.
"I missed the first call because Tamerlan was trying to talk to me,'' Danny said. "He asked me, 'Who is calling you?' I said, 'It's my roommate.' And he was nervous. He took out his gun, (pointed) it to me, saying, 'If you say any single word in Chinese, I will kill you right now.'''
The roommate was speaking in Chinese when Danny took a second call from him; Danny answered in English.
"I (said), 'I'm going to sleep in my friend's place tonight,''' he said. "My roommate is like, 'What? Why you (speaking) English to me?' I kept talking, (saying) 'I gotta go, I gotta go.'''
With the car stopped at a gas station, Danny made his move to escape. When Dzhokhar left his vehicle to go to an A.T.M. and pump gas, Danny unbuckled his seatbelt with his left hand, opened the door with his right hand and ran from the car with Tamerlan still sitting in it.

"I took off,'' he said. "(Tamerlan) tried to grab me. He was trying to grab me. It was very close. I can feel it."
Danny ran to another gas station and called 911, telling police they could locate the suspects through his car's satellite system and the iPhone he left behind.
Police used the car's GPS to track the suspects, cornering the two brothers before a shootout left Tamerlan dead and put 32 bullet holes in the Mercedes.
To keep hopeful through his ordeal, Danny said he thought of a girl he had met in New York.
"Actually I must say I like her,'' he told Lauer. "I think that it gave me encouragement. I want to see her again. That's what I was thinking. I told her. She (felt) it's unbelievable: 'Oh my God.' She said she's proud of me.''

Danny's actions may have prevented further bloodshed that night.
"I was trying to do what I can do,'' he said. "I was still worried it will come back to me. When I heard the news (that Tamerlan was killed by police), I (felt) a little bit of relief.''
"He doesn't like to think of himself as a hero," said James Alan Fox, a professor of criminology and Danny's adviser. "Because in his own words, he was only trying to save himself. But of course, by saving himself, he may have saved countless other lives, if in fact these two suspects were planning to do more bombings."
Danny believes his calm under pressure helped keep him alive. Lauer asked why he thought the suspects didn't kill him, and whether it was because he's not an American.
"That's not the only reason," he said. "We had a lot of conversation. I (made) him feel that I won't do anything stupid."