Her rescue from the scene of the Boston Marathon bombings quickly became an iconic image of the tragedy: A frightened college student, her legs bloodied, her arms gripping the neck of the burly man carrying her.
Now Victoria McGrath has been reunited with the firefighter who rescued her, along with the three other strangers who saved her life.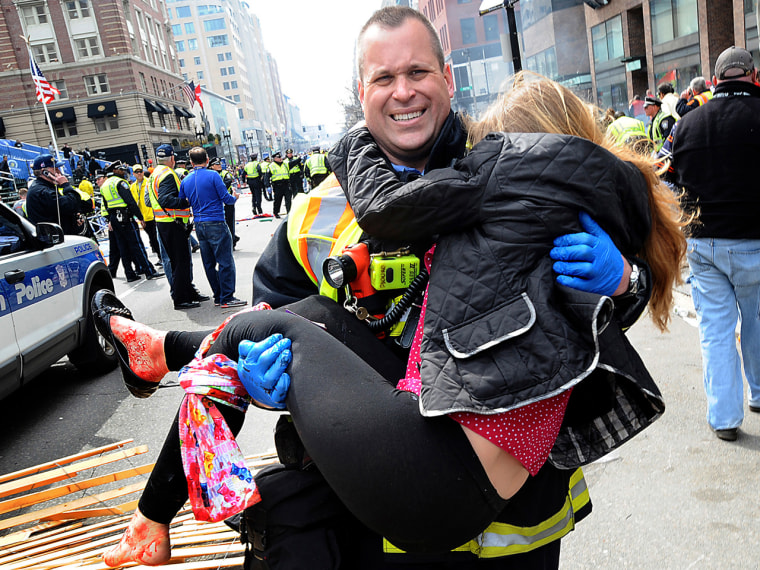 "I'm so thankful. You guys are so brave," said a tearful McGrath from her room at Tufts Medical Center in a segment that aired Wednesday on TODAY.
Bruce Mendelson, the first person who rushed to her side, used a T-shirt as a tourniquet on her shrapnel-pierced leg.
"The doctor told me if you hadn't have done that, then I would have died," McGrath told him. "You saved my life. Otherwise I would have bled out, 'cause it hit the artery."
McGrath, a 20-year-old student at Northeastern University, got an assist in the search for her rescuers from Massachusetts Gov. Deval Patrick. He publicized her quest during a televised press conference last week. All she knew at the time was that one of the people was named Tyler.
That would be Tyler Dodd, who encountered a hysterical McGrath inside the medical tent located by the marathon's finish line.
"He just kind of showed up in my vision path when I was looking up 'cause I wouldn't listen to anyone else," McGrath recalled. "I needed him to be there. He was the only person that would make me feel strong again."
Later, in her hospital room, she wiped away tears as she told Dodd, "There's just something about your voice that's so calming."
McGrath also said she doesn't mind that Dodd initially lied to her about being a combat veteran injured in Afghanistan. Dodd later came clean during a follow-up phone call the two had.
"I don't regret it. I don't regret him telling me that, and I hope he doesn't either. I hope he's proud of it," McGrath said, explaining that the reassurance Dodd provided "saved my life."
Also inside that medical tent was former Navy medic Alicia Shambo, who rode with McGrath in the ambulance to the hospital.
"I think I just needed someone to hold on to, so I told her, 'Please don't leave me. Please come to the hospital with me. I can't be alone.' And she just started kissing me all over my face and I think she was crying too," McGrath said.
Shambo's calming presence and words of reassurance "kept me alive," she said. "Yeah, it was in the ambulance that I realized that I had to hold on."
And then there was the firefighter from that now-famous photo, Jimmy Plourde.
"You looked right at me like, 'I'm so scared,' and I'm like, 'we're out of here,'" he told McGrath.
At the time, McGrath said, she feared there would be additional explosions.
"I was literally five feet away from where the first bomb went off," she said. "I don't know how you can put a bomb there and look at the people around and know that you're going to kill them. I don't understand it."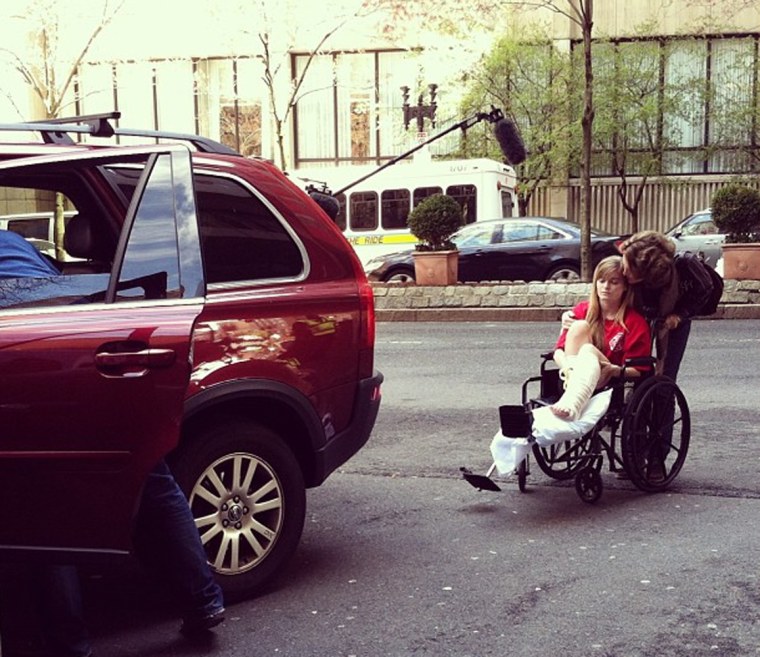 McGrath was released from the hospital Wednesday, although she will continue physical therapy on her nerve-damaged leg.
McGrath said last week's events continue to haunt her.
"I lay awake in bed every night and think about it," she said. "People I know lost their legs. I don't get why I was still lucky in this case."