A year after becoming the public face for the Boston Marathon bombings, Jeff Bauman says he still can't bear to look at the photograph taken of him moments after the explosion that cost him both of his legs.
"I can't really look at it but when I do look at it, I kind of think of those people that are around me — Paul, Carlos, Devin," he said Tuesday, referring to the strangers who came to his aid and hustled Bauman to safety in a wheelchair. "They're there helping me, saving my life. I kind of love that aspect of it, but I'm only seeing my leg."
Bauman is now engaged to the woman he cheered on during that race. He and his fiancée, Erin Hurley, also are expecting a baby this summer, they confirmed to TODAY's Savannah Guthrie after walking onto the TODAY set.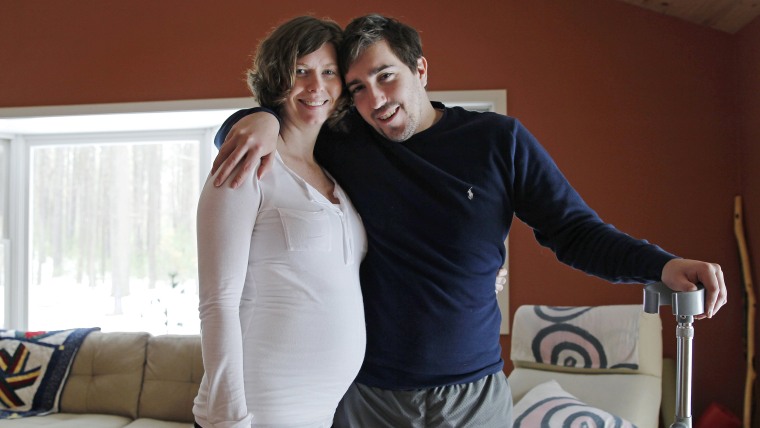 "It's been a blur. It's gone by so fast," Bauman said of the past year, which has been filled with grueling physical therapy and relearning to walk with prosthetic legs. "It feels like a month, you know? A month ago I was in a hospital, that's what it feels like. It's gone quick. And it's been hard. It's been a hard road so far, but it's getting better every day."
Bauman's face became familiar to many following last year's Boston Marathon after a photograph was taken of him, gravely wounded and being rushed to an ambulance by volunteers, including a cowboy hat-wearing Carlos Arredondo.
While hospitalized, Bauman provided authorities a description of one of the suspected bombers, Tamerlan Tsarnaev, who stood right next to him but looked out of place among other spectators.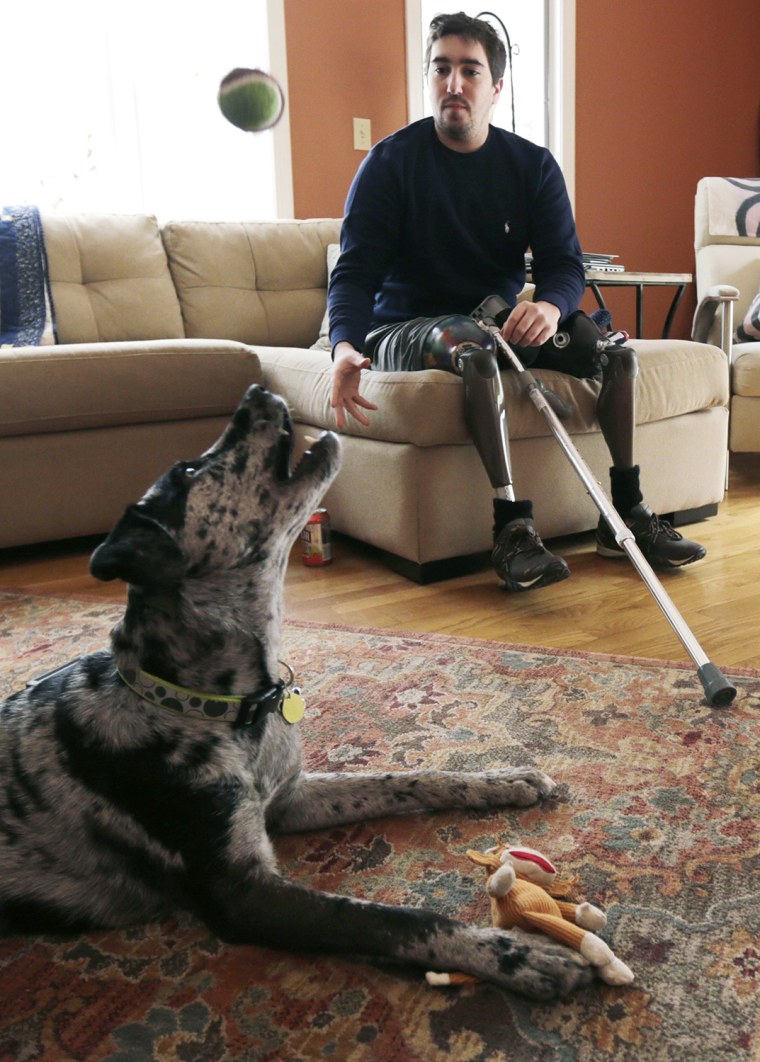 "Everyone there was with somebody and he was alone. He wasn't watching the race, he wasn't clapping," Bauman told Guthrie. "He wasn't having a good time. He was kind of all business. … I thought, 'He's odd,' and I didn't think of him until I was in the ambulance, and then it kind of hit me."
Bauman wrote about the experiences of the past year in his just-released memoir, "Stronger." Next week marks the first anniversary of the tragedy.
"I think it's going to be a little tough, but I'm going to be with all of the survivors, and it's great to see everybody and we're all doing well. We're all getting on with our life so I'm looking forward to seeing everybody and having a good time."
Hurley, Bauman's fiancée, said she's been inspired by the progress Bauman has made over the past year.
"It's been really amazing," he said. "It feels like at the time it's going by really slow, but then we were looking at a video of him yesterday walking in July. It's just like a complete 180 for what we've been through and everything to see him progressing so well. It's really amazing."
Follow Eun Kyung Kim on Google+ or on Twitter.