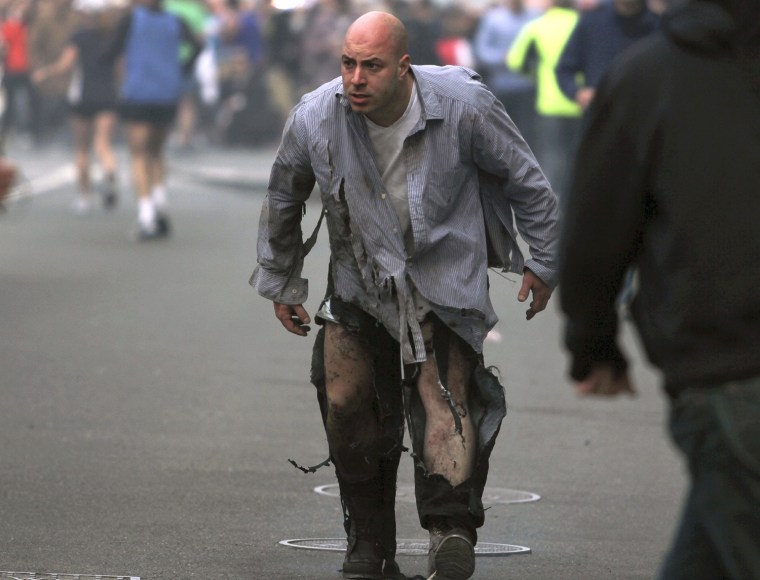 One of the worst moments in the life of a man injured in the Boston Marathon bombing has led to one of his best.

James Costello, 31, of Malden, Mass., has proposed to Krista D'Agostino, a nurse he met during his recovery after suffering serious burns on his arms and legs in the explosion near the finish line of the Boston Marathon on April 15. 
Costello was the subject of one of the most widely viewed images in the wake of the blast. A photographer captured him staggering through the streets with his clothes shredded and his legs burned.
"As you all know, April 15th was one of the worst days of my life, suffering not only physical injuries of my own but the emotional difficulties when I learned about my friends," Costello wrote in a Facebook post on Sunday. "I soon wondered why and for what reason this had happened."

Costello met D'Agostino while she was working a temporary stint as a traveling nurse at Spaulding Rehabilitation Hospital in Cape Cod. He was transferred there after undergoing multiple surgeries at Massachusetts General Hospital, including skin grafts and a procedure to remove a pair of nails from his abdomen. 
At the moment when the bomb went off, Costello had been walking toward the Boston Marathon's finish line with five of his friends. Three of those friends lost a leg; the others suffered extensive burns and shrapnel wounds.
"A couple weeks later I was transferred to Spaulding Hospital, where I was able to see my friends starting to heal, but still wondered what good could come from this tragedy," Costello wrote on Facebook. "A few days later I saw a nurse in passing, this would turn out to be Krista [D'Agostino], who had shared a few mutual friends, but we had never crossed paths before. After sharing a handful of conversations I realized not only how beautiful she was but also what a kind heart she had. I somehow convinced her to attend a benefit with me, which turned into a few dates, which turned into a few inseparable months."
Costello popped the question during a 10-day trip to France that the pair are now enjoying as part of an all-expenses-paid "Heroes Cruise" courtesy of Boston-based Vantage Deluxe World Travel with a total of 114 first responders, their families, and victims of the bombing. He posted a picture on Facebook of D'Agostino showing off her engagement ring in front of a famed carousel in Lyon.
"I now realized why I was involved in the tragedy," he wrote. "It was to meet my best friend, and the love of my life. Eight months later I'm happy to announce that we will spend the rest of our lives together. We got engaged last night in the middle of the beautiful French city Lyon!!!"