Boston Marathon hero Carlos Arredondo was nearing the finish line at a road race in Massachusetts on Saturday when he got an extra push from a man he helped save during the attack.
Jeff Bauman, walking on a pair of prosthetic legs, finished his first race since the Boston Marathon bombing by helping to push his friend and rescuer's wheelchair to the finish line, the Boston Herald reported.
"You have to stay positive and keep moving forward,'' Bauman, who walked the mile-long race, told NBC Boston affiliate WHDH.
Arredondo was using the wheelchair in the Runners World Classic Celebrity Mile in Andover, Massachusetts, as he recovers from leg surgery.
Bauman was watching his wife, Erin, run in the Boston Marathon in 2013 when he was badly injured in the first of the two bomb blasts. Arredondo put tourniquets on both of Bauman's legs and helped rush him to safety.
A photo of the moment became one of the iconic images of heroism in the aftermath of the bombing.
RELATED: Boston bombing victim Jeff Bauman: 'It gets better every day'
"Today was amazing," Arredondo told the Herald. "The community is amazing. It's nice to see everyone supporting each other."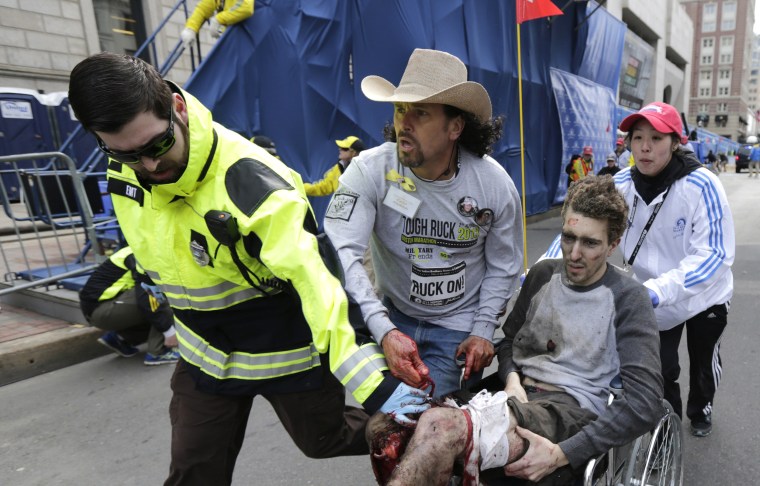 Adrianne Haslet, who lost her left leg below the knee in the attack, also participated in the race along with Bill Richard, the father of Martin Richard, 8, who died in the bombing.
RELATED: Boston bombing survivor and fiancee welcome baby girl
Bauman has been a source of inspiration in his recovery from the bombing by maintaining a relentlessly positive attitude.
"I think it's just a mental thing,'' Bauman told WHDH. "Obviously everyone has their sad days, but you can't be sad for more than one or two days or else it will become (regular) behavior."
Follow TODAY.com writer Scott Stump on Twitter.