Former Sen. Bob Dole was among the legions of people paying their respects Tuesday to former President George H.W. Bush while the late commander in chief, who died last Friday at the age of 94, lies in state at the U.S. Capitol in Washington, D.C.
Dole, 95, was helped up from his wheelchair and stood for nearly 20 seconds, during which time he saluted Bush.
Both men served in World War II (Dole in the Army and Bush in the Navy) and would later compete on a national scale in the political arena. They both lost out to Ronald Reagan for the Republican nomination in the 1980 presidential race, and Bush would later defeat Dole for the GOP nod in 1988, en route to becoming president.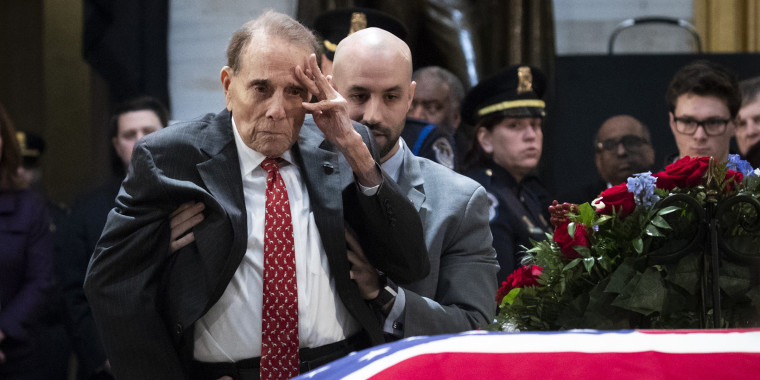 Dole, who received two Purple Hearts for injuries he sustained in World War II, would continue life as a public servant, emerging as the Republican leader of the Senate from 1985 until 1996, including the period when Bush was in the White House.
In 1996, he finally secured the Republican nomination for the presidency, but lost to Bill Clinton.
Dole is one of many dignitaries who took time to honor Bush while Bush's casket lies in state at the Capitol Rotunda. President Trump, first lady Melania Trump, House Speaker Paul Ryan, former Secretary of State James Baker and former Joint Chiefs Chairman Colin Powell were among some of the other notable names who turned out.
Related: