Philip Hillman was taking a break from working in his Boston hotel room in the midst of Tuesday's crippling blizzard when he looked out the window and spotted the inspiring work of local bartender Chris Laudani. 
Update: Mystery man Chris Laudani explains why he shoveled the finish line
Laudani, who works at the nearby Back Bay Social Club, was shoveling away the snow from the finish line of the Boston Marathon when Hillman spotted him and tweeted a photo of the scene.
The Boston Bay Social Club revealed on Twitter Wednesday that it was Laudani after the photo went viral and the Boston Police Department got involved. "I only did it to send a message…I love the Boston Marathon and everything it stands for, the finish line doesn't deserve to be covered in snow," he explained to Boston magazine.

"I thought it was a powerful image when I looked at it,'' Hillman told TODAY.com. "I've been a resident of Massachusetts my whole life. For us, that finish line has become sacred ground. When I looked out there and saw that, I thought, 'How cool is that?' I love my city. It just was like, Boston is strong, and even the storm couldn't stop us." 

Hillman, 44, who is a district manager for Rodney Strong Wine Estates, is from Lincoln, Massachusetts. He had gone to the hotel to work because of power outages as a result of the storm. The blizzard was still going strong when Laudani cleared the finish line, which was soon covered again by snow once he left.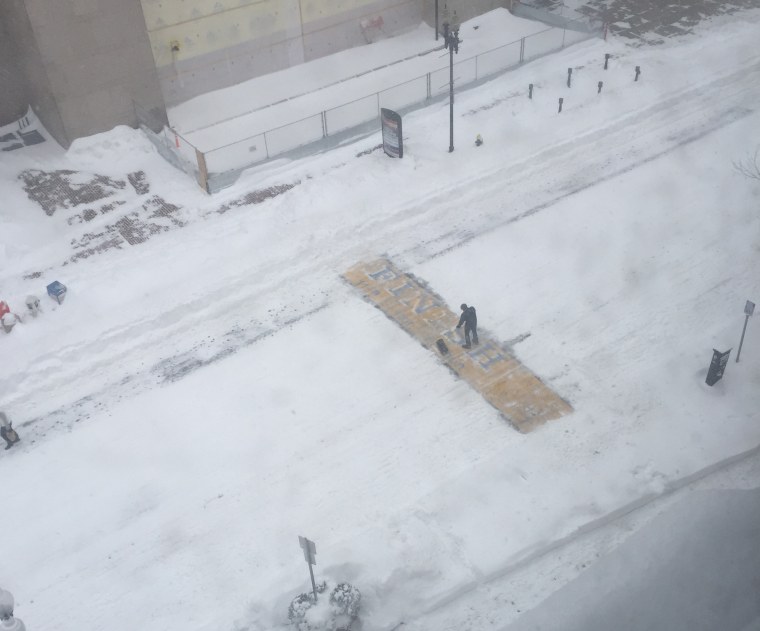 "I was in the right place at the right time,'' Hillman said. "He [Laudani] maintained it for a little while, but it was in the middle of the blizzard. I had no idea it would affect people the way it has, and I'm happy it has touched as many people as it did." 
Laudani, a 25-year-old Boxford, Mass., native who has run the Boston Marathon five times, said late Wednesday that he "wanted to be able to see it when I walked by because I love it so much.
"It's very special to me and the city, and I didn't think it deserved to be covered under all that snow, people deserved to see it," he said. "And when I finished I kind of took a few steps back and just looked at it for what it was, the whole street ... there was still snow in the streets but you could see the finish line was right there and I was like, 'Awesome, that's so awesome!'"
In addition to Laudani at least one other individual was seen shoveling snow at the finish line on Tuesday.