Sixth grader Adrianna Kenebrew may be easy to pick out among her classmates — she squints under bright light and sometimes uses a red-tipped white cane when she walks.
But at her gymnastic meets, the 11-year-old powerhouse is like any other competitor on the floor, tumbling through the air over the vault, uneven bars and balance beam, earning high marks on all types of apparatus she can barely see.
Adrianna was born with glaucoma, an eye disease that has left her extremely nearsighted and almost without peripheral vision. Legally blind since the age of three, she uses a special magnifying machine and a small monocular lens to help her see schoolwork and teachers.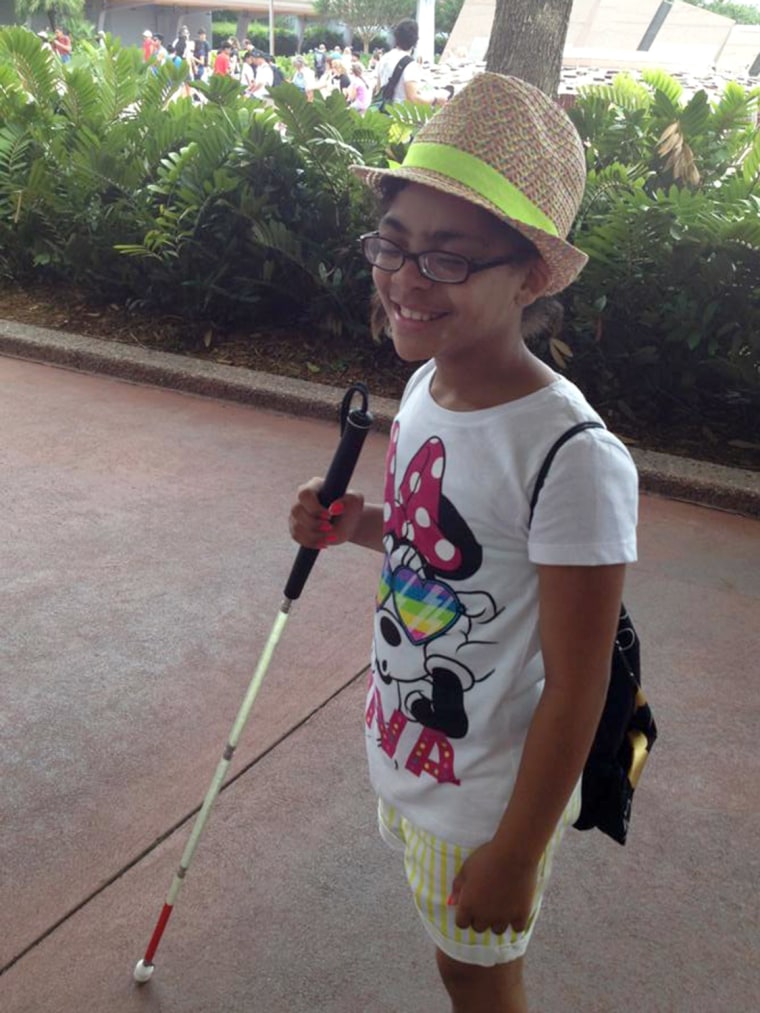 But at the gym, she gets no special assistance, aside from simple audial cues coaches give her when she's running toward the vault to let her know when she's close — or which direction she should salute to face the judging table.
"The gym is one of the only places where there are no real accommodations for her. Everything is the same. She gets on the same balance beam as everybody else," her mother, Asha Kenebrew, told TODAY.com. "I don't know, but I think that may be why she loves the sport."
She and her husband noticed Adrianna's vision was different shortly after she was born. Adrianna would cry whenever she was taken into the sunlight and her eyes, which teared up excessively outdoors, also lacked a distinct color: While her parents and older brother had brown eyes, Adrianna's looked gray.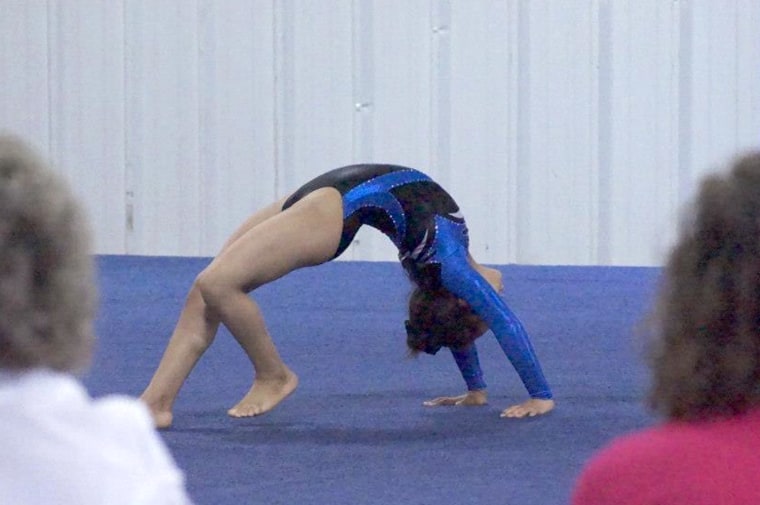 Doctors diagnosed her with congenital glaucoma at 4 months old, and performed the first of a dozen surgeries a month later. In addition to procedures to drain fluid from her eyes, Adrianna also had a cataract removed when she was 6.
"Honestly, I've lost count on how many actual surgeries she's had," Kenebrew said. The next one is scheduled for Oct. 10. "I want to say this is number 13 or 14."
Kimberly Yen, one of the pediatric ophthalmologists who works with the family at Houston's Texas Children's Hospital, said Adrianna's vision in her right eye is 20/400 with her glasses, or about enough to see the "E" at the top of an eye chart. Her left eye is somewhat better, 20/150 with glasses, which still wouldn't allow her to pass a driver's test.
Glaucoma is treated both surgically and through medication — Adrianna uses three different drops every day — but while it can be managed, the condition can't be cured.
"Her vision will never reverse. She's not going to ever become 20/20," said Yen, who also is an ophthalmology and pediatrics professor at Baylor College of Medicine. "What we want to do is prevent any additional vision loss."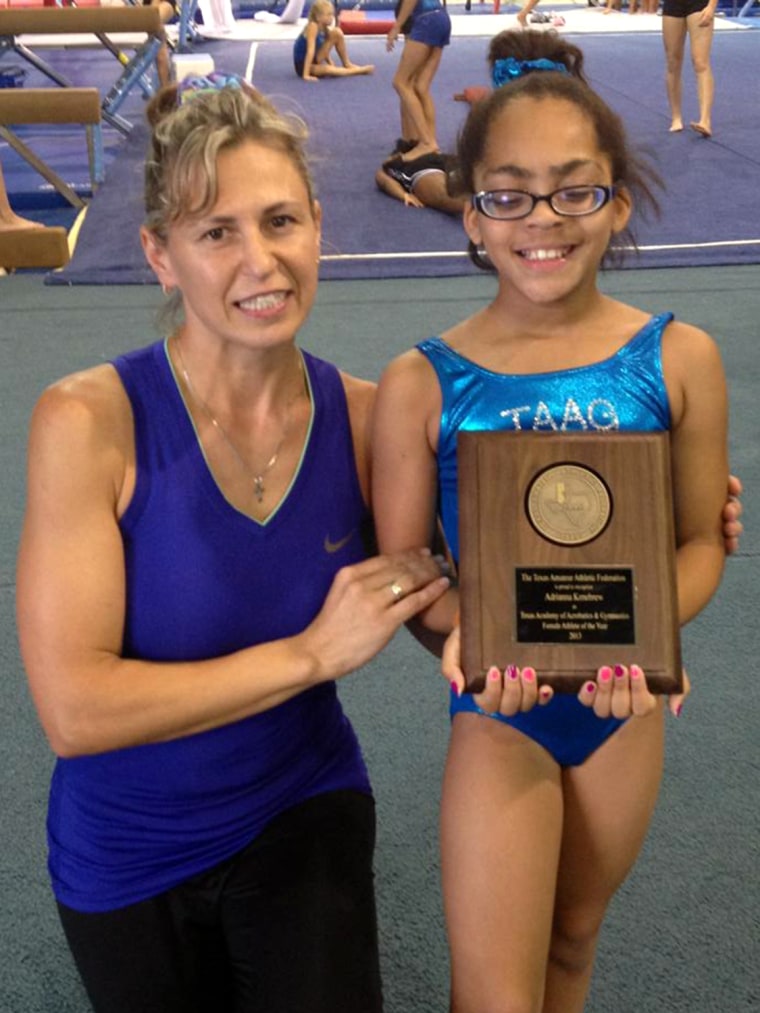 Adrianna has been taking gymnastics for only three years, but has loved the sport for far longer.
"I just always wanted to flip and swing," she said. Ultimately, she wants to be just like her idol, Olympian Gabby Douglas, but with a twist: "I want to be the first visually-impaired gymnast to win gold at the Olympics."
She definitely has the determination, according to her mother, and potentially the talent: Last year, she beat out hundreds of students to be named Female Athlete of the Year for her region.
Although Adrianna sometimes gets asked about her vision or the way her eyes look, she said she's usually not bothered by the questions. She also said her differences simply make her work harder — and that there's nothing she'd change about her life.
"No. I like who I am," she said.
Follow TODAY.com writer Eun Kyung Kim on Google+ or on Twitter.