/ Source: TODAY contributor
As a dive tour leader for one of the many tourist excursion companies that dot Australia's coastline, Elyse Frankcom knew she would meet up with a shark sooner or later. But the 19-year-old never imagined that her first encounter would be every bit as terrifying as movies portray.
"I felt me inside its mouth. It was horrifying," Frankcom said Wednesday from her hospital bed in Perth, Australia.
Frankcom survived an attack by a 10- or 11-foot great white shark last Saturday that left her with 200 stitches in her legs. One of the divers she was leading grabbed the shark by its tail until it released Frankcom from what likely would have been a death grip.
"Being attacked by a shark, there's a lot of people don't make it. A lot of people don't survive," a smiling Frankcom said. "I'm just lucky to be the person that did."
Out of nowhere
Saturday began like any other day for Frankcom. She and 33 divers left port by boat for a day of swimming with the dolphins.
Frankcom was swimming along and never saw the shark approaching her.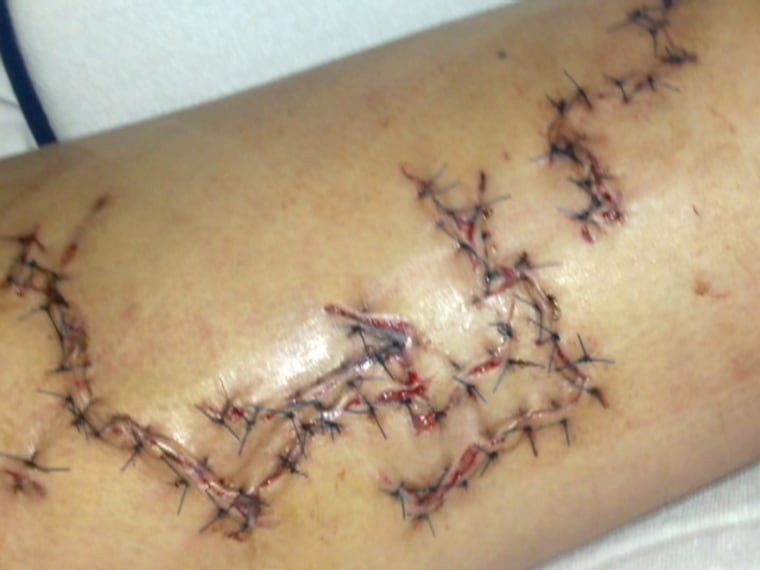 "I felt the force of being kind of pulled to the side, and then I looked and saw a gray figure in front of me," she said. "And as I come back up, and got just to the surface, and that's when I felt [the shark] on my leg, and I just kind of jolted."
Trevor Burns, one of the swimmers, saw what was happening and sprang into action. He grabbed the shark by its tail.
"I thought I had to get it off her. I grabbed him by the tail and held on for a very quick ride," said Burns, who was reunited with Frankcom at the hospital on Wednesday. 
After the shark let go of Frankcom, she began sinking. Burns reached down and brought her to the surface. She remained conscious the entire time. A helicopter was waiting on shore to take her to the hospital, where major wounds to both legs were treated.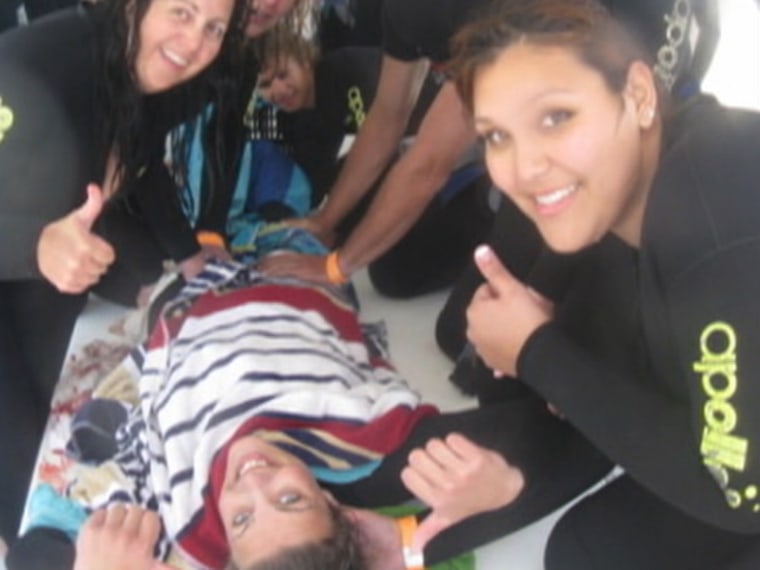 "He's my hero," Frankcom said of Burns. "He's my lifesaver and I wouldn't be here without him."
Burns shrugged off the accolades. "I don't consider myself a hero," he said modestly. "I've just done what I was brought up to do. Mom and Dad told me to look after people. There was no way I was letting Elyse get taken by that damn thing."
Always a risk
Shark attacks on humans make headlines whenever they occur, but experts say that fatal attacks are still rare. Most occur when a shark mistakes a swimmer or surfer for one of the marine mammals they feed on.
"Any time we enter the sea, we're taking a certain amount of risk. Of course, when we're in a dolphin tour or swimming with seals or sea lions, we take an added risk," said George Burgess, a shark researcher at the University of Florida. "Those are the preferred food items of large sharks such as white sharks."
Frankcom, who is expected to make a full recovery, plans to return to work and get back in the water when doctors give her the clearance. If anything, the close call with death made her decide that she needs to live life to the fullest while she can.
"I sure as hell didn't wake up Saturday thinking I'd be attacked by a shark. This has just made me realize, 'Do it, do it,' because you don't know how long you've got," she said.
After the incident, Frankcom changed her Facebook status to assure worried friends and relatives that she is fine.
"What doesn't kill you only makes you stronger," she wrote.