Why was I nervous to ride a bicycle in Amsterdam?
Perhaps it was the taxi driver who ferried me to the hotel upon my arrival in the city. "I thought I might rent a bike," I told him. "Not if you don't want to get killed," he replied.
Perhaps it was the mishap that occurred while we were in London. We had flown there for a couple of days to edit the story that would air on day two of our "Where in the World" adventure. Outside the NBC London bureau, I stepped onto the street — and into a bicyclist whizzing by at top speed. The unfortunate cyclist ended up on the ground (with a sore shoulder, but otherwise OK) and I ended up with a rather large, swollen bruise on my leg: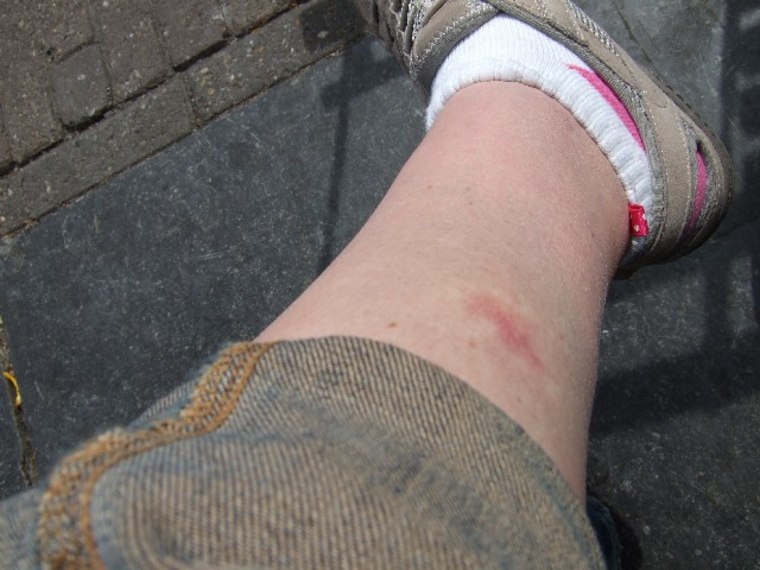 Still, on my return to Amsterdam, I found myself yearning to try out the bicycle. It seemed wrong not to at least attempt to cycle around the city. Amsterdam is made for bikers. The city has generous bike paths throughout; some even have specialized traffic lights, with the bicycle symbol illuminated. Amsterdammers go everywhere on their bikes. They attach wagons and load them with cargo — sometimes their children ...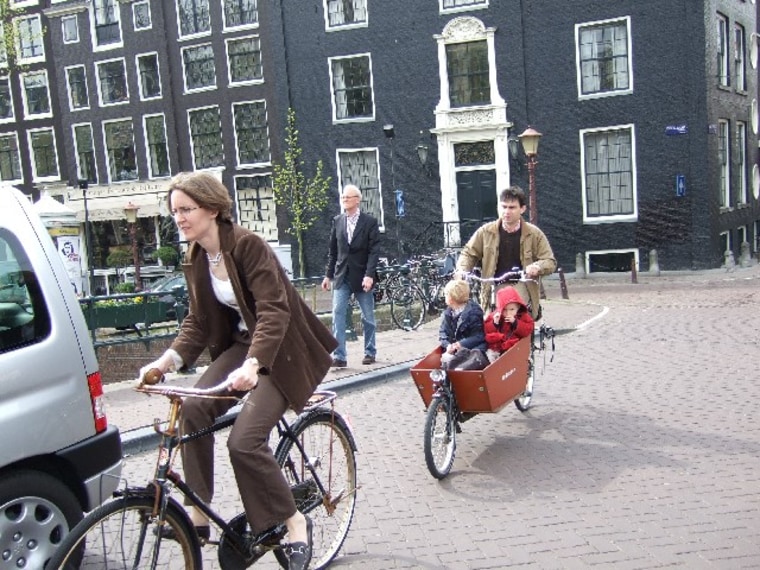 ... They also chat on their cell phones, run red lights, daringly weave in and out of traffic, and for the most part, eschew helmets. Dutch bikes all have the same basic look — slightly rickety with wide-set handlebars, reminiscent of the evil Miss Gulch in "The Wizard of Oz." This makes sense, of course. Why have a fancy bike when bicycle thieving is as common as bicycle riding?
Bike rental shops abound in the city, a sign of their growing popularity with tourists. For 2.50 euros, you can rent a bike for an hour — two locks included. Twelve euros will get you the bike for an entire day. My apprehensions weren't exactly assuaged when the rental shop clerk asked not just for my passport, but for my lucky number. "Uh, three," I told  him. "Ah," he replied. "I don't have a Bicycle #3." With this bad omen, I set off on Bicycle #17.
I haven't done any serious bicycling since about the seventh grade, so it was a little rough at first. The bike's front wheel swung wildly from left to right as I attempted to gain my balance on the city's bumpy, brick-cobbled streets. Another menace: tram tracks, which are roughly the size of a bicycle tire, and an easy way to get stuck. Dodging the cars, trams, scooters, pedestrians and other cyclists on the road, I had all the confidence of a 7-year-old with training wheels as I began my trek. Perhaps it showed. "Be careful!" a man called to me as I cycled past him on the street.
Once I got the hang of it — and got out of the busy sections of town —  there were untold treasures to be discovered. Holland is, as advertised, almost totally flat; the only exception is the gentle swell of the road as you ride up and over the city's numerous canals.
I had no itinerary and no planned route; it's most fun to get lost in the city and its labyrinth of streets (straats) and canals (grachts). (Bring a map, of course, to find your way home.) Cruising the canal-side streets, there's almost too much for the eye to take in: gorgeous architecture, charming flower boxes, crowded cafés. Forget your iPod. The ride has its own soundtrack: the whirring of a canal boat's motor, the peal of church chimes, the tinkle of a bike's bell. Heading down a side street, I heard someone whistling a lilting tune. Looking up, I spotted a Dutch man leaning out of his window, giving his corner of the world an enthusiastic concert: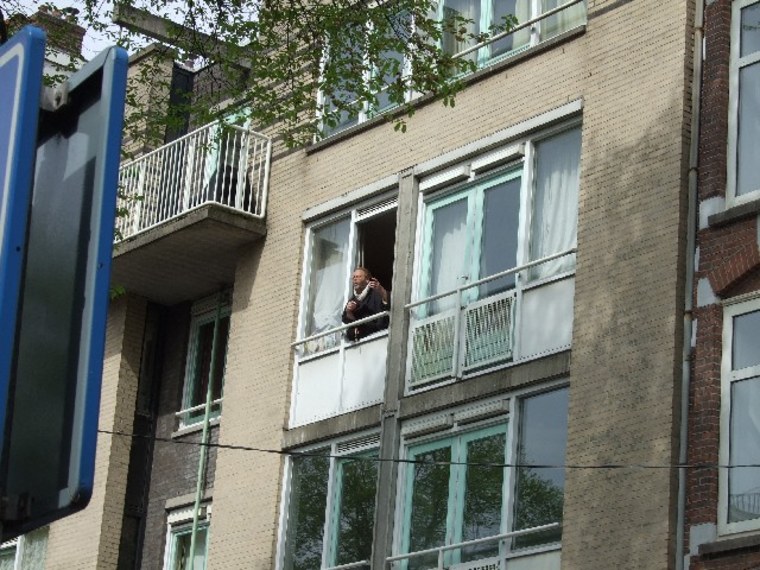 After a few hours of bike riding, confidence was high ... and so was my thirst. I stopped at a café situated at the intersection of two canals. Gulping down a glass of water at the bar, a man on a stool gave me a quizzical look. "I've been biking all over town!" I explained cheerfully. He frowned. "Be careful," he said.
Carrying on, I found myself at Amsterdam's bustling flower market, where crowds come to buy — or just admire — a staggering array of flowers, with an emphasis, of course, on the Dutch tulip ...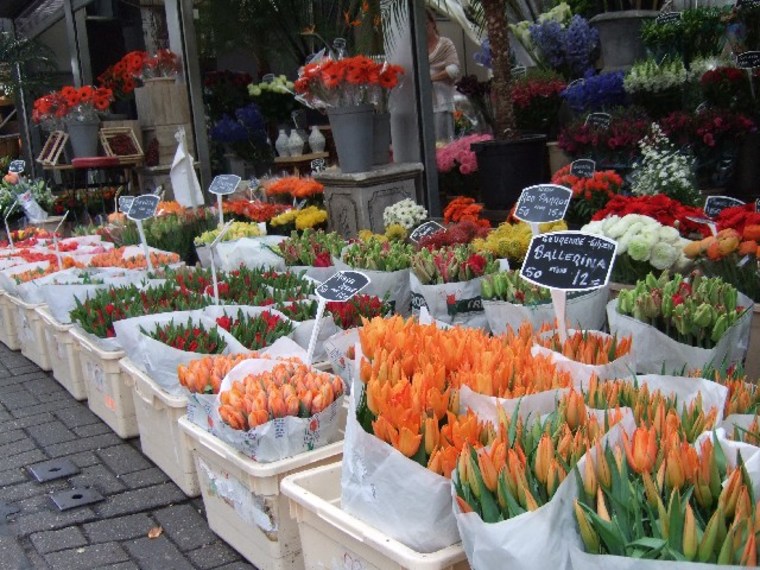 ... Across the street from the flower market — another Dutch treat — the herring stand. In the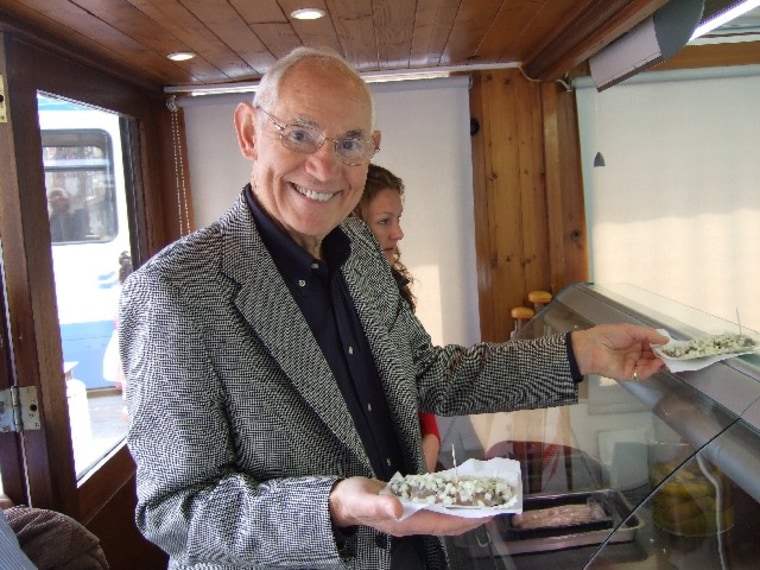 warm months, these stands spring up around the city. You can order herring in a bread roll and eat it like a sandwich, but "the Amsterdam way" is to eat the herring cold, with only diced onions and pickles as a garnish. I must have radiated uncertainty as I stood in line. "It's a delicacy," a man in line said (left). Then he elbowed me. "And it's very good for you!"
Seating myself on a park bench, the British tourists beside me took note of my bravery as I took my first, salty bite. They happily obliged when I asked them to snap a picture of me posing with my lunch: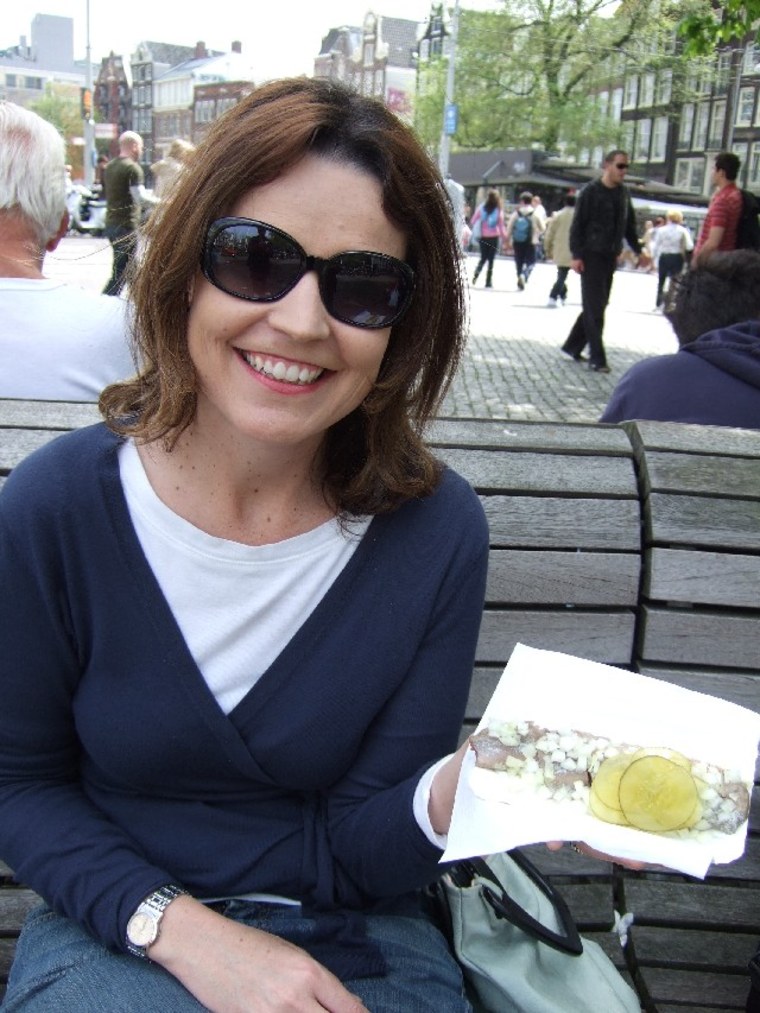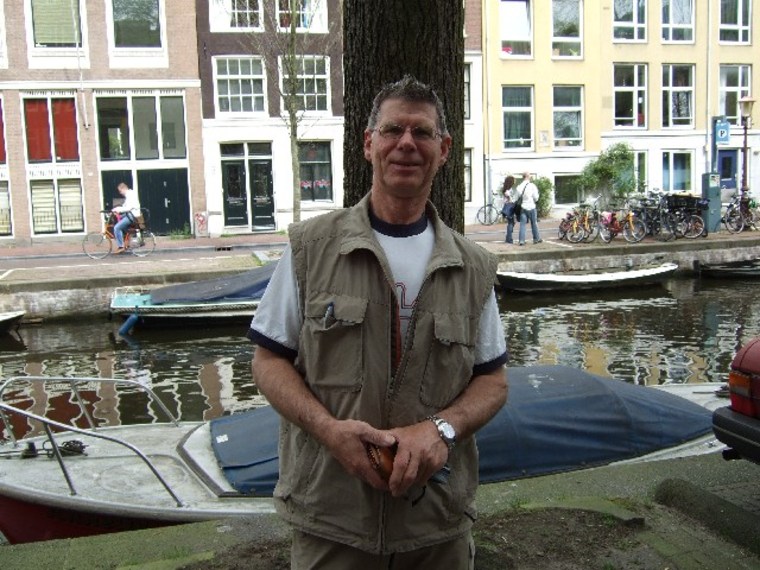 A lunch of raw herring surely qualified me as fully acclimated to the city, but I knew I had blended in when a man (right) came up to me speaking in an unidentified language that sounded like German. What was he saying? I have no idea. The point is, I looked like a local, someone from whom a tourist would want to seek directions. "American!" I shouted at him unhelpfully, and he went on his way.
I planned to ride for just two hours; I ended up spending more than half of the day on the bike. Sure, you could see Amsterdam other ways. But, assuming you survive, biking cannot be beaten. A half-million Amsterdammers can't be wrong.