Injured motorcyclist Edwin Mieses, who was struck by an SUV in the midst of a confrontation on a New York City highway, has been left paralyzed by the waist down.
He told Savannah Guthrie that he doesn't blame the man who hit him. 
"I don't blame him. Because at the end of the day, I'm not him to know what was going through his mind," he said on TODAY Wednesday.
Mieses was riding with three friends that day, he said, but did not know anyone else in the group.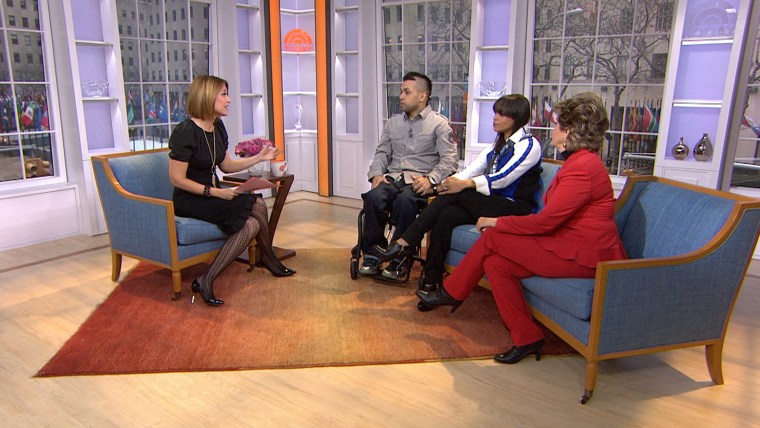 "I actually came from Massachusetts for a ride, which I became aware of on the Internet," Mieses told Guthrie. 
On Sept. 29, Mieses, 32, was run over by a Range Rover driven by Alexien Lien, 33. Twenty to 30 motorcyclists had surrounded Lien's SUV on New York's West Side Highway while Lien was driving with his wife and child. When a biker slowed down, Lien bumped him with the SUV and then sped away from the group, police said. While speeding off, the SUV struck Mieses, breaking two legs and causing spinal injuries that have left Mieses paralyzed from the waist down.

"I was fully conscious for the whole entire thing,'' Mieses said. "I got off my bike to check on (another rider). As soon as I saw that it wasn't that serious, I was just telling guys to keep going because I didn't really want to ruin the ride and besides that, we were in the middle of the highway. 
"As soon as I turned around and started walking back towards my bike, that's when I got ran over. As soon as he hit me, I shut my eyes. I didn't want to open my eyes because I knew that he had hurt me."
Mieses said a young girl helped him. 
"She was like an angel,'' he said. "She kept throwing water on my face to keep me awake. I was just like so aggravated that she was throwing water in my face. I was awake because I was aggravated." 
After a high-speed chase, the other bikers caught up to the Range Rover, pulled Lien from the car and assaulted him. The incident was captured in a six-minute video from a motorcyclist's helmet camera and shared widely online. During the confrontation, Lien's terrified wife, Rosalyn Ng, called 911 four times in nine minutes. The attack on Lien was broken up by bystanders, Ng said in a statement after the incident.
"This family was in clear and present danger and they could have both been killed,'' New York state Senator Adriano Espaillat told reporters afterward. "Not just the man, the driver, but they wanted to get after the wife as well, who was holding onto her child. Unacceptable."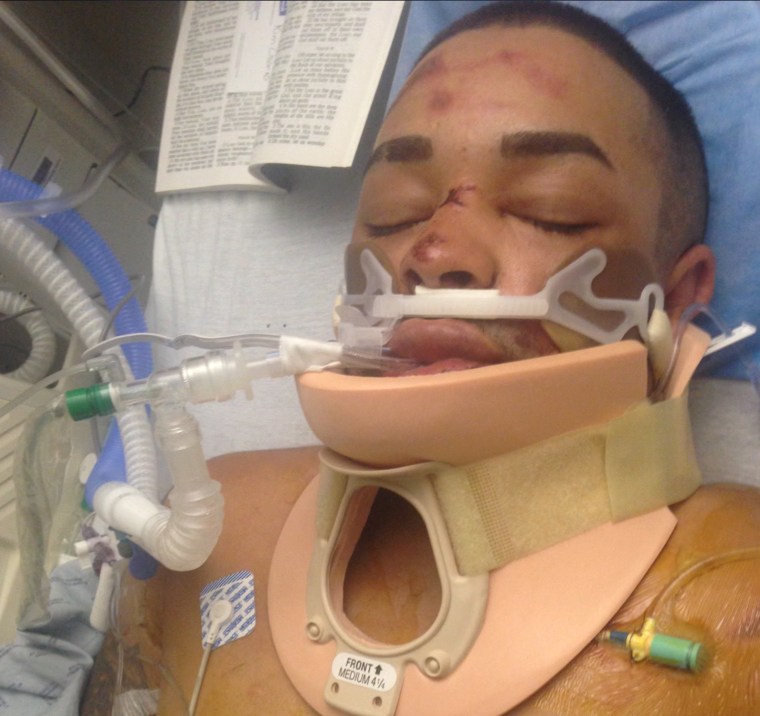 But Mieses was an "innocent victim" trying to "defuse the situation," attorney Gloria Allred told reporters at a press conference in Manhattan on Oct. 4. Mieses claims that online, people have threatened him and his family, saying he's a "thug" and a member of a "gang."
"He plowed over my son,'' Mieses' mother, Yolando Santiago, told TODAY. "He damaged my son's life forever. My family forever."
Mieses is now focused on his rehabilitation. 
"(Doctors) told me it was 99.9 percent that I wasn't going to walk, but I refuse to believe that,'' he told Guthrie. "I want to walk more than they want me to walk." 
Though Mieses and his wife, Dayana Mejia, have not filed a civil claim against any individual or entity regarding the incident, "we don't rule anything out at this time," Allred told Guthrie. Neither Mieses or Lien have been charged with any crime. 
"What we hope is that the prosecutor does not look at public opinion, that the prosecutor looks at the facts, looks at the law, (and) decides whether or not the driver of the SUV who ran over Edwin and paralyzed him for life...was in reasonable fear and had any kind of justification for running over Edwin,'' Allred said. "We do believe that Edwin is a very courageous young man, and he is completely innocent. He never did anything to the driver except basically had his back to the car when he was run over." 
Mieses said he has leaned on his religious faith. 
"Through this whole thing, I've realized that life is more important to us than what we take,'' he said. "We always take everything for granted, and it's like, what would I give to be able to walk again or to be able to use a bathroom again on my own? Simple, basic things that we all experience as humans, but we don't value as much as much as we would value, let's say, a job or something. That has allowed me to see things from a different angle."