Beyonce, the international superstar singer, wife of Jay-Z and mother to four-month-old Blue Ivy has been named People magazine's world's most beautiful woman, it was revealed on TODAY Wednesday morning.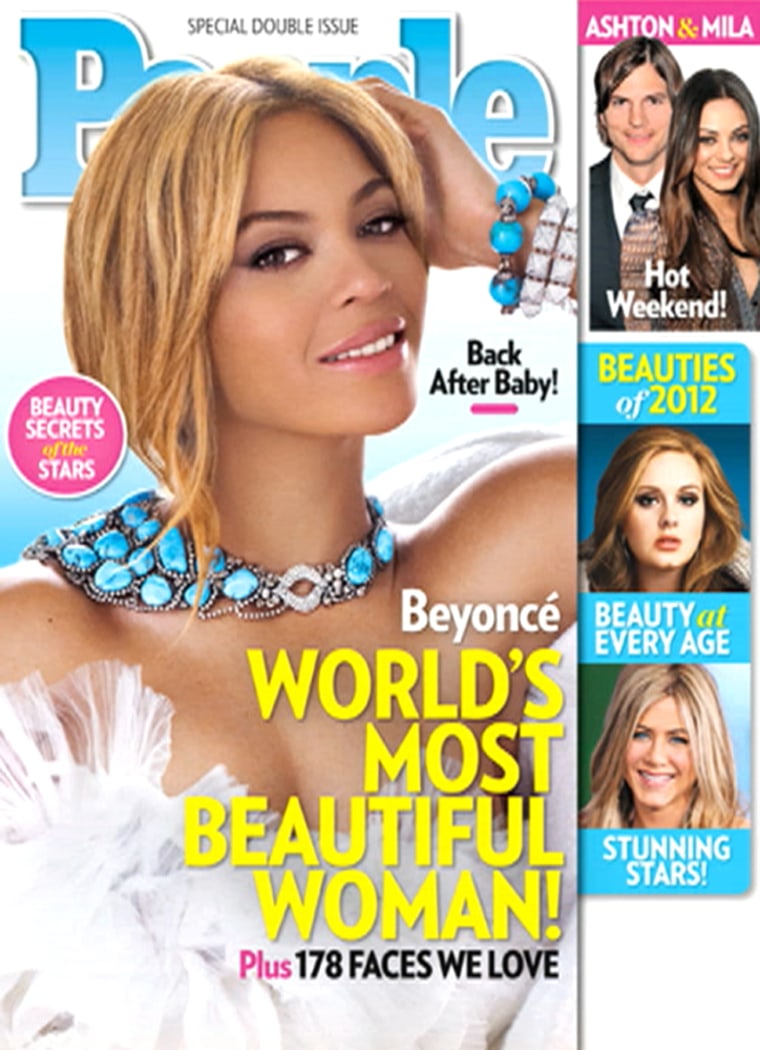 Magazine senior editor Alexis Chiu told TODAY's Matt Lauer and Ann Curry that Beyonce is "flawless, she's gorgeous, she's at the top of her game career-wise, she's this music icon at 30 years old and on top of it she has this glow going on ... She's a new mom."
"I feel more beautiful than I've ever felt because I've given birth. I have never felt so connected, never felt like I had such a purpose on this earth," Beyonce told People in an interview to appear in the issue, which will hit newsstands April 27.
"The best thing about having a daughter is having a true legacy," she added. "The word 'love' means something completely different now."
Also included among the mag's "most beautiful" categories are names that include Jennifer Aniston, Michelle Obama, Jennifer Hudson, Kristen Wiig, Jennifer Lawrence and Selena Gomez. TODAY's Kathie Lee Gifford and NBC's Meredith Viera also made one of the lists.
"All beautiful women who are very of-the-moment," said Chiu.
Last year's choice was Jennifer Lopez.
Lauer wanted to know if there anyone bald had ever made the list. "We're thinking about you for next year," said Chiu, who said they'll take it under advisement.
From PEOPLE.com:
Related content: