/ Source: msnbc.com news services
Newly ubiquitous "Golden Girls" veteran Betty White won the fifth Emmy of her career on Saturday for hosting an episode of "Saturday Night Live," beating out last year's winner, Tina Fey.
White, 88, claimed the award for guest actress in a comedy series during the "creative arts" portion of the Primetime Emmy Awards, where more than 70 awards, mostly in technical categories, were handed out. The 26 high-profile categories will be announced during a live broadcast on August 29.
Next week's Emmy ceremony, with Jimmy Fallon as host, will air live on NBC.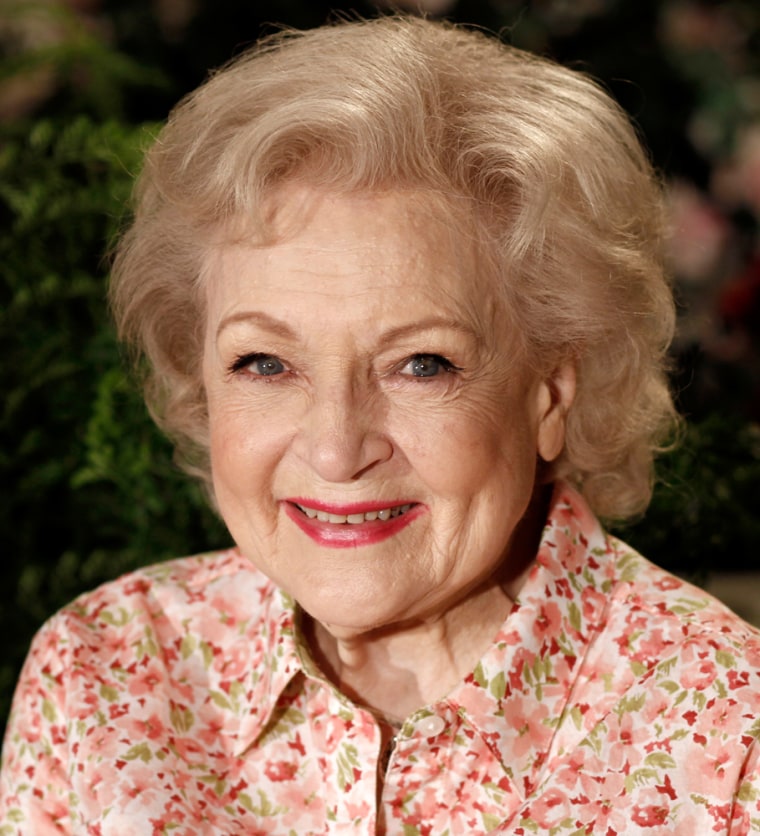 White was not at the event, but it is possible she would have thanked Facebook for the award. Members of the social networking site launched a campaign to persuade "Saturday Night Live" creator Lorne Michaels to hire her as guest host of the comedy show. After much reluctance, White acceded to Michaels' entreaties and hosted the Mother's Day-eve episode on May 8.
She previously won an Emmy, also in the same category, for playing herself in an episode of "The John Larroquette Show" in 1996, as well as two for "The Mary Tyler Moore Show" and a single statuette for "Golden Girls."
White has enjoyed a remarkable career resurrection, kick-started last year by her role as a sprightly grandmother in the Sandra Bullock comedy "The Proposal." A popular Super Bowl commercial and a lifetime achievement award from the Screen Actors Guild followed. Just three weeks ago, White thrilled youngsters at the Teen Choice Awards by boogieing with Bullock.
On the comedy side, Neil Patrick Harris won the first Emmy of his career for "Glee," which nabbed 19 nominations overall. He grabbed a second award as host of this year's Tony Awards, which won the Emmy for special class program.
Harris stars in "How I Met Your Mother."
In the dramatic categories, the awards went to John Lithgow for playing a serial killer in "Dexter" and to Ann-Margret for "Law & Order: Special Victims Unit." The veteran Swedish-born actress received a standing ovation when she came to the stage to receive the event's final award.
For Lithgow, it marked his fifth Emmy, and the first since 1999 when he won for his lead role as Dick Solomon in the sitcom "3rd Rock from the Sun."
Lithgow, 64, accidentally thanked HBO instead of Showtime.
"Did I really?" Lithgow said, when apprised of his faux pas backstage. "I wondered why people were laughing at me. Now I know."
He recalled that he initially turned down the season-long role as "Trinity Killer" Arthur Mitchell because he wanted to take a vacation. But his wife said he should do the role.
Jeff Probst from "Survivor" maintained his clean sweep of the reality show host category, winning for the third straight year of the category's existence.
The biggest winner overall was the costly World War Two miniseries "The Pacific," which led the Primetime Emmy nominations with 24. It won seven awards and remains in contention for five more next week.
Rookie comedy "Modern Family" and "Saturday Night Live" each won three. "Modern Family," with 14 nominations overall, is up for eight awards at the main Primetime Emmys, although five of its stars are competing in two categories.
"Saturday Night Live" received 12 nominations, and its three wins pushed its haul to 28 since 1976. It will compete for best variety, music or comedy series at the main ceremony.
"Mad Men," last year's best drama winner, added two awards to its collection. With 17 nominations overall this year, it remains active with nine bids.
"30 Rock," last year's best comedy winner, went home empty-handed after being in contention for eight awards. It has seven chances at the next presentation.
Other notable winners included Wendy Melvoin and Lisa Coleman, composers of the theme music for rookie series "Nurse Jackie." They are best known as Wendy and Lisa, two of Prince's musicians during the 1980s. They fielded plenty of Prince-related questions backstage, despite disclosing that the musician's attorneys had sent them a cease-and-desist letter to stop talking about him.
The top network winner was HBO with 17 trophies, followed by ABC with 15 and Fox with nine. CBS, NBC and PBS each claimed seven.
Four trophies went to "Disney Prep & Landing," an animated Christmas special. Other big winners, with three trophies each, were freshman sitcom "Modern Family," "Saturday Night Live" and "The 25th Anniversary Rock And Roll Hall of Fame Concert."
Randy Newman won a trophy for original music and lyrics for "When I'm Gone," written for the departed series "Monk."
John Leverence, senior vice president of awards, received the Syd Cassyd Founders Award for his service to the TV academy.
The creative arts ceremony will air Friday on the E! channel. Next Sunday's 62nd annual prime-time Emmy ceremony, with Jimmy Fallon as host, will air live on NBC.
Other winners at the creative arts Emmys, which honor technical and other achievements, included:
Voice-over performance: Anne Hathaway, "The Simpsons: Once Upon a Time in Springfield," Fox.
Reality program: "Jamie Oliver's Food Revolution," ABC.
Commercial: "The Man Your Man Could Smell Like: Old Spice Body Wash."
Animated Program: "Disney Prep & Landing," ABC.
Nonfiction series: "The National Parks: America's Best Idea," PBS.
Writing for a variety, music or comedy series: "The Colbert Report: 5076 (in Iraq)," Comedy Central.
Music composition for a series (original dramatic score): "24: 3 p.m. - 4 p.m.," Fox.
Music composition for a miniseries, movie or special: "Temple Grandin," HBO.
Choreography: "So You Think You Can Dance," Fox.
Casting for a drama series: "Mad Men," AMC.
Casting for a miniseries, movie or a special: "The Pacific," HBO.
Casting for a comedy series: "Modern Family," ABC.
Costumes for a miniseries, movie or a special: "Return to Cranford (Masterpiece), Part 2," PBS.
Costumes for a variety-music program or a musical (more than one award possible): "Jimmy Kimmel Live: Episode 09-1266)," ABC; "So You Think You Can Dance (Top 12 perform)," Fox; "Titan Maximum: Went to Party, Got Crabs," Cartoon Network.
Costumes for a series: "The Tudors: Episode No. 408," Showtime.