/ Source: TODAY contributor
If necessity is the mother of invention, then the economic downturn sure has made one out-of-work photographer become awfully inventive.
San Francisco resident Corina Marie Howell spent several months last year shopping her extensive portfolio of celebrity and fashion photography around to magazines, studios, galleries — anyplace that might want to hire her. Time and again, businesses turned her away because they were in penny-pinching mode.
"I love photography, and I really want to be a photographer," said Howell, 26. "I realized that if I wanted to avoid waiting tables, I'd have to do something truly innovative to stay in my field."
But even Howell never imagined she'd be doing anything like this.
In recent months, she has transformed her apartment into a "boudoir photography" studio where women can drink champagne, dance around to Britney Spears and have tastefully sexy portraits taken of themselves — just in time for Valentine's Day. She's also been hauling her professional studio lights, camera and other gear to women's homes so she can photograph them where they feel most comfortable.
The idea to do this started off so small that it can't even be classified as a true business idea. Last November, Howell and her roommate Kelley Gates were sitting around trying to figure out what Gates should give her long-distance boyfriend for Christmas. Howell spontaneously suggested that Gates should surprise him with sexy photos of herself.
"I said, 'Hmmmm , I don't know. Bra and underwear? Camera?' " recalled Gates, a 27-year-old graphic artist.
Since Howell already had all sorts of photography equipment situated around her apartment, she and Gates turned that evening into a giant photo shoot that lasted several hours.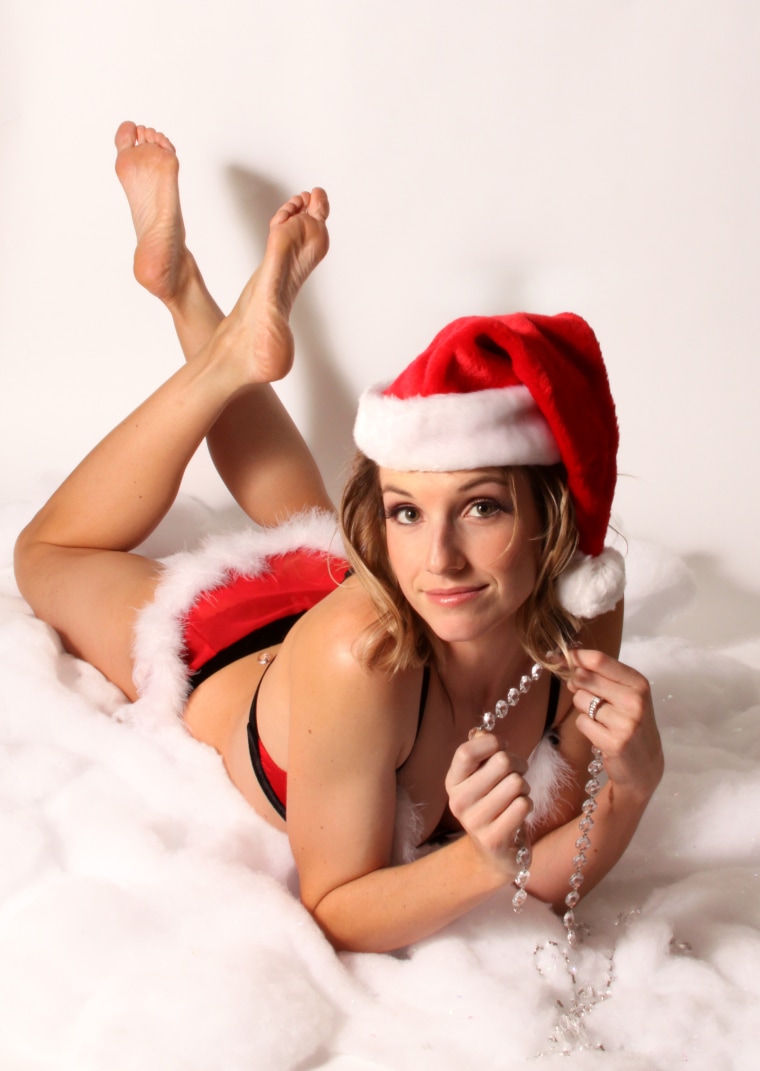 "I started out a bit shy and nervous with the camera and lights on me, but by the end of the night I felt like a rock star!" Gates enthused. "It was so much fun. I didn't expect to have as much fun doing it."
But, she adds, "I can tell you this: Champagne helped."
Gates' enthusiasm was infectious. She showed her photos to her sister and to trusted friends. Those women told friends, and those friends told still more friends.
A big — no, a huge — draw was that Howell is a professional photographer who knows how to use lighting in flattering ways and discreetly "retouch" photos so that skin tones appear even and blemishes and other flaws disappear.
Cellulite? Gone. Acne? Gone. Crows' feet? Gone.
"Oh yeah, we can get rid of cellulite. That's easy," Howell said. "And I can change the shading of your body with an effect that makes it look like you have more abdominal muscles than you do."
In addition to making women look more toned and in shape, Howell also can make them look — gasp! — a wee bit thinner.
"I mean, I think it's best to use this minimally. I don't want to change the way people's body shapes look," Howell said. "You're not going to look 50 pounds lighter in the picture, but five to 10 pounds is easy and I don't think it's something that the boyfriend would notice."
Armed with insights into Howell's special skills and glimpses of Gates' fabulous photos, women began crushing into Howell's apartment with bags of Victoria's Secret lingerie in tow. Everyone had the same idea: They wanted to surprise their boyfriends and fiancés with knockout photos for Christmas.
Because Gates lived there, she got to participate in more and more photo shoots — so many that she scored enough winning photographs to create a full 12-month calendar for her boyfriend, Christopher Lotosky, who lives far, far away in Chicago.
Needless to say, Lotosky was surprised.
"I was speechless," the 27-year-old said. "They were amazing — like something straight out of Maxim magazine. I couldn't believe how professional they were. ... It was the perfect gift, especially for guy in a long-distance relationship."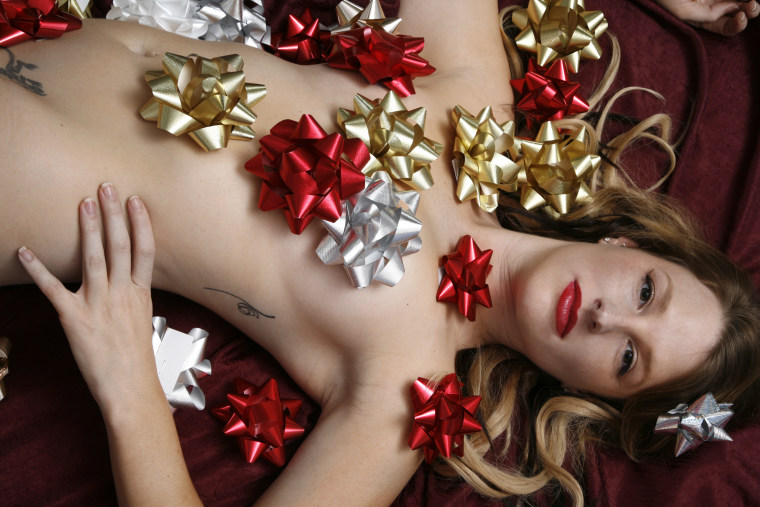 'Now that's boudoir'
As the Christmas season wound to an end, Howell's friends encouraged her to do a Valentine's Day promotion for her fledgling boudoir photography business.
She followed their advice and made fliers announcing that women could create "fun and sexy pictures" for their men with the help of a photographer who is "not a creepy weirdo." Sure enough, she's been booked for photo shoots multiple nights each week for weeks now.
It turns out that the "not a creepy weirdo" factor has been yet another big draw for potential customers. In many parts of the country, it can be an important factor to consider.
An Internet search using the words "boudoir photography," "sensual photography" or "tasteful, sexy photography" turns up all sorts of Web sites for photo studios across the United States. Based on the photos displayed on various sites, some businesses truly do tasteful work. Others' images might be described as, well, pornographic at best.
Joseph Cristina, 39, a photographer based in West Palm Beach, Fla., has been doing boudoir photography for more than 10 years now. That's not all he does; his studio, Allure Multimedia, also specializes in wedding photos, engagement photos, family portraits and commercial photography. When a boudoir photography assignment comes his way, though, he makes sure certain rules apply: No nudity, no porn, and his wife, a licensed cosmetologist, is almost always present to help put the woman being photographed at ease.
"Some photography you'll see out there is not boudoir photography at all," Cristina said. "It's basically R- and X-rated. Lots of guys do that, and it's garbage. It's not what it's about.
"Boudoir photography, or sensual photography, is about making the woman comfortable and portraying her in the best light possible. The person's looks don't matter as much as how they're feeling. ... Marilyn Monroe stuff back in the day? Now that's boudoir."
Cristina said he's noticed a jump in the popularity of boudoir photography in the past three or four years, and he's not entirely sure why. But like clockwork around Valentine's Day, Father's Day, Christmas and each year's wedding season, he starts getting calls from women who are considering having photos taken for the men in their lives.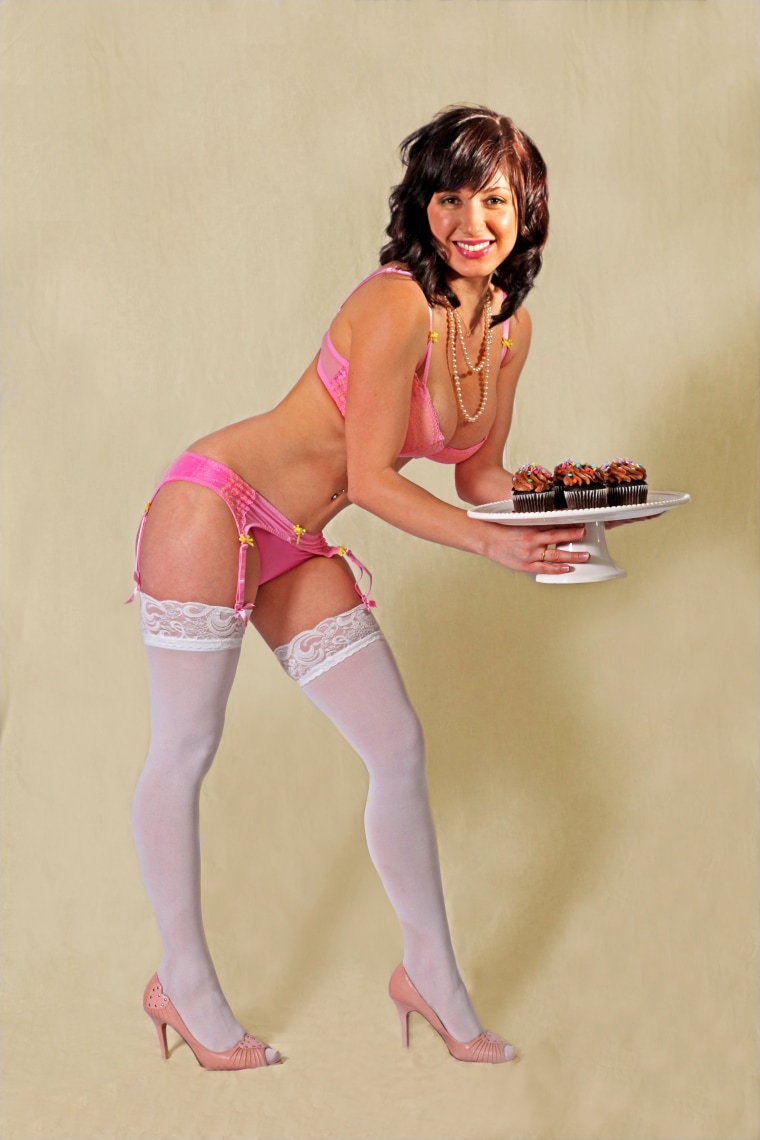 "It's basically a gift of the heart," he said. "It's a gift from somebody who is taking time to capture their 'self' or their essence at a particular time of their life and immortalize it. 'This is me, for you, when I was 30.' 'This is me, for you, when I was 45.' Age doesn't matter. Capturing a moment and keeping it is what matters."
Several of Howell's clients in the San Francisco area said their photos deeply affected them for that very reason.
"Now when I get old, I can always look back on my photos and be proud of my rockin' body when I was in my 20s," said Gates, Howell's roommate. "[And] just so you know, I have never called my body 'rockin'' before these shots."
Many of Howell's clients also talked about the boosts of self-esteem they got from the photos.
Adrienne Banner said her photos "weren't all keepers by any means. But the ones that I liked I really liked, and that felt great. I felt really beautiful, which is something I sometimes struggle with when I see pictures of myself."
Casey Gates, Kelley Gates' sister, said she felt "incredibly confident and sexy" during her photo shoot. And Eva Klein said, "I think it's a great way to see yourself in a new light. I never knew I could look like that!"
'Any girl can look good'
For her part, Howell is convinced that most women could "look like that," regardless of the burdensome body-image baggage they may be lugging around with them. Before she returned to her home town of San Francisco in 2008 to search for work, she lived in Los Angeles for nearly three years and was the photo editor of a Hollywood fashion and lifestyle magazine.
In that job — which was exciting at first but which ultimately left her feeling disillusioned and unhappy — Howell produced A-list celebrity shoots and photographed plenty of celebrities herself. It's also where she learned all the retouching tricks that she's using in a limited way on her clients' photos now.
"I think my celebrity and fashion experience is what led me to believe that almost any girl can look good in a photo," Howell said. "I've been on so many photo shoots with models, and they may be thinner or whatever, but some of them are short. Some of them are curvy. Some aren't. They're just a lot more normal than you might think."
Howell isn't necessarily sold on the idea of taking sexy pictures for the rest of her life. Her real loves are fashion and advertising photography, and she could see herself moving to New York someday to pursue those avenues when the economy turns around.
"But this is super fun, and I have absolutely nothing at all against doing this, too," she said. "It's a blast ... especially when we do it with groups of girls. It's like everyone cheering for each other and saying things like, 'Hell, I'd do you!'  It's just fun and supportive!"
So far, her typical group shoots last about six hours. Her prices are evolving and they're likely to rise, but she's kept them low for now — in large part because many of her customers are struggling financially too.
"It is generally $60-$75 per 'setup,' " she said. "A setup is a change of clothes and/or location. That is pretty cheap as far as photography goes ... but this is a tough economy!"
Once the photos are downloaded, edited and retouched, Howell gives digital images to her customers via e-mail or on a disc so they can order prints and mastermind other photo projects online.
Lotosky, Gates' boyfriend, said he'll never forget the calendar Gates made for him.
"If you've been in a relationship for a while, you've probably gotten your significant other every cliché gift in the book," he said. "This is special and it doesn't break your bank account. ...
"It was a gift to [Kelley] as much as it was a gift for me. I'm glad she had so much fun doing it. She treats me like a rock star; it's only fair that she gets to feel like one, too."
To see examples of Corina Marie Howell's other professional photography or find her contact information for a possible boudoir photo shoot, visit her Web site, .