In a nod to this week's landmark Supreme Court decisions regarding same-sex marriage, the striking new cover of The New Yorker features famous "are they or aren't they" couple Bert and Ernie of "Sesame Street" snuggled up on the couch watching the news on television.
The two long-time bachelors are wearing their usual rainbow-striped shirts, with Ernie leaning on Bert's shoulder with Bert's arm around him as they gaze at a television showing the justices in their robes. The striking image, titled "Moment of Joy," was submitted unsolicited to a Tumblr by artist Jack Hunter.
"It's amazing to witness how attitudes on gay rights have evolved in my lifetime," Hunter told The New Yorker. "This is great for our kids, a moment we can all celebrate."
Even though Bert and Ernie are fictional characters, in 2011 there was an online petition and Facebook page saying they should get married. The buzz grew to the point that Sesame Street Workshop formally addressed it.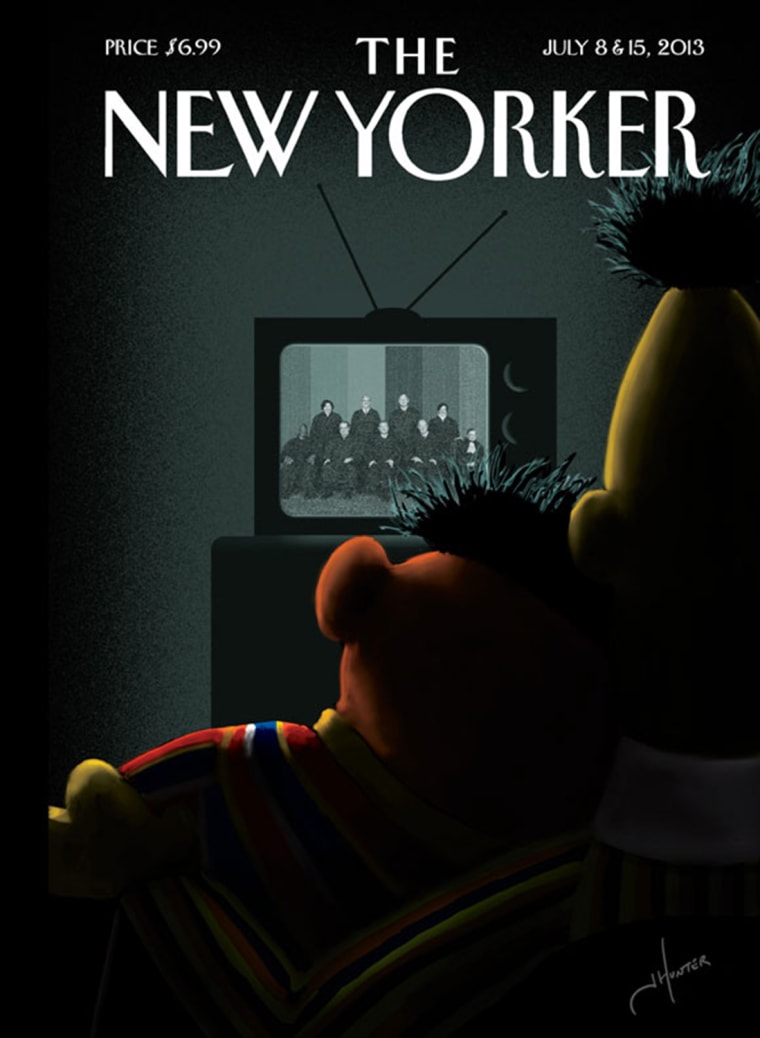 "Bert and Ernie are best friends," the Workshop said in a statement at the time. "They were created to teach preschoolers that people can be good friends with those who are very different from themselves.
"Even though they are identified as male characters and possess many human traits and characteristics (as most 'Sesame Street' Muppets do), they remain puppets, and do not have a sexual orientation."
Public reaction to the New Yorker cover has been mixed. The Huffington Post claims its one of the "most awesome covers of all time," while the Atlantic Wire stated it's "the picture perfect symbol" for gay marriage.
On Flavorwire, however, Tyler Coates writes that the image is "infantilizing and offensive," and that it belittled the decades-long fight for equal rights by "by needlessly sexualizing a pair of puppets."
Slate weighs in, writing that although it's a cute image, it simply wasn't appropriate for the event.
"It's a terrible way to commemorate a major civil-rights victory for gay and lesbian couples," wrote June Thomas.

On Twitter, the cover has been called everything from "terrible" to "a keeper" to "outing" America's favorite puppets.
Then again, some say we shouldn't look too hard into one magazine cover. "Let's not over-analyze this wonderful cover," writes the Atlantic's Rebecca Greenfield. "Okay, enough. Now let's all have a good cuddle."