Bus driver Gary Kelmer has spent the last 26 years making sure that not only do the kids in his community get to school safely, they also learn all the words to the fight song of his beloved Philadelphia Eagles.
Because of his dedication, the grateful people of Mount Laurel, New Jersey, are sending the bus driver, affectionately known as "Mr. Gary," on his longest route yet — 1,193 miles to Minneapolis, Minnesota, for Super Bowl LII.
Kelmer was at a loss for words on Monday when about 50 people surprised him at the last stop on his route with tickets for him and his wife to attend Sunday's big game between the Eagles and the defending Super Bowl champion New England Patriots.
"Oh boy! Oh boy! Oh boy!" was all a tearful Kelmer could initially muster, according to the Burlington County Times. "I don't know what to say. This is a special dream come true. I'm ecstatic."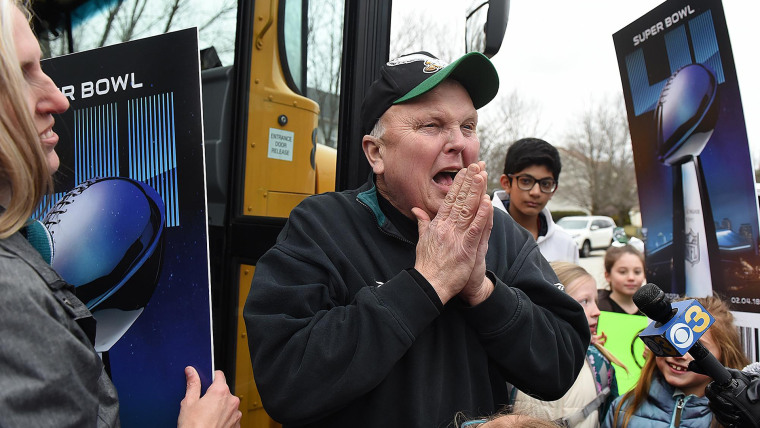 Amy and Izaak Smith, the parents of two of Kelmer's regular riders, Jordyn, 8, and Addyson, 6, raised $5,097 from 124 donors in five days with a GoFundMe page. The money will go toward the cost of the tickets, travel and hotel accommodations for Kilmer and his wife.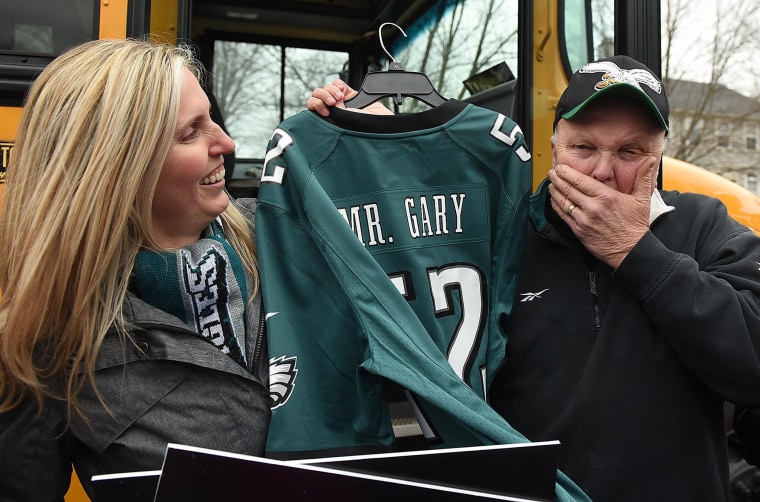 "He's just a wonderful human being,'' Amy Smith told the Burlington County Times. "We're so blessed to have him as a bus driver, because he truly loves his job."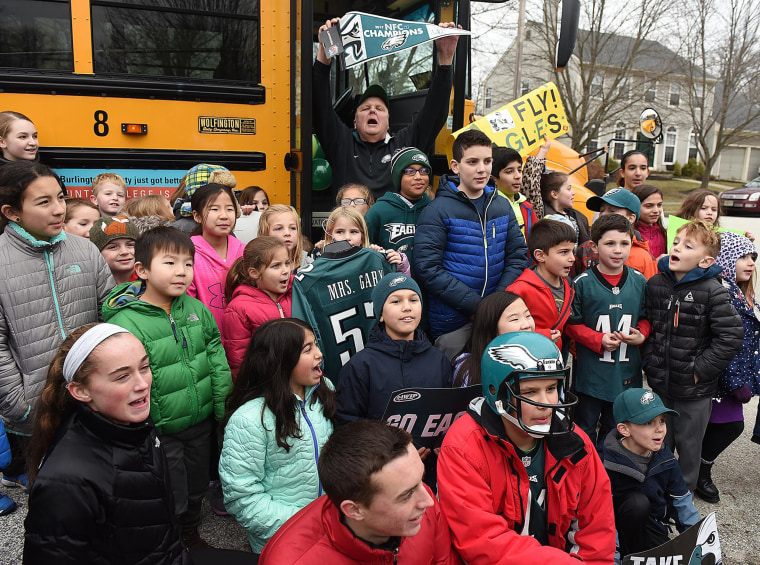 "I'm just seeing this and Mr. Gary was my bus driver almost 20 years ago!'' a woman named Chelsea Gray wrote on the GoFundMe page. "I live in Vegas now and still tell people about my Eagles loving bus driver that taught me the fight song in middle school!"
Kelmer has endeared himself to a generation of children for playing their favorite radio stations, giving out Air Heads candy, holding an annual fishing derby for kids, and singing "Fly, Eagles, Fly" with them on Fridays ahead of Philadelphia's games.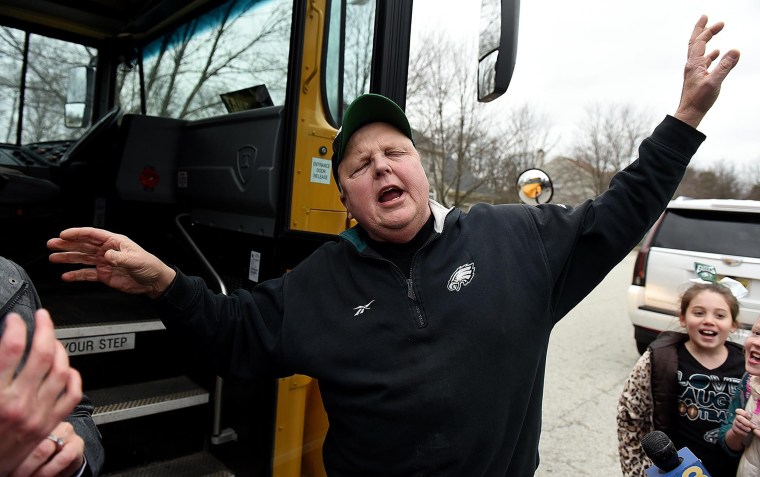 He usually can be found decked out in Eagles apparel. Now he has a new jersey to wear.
Parents and kids from the community gave Kelmer two special No. 52 Eagles jerseys in honor of Super Bowl LII so they can support the team in style. The jerseys say "Mr. Gary" and "Mrs. Gary" on the back.
The Eagles will try to win their first Super Bowl in history in their first appearance since losing 24-21 to the Patriots in 2005.
"I've never had anything like this happen to me,'' Kelmer said. "I'm blessed in so many ways."
Follow TODAY.com writer Scott Stump on Twitter.