In less than two years, Lolo Jones and Lauryn Williams have made the transition from Olympic track athletes to bobsledders headed to Sochi as part of the U.S. team.  

Their swift success in transitioning to a sport they hadn't even tried until 2012 begs the question of just how hard it is to go from the top level of track and field to life as an elite bobsledder. 
"It honestly takes nowhere near two years to compete at a high level in bobsled if you have the required attributes,'' USA Bobsled and Skeleton Federation start coach Stuart McMillan, who has worked with Williams and Jones, told TODAY.com.
First, it depends on what position on the team an athlete is gunning for. Training to become a world-class bobsled driver like 2010 U.S. gold medalist Steven Holcomb can take years, but the path to an Olympic berth as a push athlete in bobsled can be much quicker. Jones and Williams both made it as push athletes.
"The role of the push athlete in bobsled is to push the sled from the block as explosively as possible for 30 to 40 meters and then jump in,'' McMillan explained. "There are few other responsibilities for the push athlete other than pulling the brakes at the end of the run." 
Lolo Jones: Making it to Sochi as a bobsledder is 'about redemption'
Jones finished seventh and fourth in the 100-meter hurdles, respectively, in the last two Summer Olympics. Williams is a world champion sprinter who was part of the 4x100-meter relay team that won gold in London in 2012.
Jones decided to give the new sport a try on the advice of U.S. bobsledder Elana Meyers, a 2010 bronze medalist. Jones then reached out to Williams to convince her to give it a shot, and she made a swift transition. Another member of the U.S. team, Aja Evans, was a sprinter on the track team at the University of Illinois before getting into bobsledding. 

"You can become a world-class push athlete literally within weeks — in fact, the second time that Lauryn ever touched a sled, she finished third in the U.S. Push Championships, beating many experienced, and successful, athletes,'' McMillan said. "This is why we are seeing more and more high-level sprinters getting interested in the sport."
One of the impediments of moving from track to bobsled, particularly on the women's side, can be size. Jones was eating 9,000 calories a day in order to put on the 30 pounds of muscle she needed to help make the team.

"Generally, the fastest and most powerful athletes enjoy the most success in bobsled,'' McMillan said. "However, bobsled being a gravity sport, weight matters. The heavier the total mass of the bobsled and the athletes, the faster it will accelerate down the track. This is normally the most challenging part for sprint athletes. Most sprinters are pretty tiny, and wouldn't have the necessary strength and size to make it as world-class bobsledders. Both Lolo and Lauryn have worked extremely hard in acquiring this size and strength — they obviously already had the speed."
If the transition were that simple, however, Jones and Williams wouldn't be in line to become just the ninth and 10th U.S. athletes to ever compete in both the Summer and Winter Olympics.
"There are some skills that will transfer from track, obviously the running behind the bobsled, but other than that, there is actually a lot that I had to learn,'' Jones told TODAY Tuesday. "You just have to be really strong and powerful for bobsled, and there's really no sport like it. It's not like you can practice this sport in high school or middle school.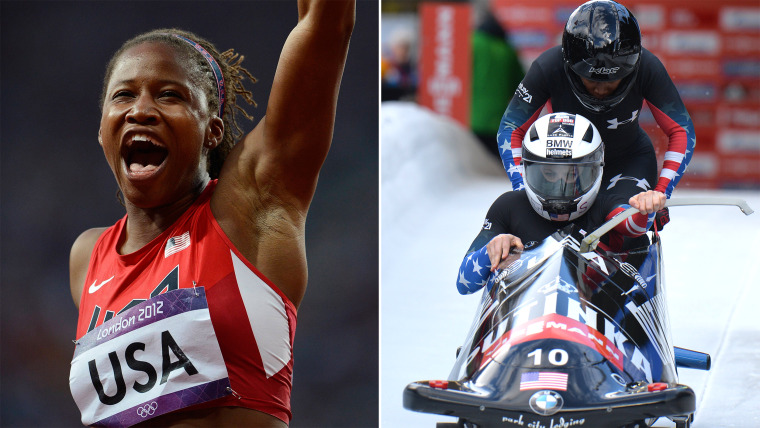 "You really have to come there and have no knowledge about it and then just have to learn everything so very quickly. It takes a lot of help from your teammates. It's a lot of people just molding together at the same time. It's been a challenge. It's definitely more challenging than track and field in that aspect." 

What has also helped Jones and Williams is that women's bobsled is in its relative infancy as an Olympic sport. The women's two-man bobsled competition only began in 2002 in Salt Lake City, where the team of Jill Bakken and Vonetta Flowers won gold. The U.S. has won a medal in all three Olympics since it was added. 
A handful of other well-known athletes, notably former NFL running back Herschel Walker, who finished seventh in the 1992 Olympics, have made the transition. However, it still is fairly rare for high-profile competitors from other sports.
One impediment can be simple geography, as there are only two Olympic-level tracks in the country, located in Lake Placid, N.Y., and Park City, Utah. The daily life of a bobsledder compared to that of a track athlete is also much different. 
"Much of the challenge for new bobsledders involves the extremely unique lifestyle that the athletes live while they're on the road,'' McMillan said. "It is very different from a sprinter's competition season. The bobsled athletes are responsible for their own equipment, up to $80,000 in sleds and runners — ensuring it is always in top-notch shape, loading the sled on and off trucks all day long, and driving it around Europe in vans. We are lucky enough to have some of the best sled technicians around, but still much of the work is the athletes' responsibility."
Another factor that can cut a potential bobsledding career short in a hurry is that first ride down the track at speeds that can exceed 100 miles per hour.

"The initial shock comes from the ride down,'' McMillan said. "Most athletes will know almost immediately whether or not the sport is for them. It is much more violent than most athletes are prepared for. There is no cushioning in the back of a sled, the top speeds are in excess of 100 mph, and G-forces in excess of 5G can be reached. This is not a comfortable ride, and it definitely takes a certain toughness to stick with it."
Bobsled is also a sport that requires teamwork, unlike the more solitary pursuit of track. On the men's side, there are two-man and four-man events, while the women's only has the two-man event. Jones and Williams have both taken to the team concept quickly to fit in with a veteran group. In a way, the sport needs a high-profile figure like Jones as much as she needed bobsled, which she said helped pull her out of the post-London depression after finishing a tenth of a second out of the running for a medal.
"With the influx of higher-profile athletes getting involved, the hope is the sport can continue to grow in North America and be discussed more often than once every four years for two weeks,'' McMillan said. "Bobsled truly has some of the best athletes in the world competing in it, and it deserves to be more recognized."