A top player on a basketball team has been barred from playing in an upcoming game, and it doesn't have anything to do with how she handles herself on the court. 
It's that she's even there in the first place.
Jaelyn Bates, a fourth-grader, is a powerful player on the Frey Basketball Academy team, but now she's been told she can't compete with her teammates.
"Because I'm a girl, and they're boys," Jaelyn, 10, told NBC's Dave Briggs. Her dad Barry Bates says that her skills on the court measure up to those of the other athletes on her team, even though they're all boys.
"She fares very well, no difference than any boy with her skills would have," said Bates. "She gets hurt like every other kid gets hurt. She scores like every other kid scores."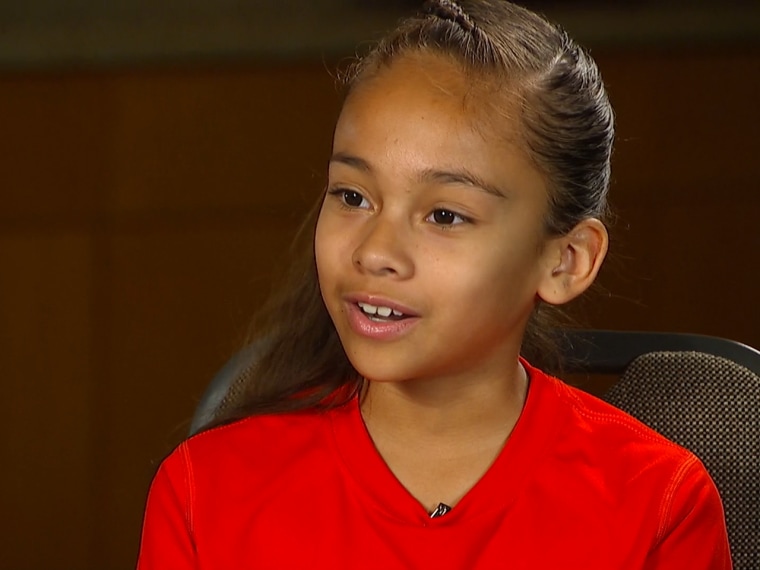 The boys don't have a problem with a girl being on their team. But some adults do.

The team was told they could not play in a qualifier for the national championships, called the Southwest Salsa Slam, with her on the roster, because girls can't play with boys, and vice versa.
In an email, organizers explained the American Athletic Union doesn't allow both boys and girls to play in the same game, and stated: "Our priority is to keep our young athletes and our volunteers who help with the tournament safe, and to provide a competitive forum for all young athletes."
The coach, Kevin Frey, went to every player, and asked how each boy felt about Jaelyn not being able to play. "They didn't feel good and they don't want to play without her," he said.
That meant the world to Jaelyn. "It makes me feel happy and it makes me feel like I'm a part of the team," she said. 
Jaelyn's family is fighting back, filing a court injunction in an attempt to let her join her teammates and compete on the court.
What do you think of Jaelyn's story? Let us know using the hashtag #OrangeRoom.