/ Source: The Associated Press
You've got to be at the top of your game to be a one-name model: There's Iman, Naomi, Gisele — Barbie.
The 11.5-inch plastic doll is still on top as a high-fashion muse as she approaches her 50th birthday, and will make her New York Fashion Week catwalk debut on Saturday in 50 outfits by the country's top designers.
Barbie's life-size stand-ins will strut in a red carpet-worthy gown by Marchesa, a hot-pink wrap dress by Diane von Furstenberg and an outrageous green party dress by Betsey Johnson.
The fact that Barbie is just shy of her 50th birthday — officially marked on March 9 — doesn't seem to matter in a fashion industry that worships youth. (Being made of plastic, she can even avoid the indignities of Botox.)
"There's been an epic display of unity around Barbie as a muse," says Richard Dickson, general manager of the Barbie brand at Mattel. "Barbie is 50. What's the next chapter?"
Hello Kitty is also getting her own Fashion Week party, but there's little doubt about who's top doll. Barbie even knocked down the Bratz girls last year, resulting in a legal decision that essentially will end sales of the edgier tween dolls.
"A majority of designers have had some run-in with Barbie," says Carmen Marc Valvo. "She's an American icon, and there has to be an interesting association between play and Barbie, and creativity and fashion."
Valvo insists he's never had his own Barbie, but he was surrounded by his sisters' as a kid, and his very first design was a Barbie dress — a Renaissance gown for a school project. It's proudly displayed in his office, even though the dress is lacking properly cut armholes, a skill he did not yet have.
Valvo's new life-size Barbie dress is a frothy black strapless cocktail dress with pleats that reminds him of Barbie's early wardrobe of gowns. This one will be worn with hot-pink Christian Louboutin shoes: "It looks like a Bon Bon."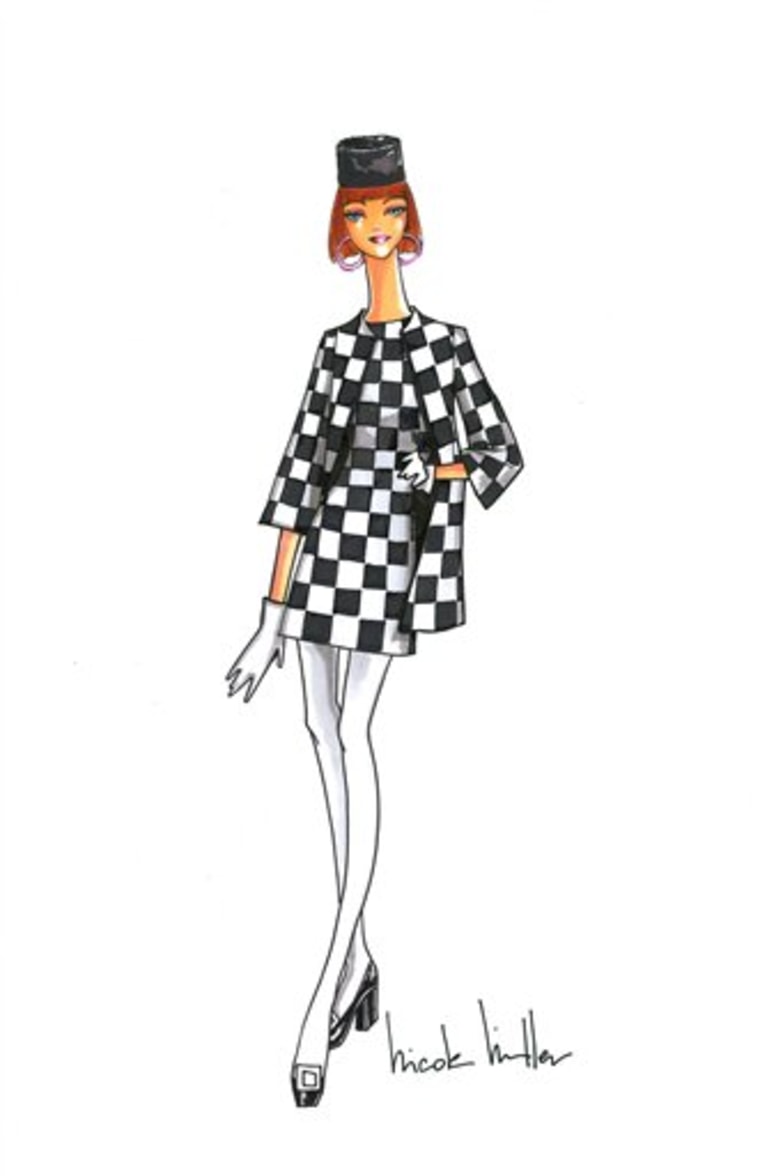 Nicole Miller's checkerboard trapeze dress and swing coat is the third outfit she has done for Barbie, filling a childhood void from a time when her French-born mother wouldn't let her have one of the dolls.
"I always envision Barbie in that '60s mode — I made her mid- to late-'60s mod," said Miller. It's a version of a dress Miller put in her very first runway show, worn by Linda Evangelista. "It was the season she was a blond. I immediately thought of that outfit."
Tommy Hilfiger, who will put Barbie in a hand-beaded white minidress, sees her Barbie as an American pop-culture icon that translates to other cultures and countries. There have been countless Barbies produced in the traditional dress of faraway lands, including a Korean bride in a hanbok and a Kenyan doll wearing wooden bead necklaces.
The dark-skinned Barbie even boosted the self-esteem of a young Rachel Roy, a designer with mixed Dutch and Indian heritage. "It helped me understand that brown was beautiful," she says.
Many of the Barbie styles are headed straight for Bloomingdale's flagship store — but they'll be on display, not for sale.