Rev. Jamal Bryant, the Baltimore pastor who delivered the eulogy at Freddie Gray's funeral — which preceded riots throughout the city — says the violent scenes do not reflect the young man's legacy.
"Violence and justice never go together in the same sentence," Bryant told Savannah Guthrie on TODAY Tuesday.
Gray recently became the nation's latest symbol of police brutality after he was injured while in custody. Gray later died from his spinal injuries a week after he was arrested. Bryant, pastor of The Empowerment Temple, ended Gray's eulogy with a "No Justice, No Peace" chant but he spent the rest of the day urging calm among protesters, asking many to just go home.
He said the frustration of the community, and nation, goes beyond Gray.
"What you have to look at is not Freddie Gray in isolation but look at what the young people have seen for the last 36 months," he said, referring to Eric Garner, Tamir Rice and other black men who died during encounters with police.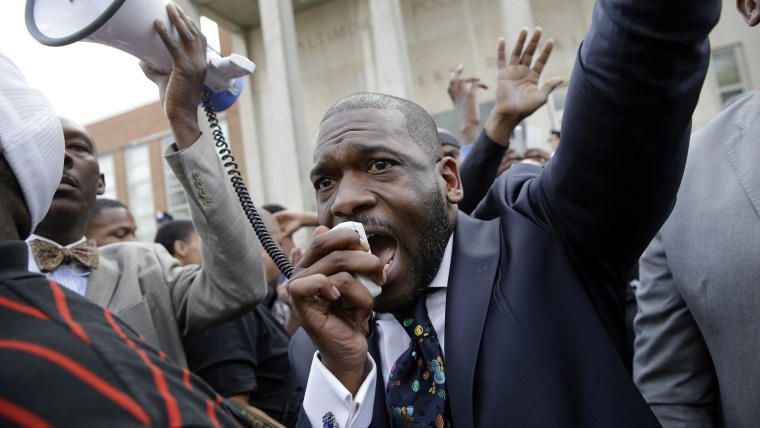 Bryant did not directly answer a question about whether Baltimore city leaders and first responders were slow to react, but stressed that "Baltimoreans moved fervently to go on the front line." He also said church officials have been meeting with area gang members to find ways to keep violence down.
"Last night, pastors met with gang leaders so that we could start rebuilding with our community and give some safe haven," he said. "To burn down a CVS and burn down a senior community center does not reflect with legacy of Freddie Gray or the movement that we've been a part of the last week."
Riots rocked Baltimore after Monday's funeral into the night. Television cameras captured protesters heaving rocks at police officers and setting vehicles on fire. They also caught looters walking casually out of a drug store and other businesses with merchandise.
Follow TODAY.com writer Eun Kyung Kim on Twitter.