Misty Copeland secured a place in the history books last summer, when she joined the American Ballet Theatre as the company's first black female principal dancer.
And now, the groundbreaking ballerina has received a much-deserved honor from Mattel: her very own Barbie.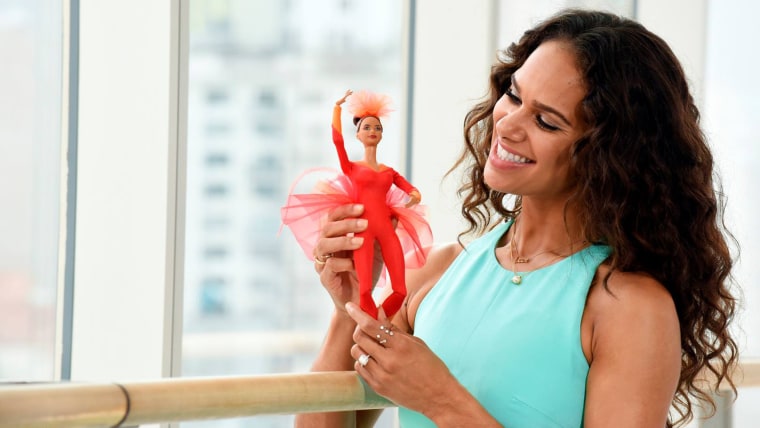 RELATED: Zendaya Barbie honors star for 'standing up for her culture'
In a video shared by Barbie's official Facebook page on Monday, Copeland discusses how the doll inspired her to reach for high goals as a child.
"I was a very shy girl, so I felt this instant connection with Barbie," the 33-year-old dancer explained. "She was a way for me to dream. She was extremely feminine, and I think what every little girl wants to be — because Barbie can transform into anything."
Back in 2014, after it was announced she would star in "Swan Lake," Copeland told TODAY that dance helped her during a difficult upbringing.
RELATED: On pointe! Ballerina Misty Copeland re-creates Degas dancers in Harper's Bazaar photos
"I really enjoyed moving to music. That was kind of an escape for me just throughout my childhood," she said, adding that the success she has achieved today is "surreal."
"I am living my dream..." she explained. "I just try to take it one step at a time."
RELATED: Jock brand Under Armour sells itself to the ladies in new ad
The Misty Copeland doll is part of the company's "Sheroes" program, which honors several other female heroes (including Emmy Rossum and Kristin Chenoweth) for their contributions and willingness to break boundaries.
The doll, available on the Barbie Collection website for $29.95, features a bright red bodysuit, nude ballet shoes and a tulle headpiece.