The Oklahoma Supreme Court has ruled that Baby Veronica, the 3-year-old girl at the center of a years-long custody dispute, should temporarily remain with her biological father in Oklahoma instead of being returned to her adoptive parents in South Carolina.
The ruling was made on Friday, but the information only became available on the court website on Tuesday. The court's decision is the latest twist in a long, heartbreaking legal case over who has the right to parent Veronica.

It was not immediately clear Tuesday why the court made the emergency ruling or for how long Veronica would remain with her biological father, Dusten Brown.
The dispute began in 2009 when Brown signed paperwork relinquishing his parental rights. Scheduled to deploy to Iraq at the time, Brown says he believed his signature gave full rights to Veronica's mother, Christy Maldonado.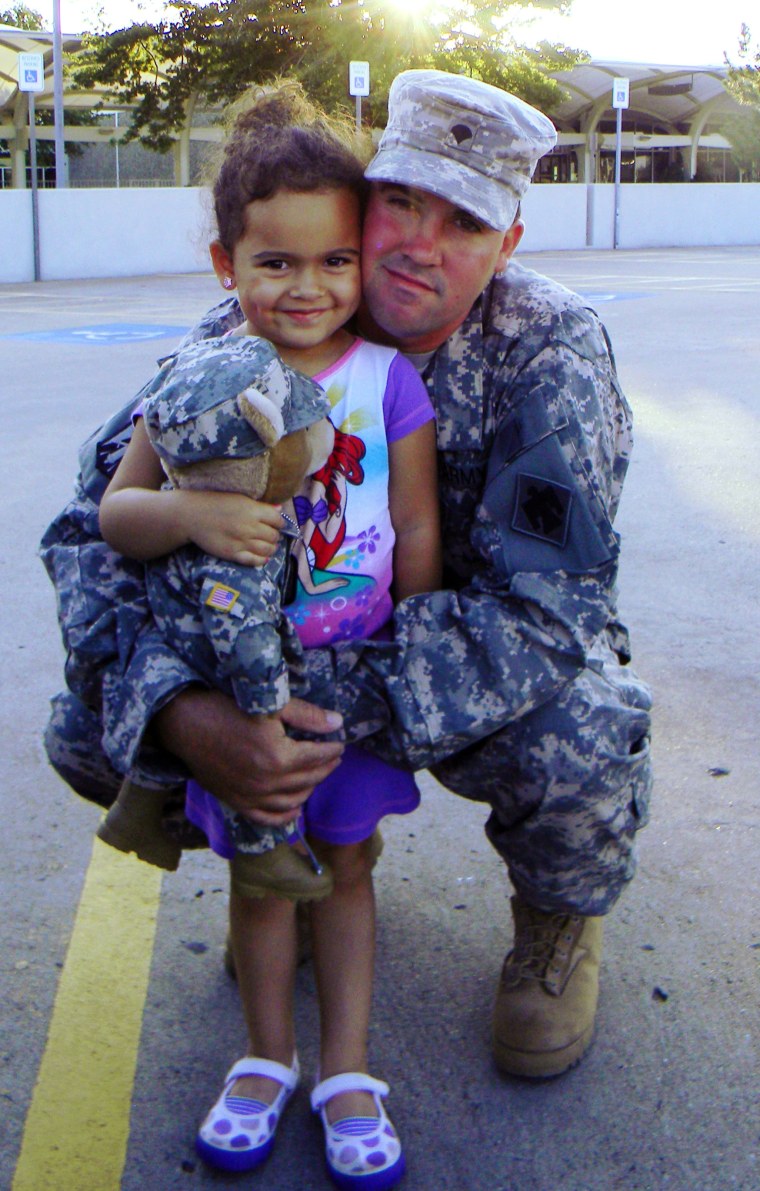 Brown, who had separated from Maldonado, did not expect Veronica to be put up for adoption. Matt and Melanie Capobianco, a South Carolina couple, began the adoption process when Veronica was four months old, and she lived with the family for 27 months.
At the heart of Veronica's case is the Indian Child Welfare Act, established in 1978 in response to high rates of Native American children being adopted by non-Native families. A South Carolina family court awarded custody of the girl to Brown, a member of the Cherokee Nation, under the Indian Child Welfare Act. A family court in the same state later ruled that custody be awarded to the Capobiancos and ordered Brown to hand Veronica over. Brown refused.
The U.S. Supreme Court said in June that provisions of the act, which would favor Brown, didn't apply in the case.
The case has highlighted overlapping parental claims in two states, and the clash between a Native American culture seeking to protect children from being adopted outside their tribes and U.S. legal safeguards for adoptive parents. The situation has become so emotionally wrenching that the governors in Oklahoma and South Carolina have spoken on the phone about it and are pushing for a resolution outside of the court.
Since the South Carolina family ruled against Brown following the Supreme Court decision, he has fought to keep Veronica while the Capobiancos insisted she return to their home.
When Brown failed to appear at a recent court-ordered meeting in South Carolina, authorities charged him with custodial interference; Brown turned himself in and posted a $10,000 bond for his release.
In the meantime, Veronica has stayed with paternal grandparents at an undisclosed location. At a press conference in August, Matt Capobianco likened his adoptive daughter's disappearance to a kidnapping and asked that law enforcement remove her from Brown's custody. The Capobiancos had traveled to Oklahoma hopeful that they'd be able to bring Veronica back to South Carolina.
"We are determined to bring our daughter home, but know we don't seek victory,'' Melanie said at that same press conference. "There is none in this type of situation. What we seek is peace for our daughter. For everyone involved, we need closure."
An Oklahoma court last month ordered the two sides to mediation in an effort to reach an agreement but there has been no announcement of a resolution.
"Dusten plans to continue to fight for the right to keep his daughter and the right to raise her with her family where she belongs," Robin Brown, his wife, told the New York Times last month. "She has the right to know where she comes from and know who she is."
Another hearing at the Oklahoma Supreme Court is set for later on Tuesday to consider arguments from both sides of the custody dispute. Both Brown and the Capobiancos are expected to attend the hearing. These hearings have so far been closed to the public and a gag order imposed on details of the court deliberations.
A call to Brown's lawyer was not immediately returned to the Associated Press on Tuesday and neither was a call and email to a spokeswoman for the Capobiancos.
Though she was required to be present, Veronica did not appear at an emergency court hearing last month.