From restaurant decorations to dancing in the streets, check out how the world is celebrating the U.K.'s new royal heir.
The Prince of Cambridge is only a day old and already gifts and tributes are pouring in from around the world.
And since it's unlikely that the Duke and Duchess of Cambridge need another baby blanket, well-wishers are getting creative.
Monuments around London were also quick to celebrate the new prince's arrival on Monday night, with the BT Tower proclaiming "It's a boy!", the fountains in Trafalgar Square and the Tower Bridge lit up in blue, and the London Eye decked out in red, white and blue lights.
Other landmarks around the world, including Niagara Falls, Canada's Peace Tower in Ottawa, and the Sky Tower in Auckland, New Zealand, also celebrated the new arrival on Monday night and lit up in blue.
In London, bells will ring for an incredible three hours on Tuesday as Westminster Abbey celebrates with a "full peal" of its bells, something it often does to celebrate royal occasions, an Abbey spokesman told TODAY.com.
Bucklebury, Kate's hometown, will also celebrate with bells, set to ring from a thousand-year-old church at 8 p.m. local time Wednesday.
Acknowledging the "support and goodwill" they have already received, the Duke and Duchess of Cambridge suggested on their website that "people might at this time look to support those more in need; perhaps a children's charity local to them, as a way of marking the birth of their child. Alternatively, you could look to support Imperial College Healthcare Charity, which is the charity of the hospital where The Duke and Duchess of Cambridge's baby was born."
Hillary Clinton sent her congratulations, via tweet:
The kookiest gift so far may be the naming of a zoo enclosure for the bilby — an Australian desert animal — after the new prince. The Australian government's grant, worth $9,238, to Sydney's Taronga Zoo's will go toward the zoo's bilby preservation program.

Neighboring New Zealand will be sending a 6-foot long hand spun lace shawl, similar to the gift the country gave to Prince William on his birth. Made out of merino wool, the shawl was commissioned in March and kept secret until now, according to a report on 3 News.
Other royal baby gifts and tributes include:
· Soccer team Aston Villa sent a uniform with the letters HRH and number 1 on the back. Aston Villa is said to be the Duke of Cambridge's favorite team.
· A parking space at an ASDA supermarket in Wales where Duchess Kate has shopped in the past has been reserved, complete with crowned stick figures.
· U.K. diaper cream brand Sudocream commissioned an 18 carat white gold piece inlaid with 24 rubies, modeled on the cream's usual plastic tub. The case will be auctioned to raise money for one of the Duchess' favorite charities.
· The Church of England has written a prayer for the royal baby, blessing the new parents and requesting "patience and wisdom to cherish and love him as he grows."
· The Muppets offered their congratulations in a video. "Can't you just hear the pitter patter of tadpole feet?" Miss Piggy asks Kermit.
· Australia is sending a copy of Mem Fox's book "Ten Little Fingers and Ten Little Toes," in addition to its bilby-related gifts.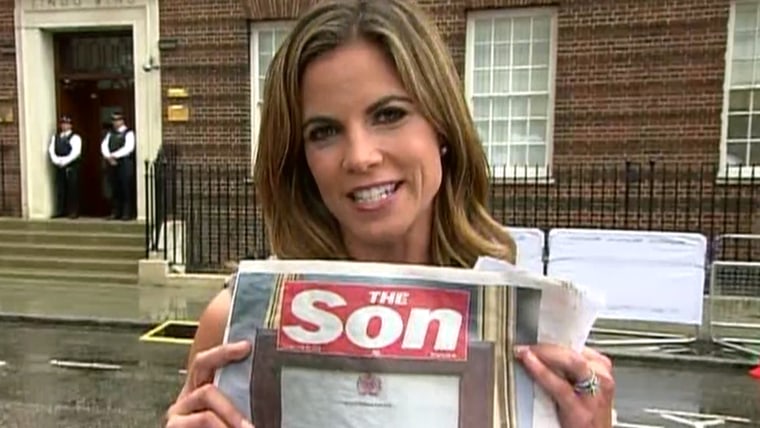 · A faux-sheepskin blanket, sent from PETA earlier this month, "combines kindness towards animals with great snuggleability!", according to the company.
· Teddy bears galore have been left at the gates of Buckingham Palace and the Lindo Wing of St. Mary's hospital where the baby was born on Monday.
· The Telegraph website adorned its header with Union Jack bunting. And The Sun newspaper changed its name temporarily — to The Son.
· Earlier this month, Finland sent a baby starter kit that every resident receives before their baby's birth, which includes diapers and condoms.
· The popular U.K. soap opera East Enders will mark the royal birth Tuesday by including a scene of two main characters discussing the prince's arrival.