They pledged to pay it forward, and the good news came full circle.
North Carolina parents Kevin Bond and fiance Samantha Stevens, whose infant son has been waiting for a heart transplant, vowed to share the generosity they'd received after an outpouring of financial support for 2-month-old Hudson exceeded their initial fundraising goal.
This week, they got the greatest donation of all — a new heart for their baby boy. On Monday they announced via Facebook that Hudson had undergone successful heart transplant surgery, after a donor was found on Sunday.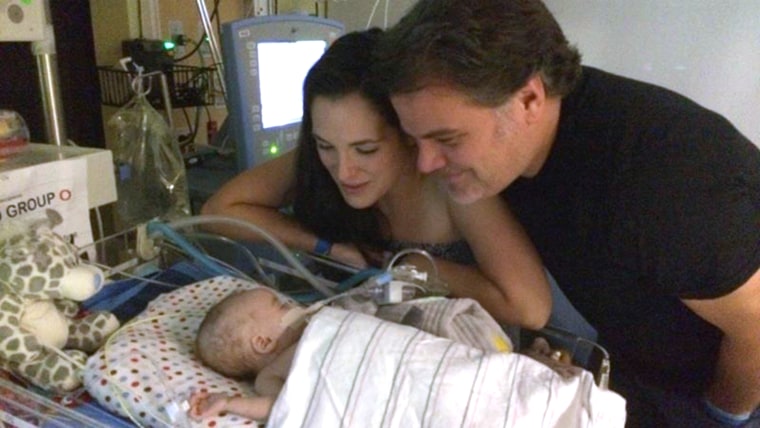 "Hudson is out of surgery and resting comfortably,'' the couple wrote. "He's a brave little boy, with a brave new heart, from a brave family suffering an unspeakable loss."
Bond provided an update on Tuesday, saying Hudson's chest X-ray looks good and that the next steps will begin on Wednesday. 
"Last night I really slept for the first time in two months,'' Bond wrote. "My heart made whole by that precious little gift beating strong in Hudson's chest. Thank you will never be enough for all you've done to support Hudson. He's got a long way to go, but we can honestly say we would have never gotten this far without you all." 
About a week after his birth, Hudson was diagnosed with cardiomyopathy, a disease of the heart muscle, necessitating a heart transplant. His parents have since relocated from Atlanta to Durham, North Carolina, to be with him while he is treated at Duke University Hospital. Before the donor was found, the couple had been waiting in limbo for a rare match.
"There's so many factors — geography, blood type, where are we on the list,'' Bond told TODAY on Sept. 17. "It could be tomorrow, it could be months. We just try to keep him stable and healthy so when one is available, he can undergo surgery and successfully complete it." 
Pediatric transplants account for only 10 percent of heart transplants worldwide, according to a 2012 report by the International Society for Heart and Lung Transplantation. Donors can be difficult to find because it also means another family has gone through a terrible tragedy of losing an infant. 
Bond and Stevens have raised more than $141,000 on their donation page on the Children's Organ Transplant Association website. They estimate they will need $125,000 for Hudson's care and have said they will donate any extra funds to COTA to help other families in similar need.