/ Source: TODAY contributor
In the latest twist in the case of a missing Kansas City infant, the child's mother admitted that she was drunk on the night of her baby's disappearance and expects to be arrested.
Breaking a nine-day silence, Deborah Bradley, the mother of missing 10-month-old Lisa Irwin, told NBC News about her behavior on the night of Baby Lisa's disappearance and her fear of possibly being arrested given the nature of the latest questioning by investigators.
"Judging on how the questioning went, that's kind of the fear that I have,'' Bradley told NBC's Peter Alexander in an exclusive interview alongside the baby's father, Jeremy Irwin, that aired on TODAY Monday. "The main fear is that if they arrest me, people are going to stop looking, and I'll never see her again, and I'll never know what happened.''
A surveillance video from a local market on the day of the baby's disappearance showed Bradley purchasing boxed wine as well as baby supplies shortly before 5 p.m. Bradley admitted to drinking "enough to be drunk'' that night, which led to the question of whether she could have harmed her own child under the influence of alcohol.
"No, no, no,'' she said. "If I thought there was a chance, I'd say it. I don't think that alcohol changes a person enough to do something like that.''
Changed timeline
Nearly two weeks after her child was reported missing on Oct. 4, Bradley also has changed her story about when she last saw baby Lisa. She now says the last time she saw her daughter was at 6:40 p.m. on the night of her disappearance, nearly four hours earlier than the time of 10:30 p.m. that she originally told police. Irwin, the child's father, was asked if he believed there was anything that Bradley was withholding from the police in light of this change in her story.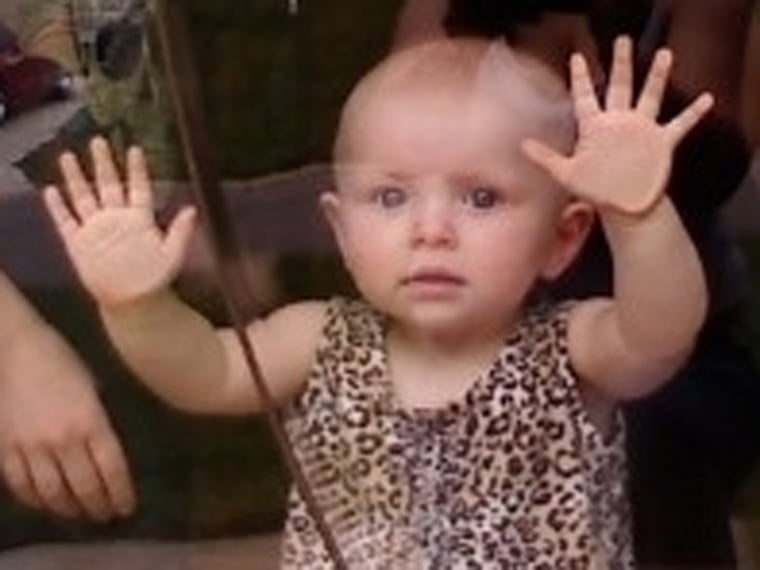 "No, there's no question to be had there,'' Irwin replied. "I know the kind of mother she is, and I know what kind of person she is in general.''
Former district attorney Jeanine Pirro weighed in on Bradley's inconsistencies on TODAY Monday. Pirro spent the last two weeks in Kansas City and has interviewed the parents at length.
"(Being drunk) would explain why she didn't hear the baby monitor, she didn't hear the dog barking,'' Pirro told TODAY's Ann Curry. "People were believing her because her story was consistent. Now she comes out with, 'The last time I saw my baby was at 6:40 and by the way, I was drunk.' This isn't the kind of thing that you want to bring out after the fact when time is essential here.''
Police have accused Bradley of killing her daughter, she said. The family is expected to announce later on Monday that it has retained an attorney.
"The last thing I want to have to worry about is something like that,'' Bradley said. "I shouldn't have to put any energy, any time or effort into anything but finding her.''
Bradley has also admitted to failing a police-administered lie detector test.
"They said that I failed when they asked me where she was (and) if I knew where she was,'' Bradley said.
The night of the child's disappearance also marked the first time that Irwin worked a night shift as an electrician. He said that when he returned home at 4 a.m., he found the front door unlocked with several lights on and a window screen tampered with. Police have tried to recreate how the baby might have been abducted by an intruder entering through that window.
"Our bedroom is on the exact opposite corner of the house, and (Bradley) sleeps with the fan on high,'' Irwin said.
"Yeah, they (the intruders) must have been doing it much quieter than police,'' Bradley added.
The couple has refused to let investigators re-interview Baby Lisa's 8- and 5-year-old half-brothers, who were in the house at the time of the child's disappearance.
"They said they heard noises, but I don't know if that was before they went to sleep or after,'' Bradley said about her two sons. "I have not sat down and talked to them about it, specifically to not have to put them through anything else.''
With police still producing no suspects in the case, 25 members of the Missouri National Guard joined the search on Saturday. Police also searched a nearby abandoned house after receiving a tip about a backpack and diapers inside, but investigators said the items were in the house longer than two weeks.
Police have also questioned a local handyman with a criminal past but have not made him a suspect in the case. A wealthy benefactor has put up a $100,000 reward for any information that leads to Baby Lisa's safe return. Hundreds of tips have poured in from as far away as England and Barbados, but still no concrete leads.
"Please think of Lisa,'' Bradley said. "She needs her family, and they need her.''