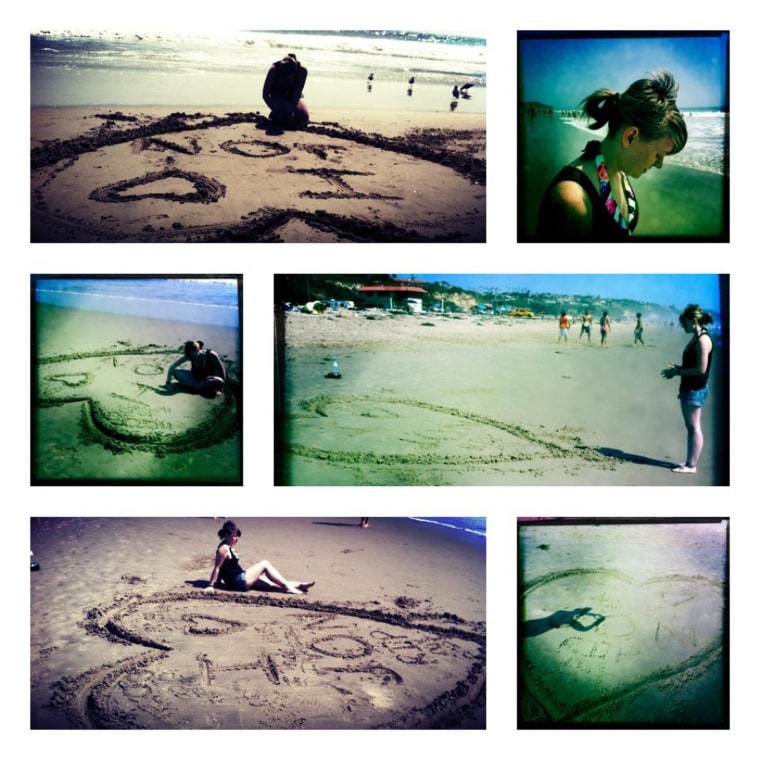 Jansen Young is only 21, but she talks with the perspective of someone who's lived much longer. She's spent the past five months trying to make sense of something utterly senseless: A shooting rampage in a setting of fun and innocence.
Young survived the July 20 massacre inside a packed Aurora, Colo., movie theater during the premiere of the Batman sequel "The Dark Knight Rises." She left the theater covered in other people's blood and injured with shrapnel wounds on her side. Her boyfriend, 26-year-old Navy veteran Jon Blunk, died shielding her from the attack.
"Jon just took a bullet for me," Young told TODAY in an emotional interview in July. "I'm still trying to decide if this is real."
In the months that followed, Young has struggled with post-traumatic stress disorder and has recoiled at the news of successive mass shootings. They've happened at a Sikh temple in August, a factory in September, a spa in October, a meat processing plant in November, a crowded mall in December, and — most recently and incomprehensibly of all — an elementary school shortly before Christmas.
"How do you ever understand anything like this?" Young said when TODAY.com caught up with her at the close of 2012. "You send your kids to school one day, thinking they'll be safe. We went to a fun movie theater, thinking we'd be safe ...
"Even though what happened was so awful, let's not lose hope in humanity. I just can't give up on humanity yet."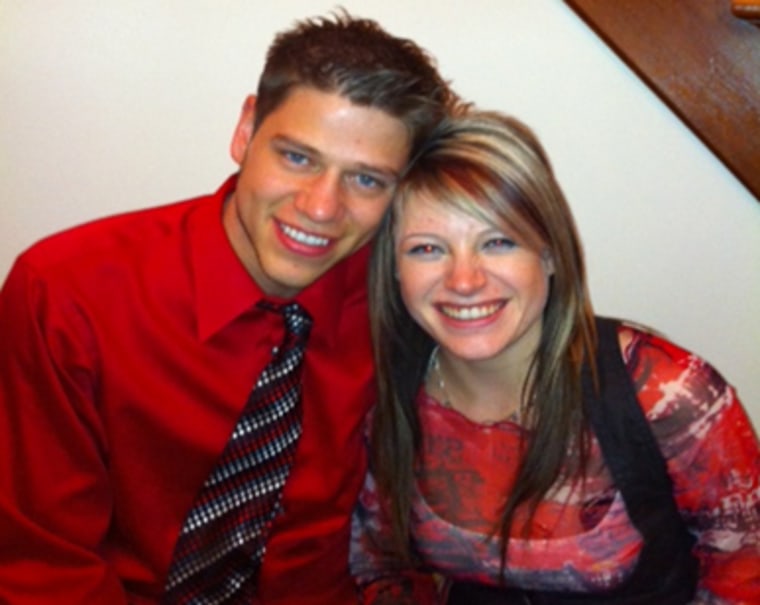 Finally, a smile
Young's optimism is rooted in the sustained support she's received from family members, friends and strangers following the Aurora attack, which killed 12 and wounded 58. Her parents and three older sisters, Reegan, Laura and Eden, kept close watch on her for weeks in a row, even when she barely seemed aware of their presence and could do little but sit in a chair and stare blankly at nothing in particular.

"I just wanted to sit in the backyard in my chair," Young recalled. "My parents would bring me food and I'd say, 'I'm not hungry. I'm sorry.' ... My sisters did what they called the changing of the guard. There was not one minute that I had to be alone."
The care of strangers buoyed her in unexpected ways. People from all over the world contacted her on Facebook after the shooting and sent her thoughtful messages and friend requests. Overwhelmed, Young told her father that she thought she needed to close her Facebook account.
"My Dad said, 'No, accept these people and see what they have to say,'" Young said.
The experience transformed her. Young not only plugged into an impromptu support network, she also forged friendships she suspects will last a lifetime. One new friend, Sheena Larsen of Seattle, became as close as a family member.
"She was a godsend," said Young, a veterinary technician who spent some time completing an internship at a zoo in the Seattle area following the shooting. "It really was like I had family in Washington."
In fact, a dinner with the Larsen family helped Young begin to feel a slight sense of normalcy again. While at dinner, someone snapped a photo of Young holding Larsen's baby boy, Jensen.
"They sent me one of the pictures they took of us and I couldn't believe it when I saw it," Young said. "I thought to myself, 'Oh my gosh, it looks like I'm really smiling! I look sincerely happy.'"
That moment marked a pivotal turning point for Young. She said something similar must happen to many survivors of traumatic events.
"Normal is gone. It just left one day," she said. "Normal doesn't say goodbye. It just kind of disappears on you.
"It can take a long time — a long, long time — but eventually there will be something that will put a genuine smile on your face again. And then suddenly you realize: Wow. I'm smiling."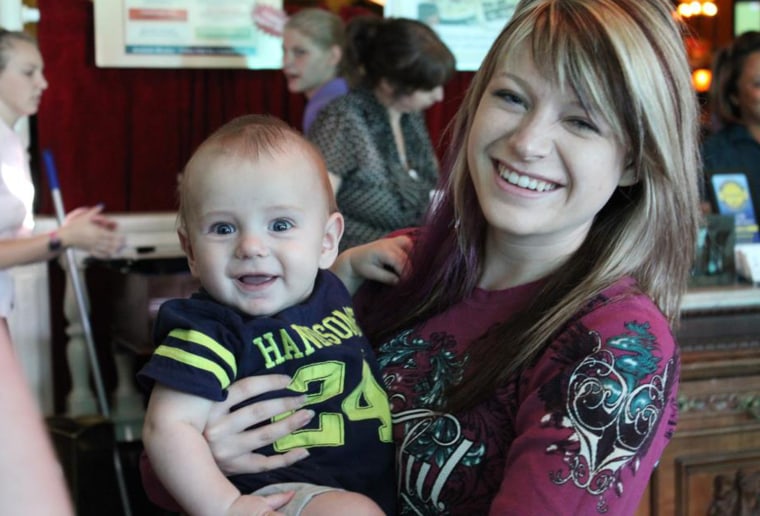 Honoring Jon's memory
Young returned to Colorado after she completed her internship at Point Defiance Zoo in Tacoma, Wash. She's back at school now, studying biology at Metropolitan State University of Denver and considering becoming a veterinarian in the future.

"While I was in Washington, I had this realization: I have to move back to Colorado," said Young, who initially wasn't sure she could ever return to the area where the shooting happened. "Jon loved Colorado — the Broncos, snow, mountains — he loved everything about Colorado. LOVED it. I just had to go back."
Young began dating Blunk in October 2011, nine months before his death. They moved in together three weeks after they met.
"We just clicked," Young said.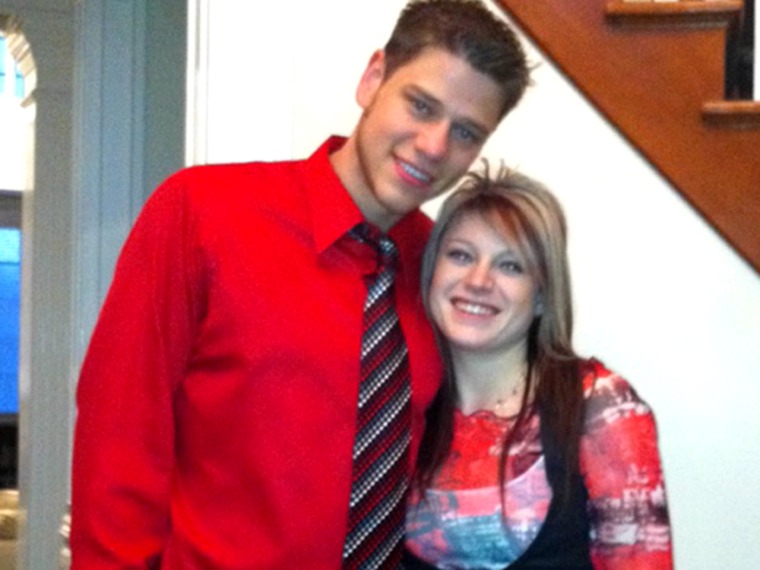 Around the time of the theater massacre, Blunk had been talking with his recruiting officer about reenlisting in the military. He also had been preparing to visit his 4-year-old daughter, Hailey, and 2-year-old son, Maximus. Before he met Young, Blunk had separated from his wife, Chantel Blunk of Reno, Nev., and moved back to his home state of Colorado.
It was a time of transitions and new beginnings — until that unthinkable instant when Blunk was gone.
Since his death, Young has found some solace by keeping Blunk's memory alive in different ways, large and small. When she felt ready to do so, she created a memorial for him on a beach in California. She's also become a die-hard Broncos fan — even the hangers in her closet are blue and orange — and, out of respect for Blunk's love of military service, she sends care packages to troops every week.
"I know that would make him happy," she said.
Granting interviews to the media has been therapeutic for Young as well.
"It helps to talk about it," Young said. "It does get easier, but it's never the same. It never goes away. You wake up every day and think, 'Oh yeah. Wait a minute. My life isn't like that anymore.' The life you knew and the life you loved is just gone.
"There are still good people out there, though, and they do want to help. I hope the families (in Connecticut) don't lose their hope in humanity. There are so many of us pulling for them."
Friend TODAY.com writer Laura T. Coffey on Facebook, follow her on Twitter or read more of her stories at LauraTCoffey.com.
More from TODAY: