The failure to stagger the release of people from schools and businesses in Atlanta during a light snowstorm on Tuesday played a primary role in creating a paralyzing traffic jam, Atlanta Mayor Kasim Reed admitted on TODAY Thursday.

"We made an error in the way that we released our citizens,'' Reed told Matt Lauer. "So the state made a judgment to release state employees, private businesses made that judgment, and I made the call and APS [Atlanta Public Schools] made the call." 
Thousands of drivers abandoned their cars after being trapped in snow and ice following a rare 2.6 inches of snowfall in the nation's ninth-largest city on Tuesday. Reed admitted that Atlanta's inexperience with snow contributed to the gridlock. 
"I think that it certainly plays a role,'' he said. "We don't have severe weather events of this kind often in the city of Atlanta or in Georgia. I think it's fair to say that it definitely played a role, but the city of Atlanta invested $2.5 million in snow equipment and that is the reason that right now our streets are passable." 
A lack of coordination between various officials and agencies led to everyone leaving businesses and schools at once, creating the paralyzing traffic jam. 
"What is learned from this is that the state, the city, the school board and our private businesses need to stagger releasing our citizens to go home during severe weather events,'' Reed said. "I think it would've made a major difference if we had released our school and parents first, if private business had then left second and then if government had then left last, sending home nonessential employees and then retaining the employees we needed to keep our city safe." 

Reed said he was given the snow forecast between 4 and 5 a.m. on Tuesday and the city started its snow treatment at 9 a.m. 
"It's not solely about my call,'' he said. "In the city of Atlanta, we have the state, we have myself, and we have the school system, which are all separate. Almost every photo that you just showed is not in the city of Atlanta. In fact, within 24 hours, the roads in the city of Atlanta were more than 80 percent passable. I just reviewed your report and it focused most exclusively on our city's highways, which the city does not have jurisdiction for, and most of those simply are not in the city of Atlanta."
Georgia Gov. Nathan Deal claimed an erroneous weather forecast was to blame. 
"The National Weather [Service] continually had their modelling showing that Atlanta would not be the area where the storm would hit,'' Deal told reporters Wednesday. 
Most of the highways in the Atlanta area were open on Thursday morning, but hundreds and perhaps thousands of abandoned cars still littered the city. Some people were in their cars for 20 hours before deciding to abandon them and walk to shelter.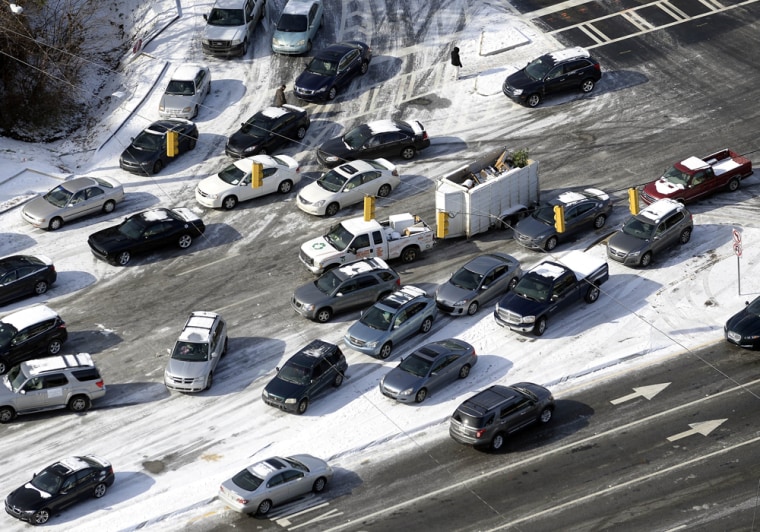 Some 11,000 children were stuck at school on Tuesday night, with many spending the night on the floor in the school gym because roads were too dangerous for buses to take them home or parents to pick them up. Other stranded commuters found an unlikely place to crash overnight in local Home Depots, which remained open throughout the night. A baby girl, Grace Elizabeth Anderson, was born on the side of the highway after her parents got trapped in the congestion. 

"We certainly knew that that was probably a potential outcome when we got in the car, but we were hoping and praying that we were going to make it to the hospital in time, but you know, it's all good, things didn't quite go as planned,'' new father Nick Anderson told TODAY. 
The city has worked to correct any issues, according to Reed. 
"If you were in Atlanta right now, you would see that the streets in the city of Atlanta are clear,'' Reed said. "We've had zero fatalities, we've handled over 797 accidents, and we reunited all the children in the city of Atlanta with their families."