Athletes, colleagues and luminaries from across the sports world are offering an outpouring of support to ESPN broadcaster Chris Berman after his wife's tragic death in a car accident.
Katherine Berman, 67, died in a two-car crash in Woodbury, Connecticut, at 2:15 p.m. on Tuesday.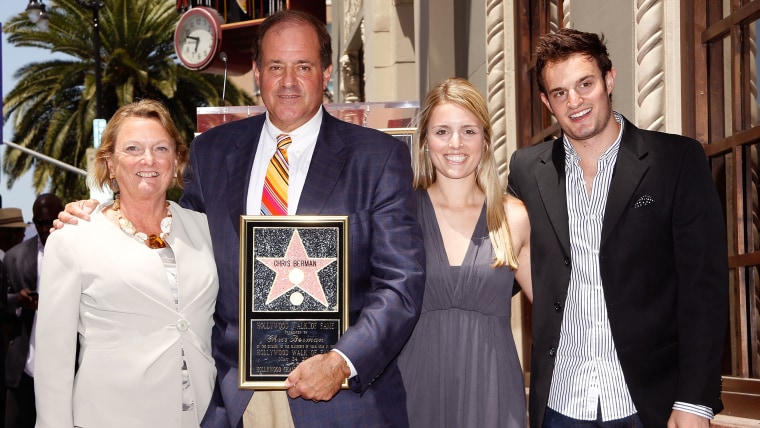 The other victim was identified as Edward Bertulis, 87, of Waterbury. They were both traveling in the same direction on a two-lane road when Berman's car struck the rear of Bertulis' vehicle, sending them both off the road, according to police.
Berman, who has worked at ESPN since 1979, was at Tuesday's Mets-Giants game at Citi Field in New York when he was notified by police of his wife's death. The couple were married for 33 years with two adult children, Doug and Meredith.
Athletes, pro sports teams, ESPN colleagues and fellow broadcasters expressed their support for Berman on Wednesday, which happened to be his 62nd birthday.
Kathy Berman was a former public school teacher in Waterbury. When she and Berman first met, the young sportscaster pretended he was having car trouble in order to ask her for a date, the Hartford Courant reported.
In January, Berman announced he'd be stepping away from his NFL duties at ESPN, including the anchor spot on "Sunday NFL Countdown," but would remain at the network.
In a statement, ESPN president John Skipper called Kathy Berman's passing "a devastating tragedy and difficult to comprehend."
"Chris is beloved by all his ESPN colleagues and for good reason: He has a huge heart and has given so much to so many over the years," Skipper said. "We know how much his family means to him and all we can do at a moment like this is give him the love and support he will surely need at this hour."
RELATED
Follow TODAY.com writer Scott Stump on Twitter.