There are new developments in the search for missing 4-year-old girl Athena Brownfield in Oklahoma.
The Oklahoma State Bureau of Investigation (OSBI) said on Jan. 16, that the case was being considered a "recovery operation" to find the toddler's remains. A day later, the OSBI announced that they recovered the remains of a child in rural Grady County outside of Rush Springs.
According to the OSBI's Facebook page, they cannot confirm the remains are those of Athena. "The remains will be transported to the Medical Examiner's Office in Oklahoma City for positive identification," the statement said.
Officials have been searching for Athena since Jan. 10, when a postal worker found Athena's 5-year-old sister wandering alone outside of their caregivers' home in Cyril, Oklahoma. Athena was last seen Jan. 8, according to the National Center for Missing & Exploited Children.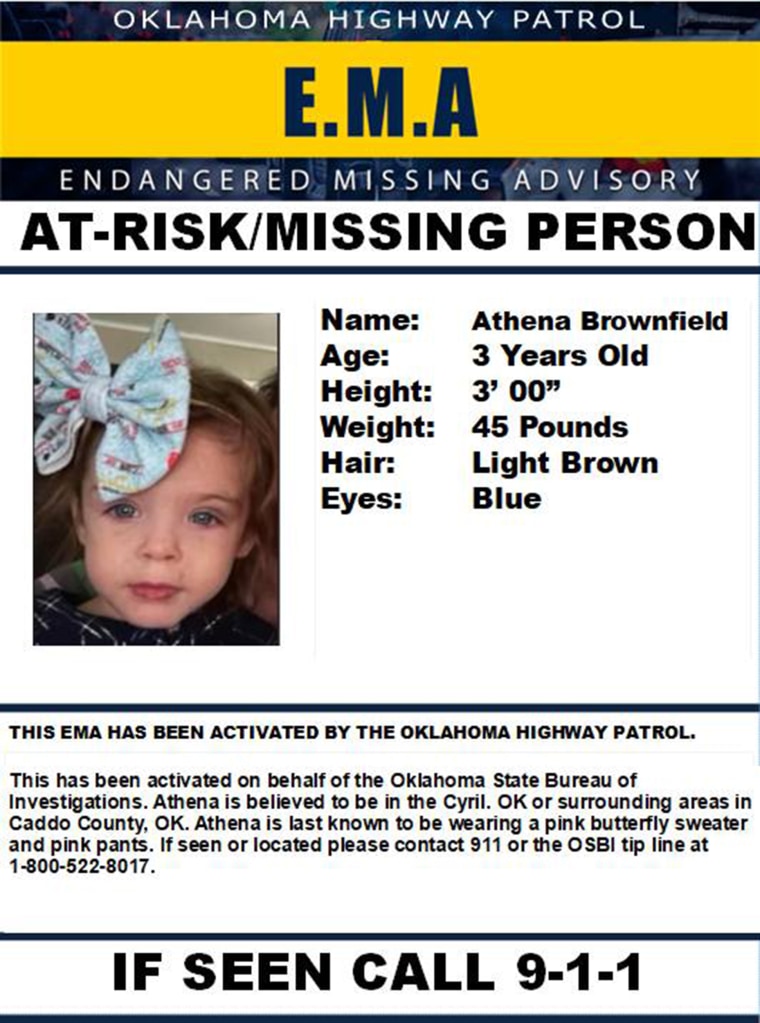 On Jan. 12, Athena's relative and caregiver, Alysia Adams, 31, was arrested on two counts of child neglect in connection with the disappearance, according to the state bureau.
A second caregiver and Adams' husband, Ivon Adams, 36, was arrested in Phoenix, Arizona, on the same day, the state bureau said, and is facing one count of first-degree murder and one count of child neglect. He is awaiting extradition to Oklahoma.
The bureau said the two girls had been in the Adams' care for "at least a year," and that their biological parents were cooperating with the investigation. Athena's sister has been taken into protective custody, the state bureau said on Jan. 13.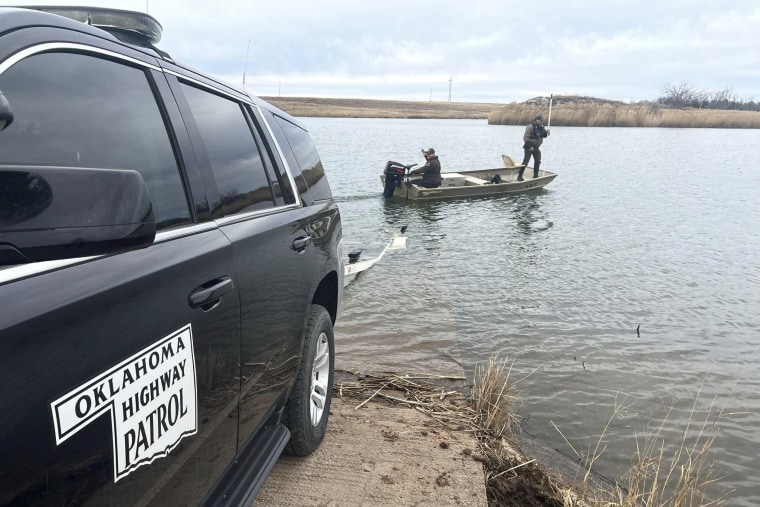 The bureau said on Jan. 11 a team with the Oklahoma Highway Patrol had searched "the entire town, every known vacant house and local waterways" with local volunteers. Search dogs and drones had been deployed the same day, according to the bureau.
On Jan. 12, trash service had been suspended in Cyril, which is about 70 miles southwest of Oklahoma City. Special agents with the bureau, along with Oklahoma Highway Patrol officers, are now searching Caddo County for the toddler's remains.
Investigators urged the public not to search for Athena on their own, as they "could be trespassing or worse, interfering with the investigation by contaminating potential evidence."