Identical twin astronauts Scott and Mark Kelly are participating in a unique NASA study looking at the effects of long-term space missions on the human body. The goal: insights into what could happen to humans on a mission to Mars.

As part of the study, next year Scott Kelly will travel with Russian cosmonaut Mikhail Kornienko to the International Space Station and spend a year there, the longest time any American has ever spent aboard the orbiting outpost. Meanwhile, his twin brother Mark will remain home in Arizona with his wife, former U.S. Rep. Gabrielle Giffords, over the same time period.
Blood, saliva, cheek swab and stool samples will be taken from both brothers at the same times before, during and after the one-year mission to study the effects of long space missions on the human body. Psychological and physical performance tests will also be conducted.
"Our genes when the eggs split were exactly the same, and since then, the environment has changed them somewhat, but they're pretty much similar, except he got the mustache gene,'' Scott joked with Matt Lauer and Savannah Guthrie on TODAY Friday. "I didn't get that one. In any case, they want to look at what the space environment has done to my RNA, DNA, proteins, those kind of things in my body."
"The space environment is pretty severe,'' Mark said on TODAY. "There's a lot of radiation involved that can affect your genes and your DNA and those things at the smallest level."
The brothers, who turned 50 last month, are the only twins and only siblings to have ever flown in space, although they were not there at the same time. Scott raised the question of whether a study like this had ever been done, resulting in it becoming an official plan.
"It wasn't actually my idea,'' Scott said. "I asked the question when I was assigned to this one-year flight whether any study like this would be done, and the answer I got was there was nothing being considered. Then the scientists took my question, went back and talked about it, and thought that maybe it did have some merit."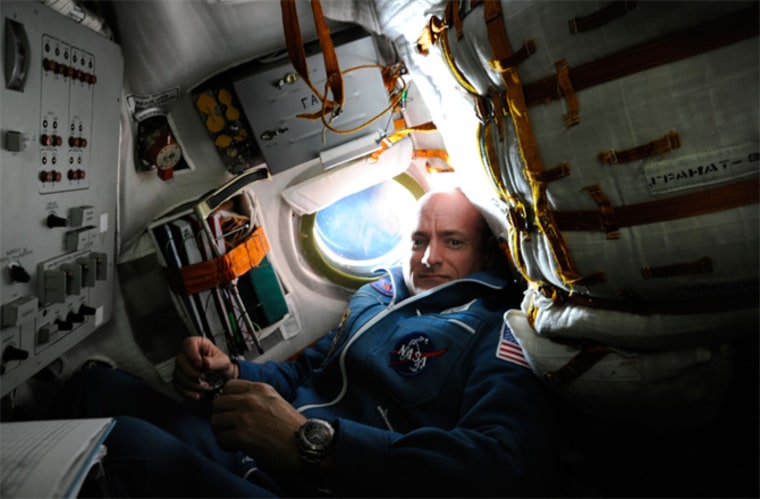 The hope is that Scott's prolonged exposure to conditions in space can demonstrate some of the effects astronauts could experience on a potential mission to Mars. He has previously had a six-month stint aboard the ISS and also has completed a pair of space-shuttle flights in his career. 
"For me, having flown a long-duration flight before, on a personal level what makes it special is the duration, and the challenge that provides,'' Scott said. "From a scientific perspective, certainly the research about having a person spend longer than we've ever had an American spend in space is important because eventually we're going to go to Mars, leave lower Earth orbit, and we need to have that experience base of people living in space for much longer lengths of time.
"A flight to Mars and back could take three years, so the science value I think is pretty important. And also the science value of this particular study will allow us to learn things to help with those types of long-term missions."
Mark retired from NASA in 2011 to be with Giffords, who was shot in the head in Tuscon, Ariz., in January 2011 and has made a remarkable recovery.
"For me, I don't work at NASA any more,'' Mark said. "I left after my wife was injured, so it allows me to still participate in some way. [Scott and I] never got to fly in space together, so this was some way [to participate together]."