No matter where you live, city signs are everywhere: No Parking, No Loitering, Hospital Zone, Tow Away Zone. But one New York City artist decided in March that maybe there weren't quite enough. Since then, Jay Shells has been hanging up dozens of red-and-white signs emblazoned with quotes from rap songs, quotes that specifically reference the corners he's hanging them up on.
"New York is full of history and it's the birthplace of hip-hop," explains the 33-year-old. "So many places have been mentioned in great songs, and deserve to be marked in some way. Any fan of the music who knows these lyrics and catches themselves rapping along with them, it memorializes (the artist and the song)."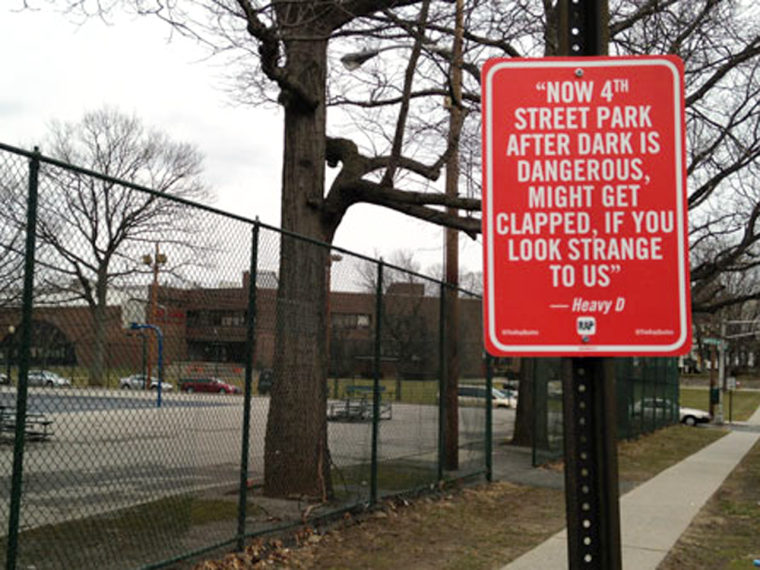 Shells has immersed himself in rap lyrics for some time; he and his brother share a Twitter account where they send out lyrics they admire and credit the rapper, so the project is a natural outgrowth. But this project seems to have hit a nerve; Shells says he's heard from rappers including Big Daddy Kane, MC Serch and Prodigy, thanking him for memorializing their lyrics. 
(Note: Video contains some vulgar language.)
"It's a public conversation with the community," Shells says. "I've never done something where people got super jazzed and wanted to contribute."
Alas, the signs are temporary -- and don't blame The Man for that. Fans are appropriating them. "People who are going out to steal them are writing me and saying, 'I went to take it and it's gone,'" he chuckles. "I'm going to keep doing them anyway."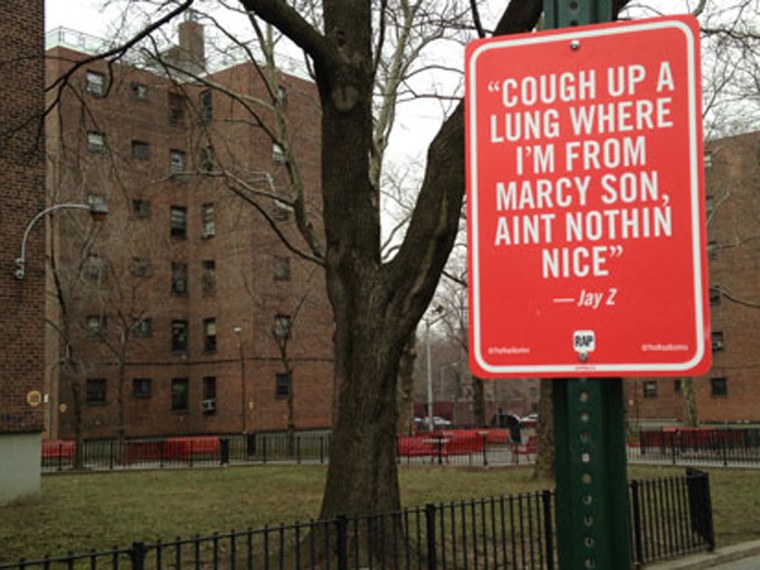 And the theft has a silver lining: The signs aren't up long enough for the city to get irritated, which means he's so far avoided getting a cease-and-desist order from the city. "Because they're disappearing, they don't exist," Shells says. "I could get in trouble if I was seen putting them, up, but really -- what's the big deal? I hope the city has better things to worry about."
Shells' good nature doesn't mean he's smiling about every aspect of the project -- so far he estimates he's spent about $1,000 on the sign project, and is considering setting up a Kickstarter project or putting a PayPal link on his website for donations. He can't sell the signs or make merchandise using the lyrics, which would risk a copyright infringement lawsuit.
Marvel at artwork made from pennies, Oreo cookies, shoelaces, rubber bands, pumpkins, CT scans and — ummm — brightly colored vomit.
For now, he's just happy to keep quoting and posting, keeping that conversation with the community going. 
"I'd love it to not cost me any money," he says. "I'm getting married in a few months and trying to save money. But this is too much fun of a project to stop. It's tricky ground. I'll do this forever if I don't have to pay for it."
Related content: