An Arizona teen who had been missing for nearly four years walked into a Montana police station and appears "happy" and "healthy" after a search that involved the FBI and thousands of tips, police officials said Wednesday.
Alicia Navarro, 18, who was 14 when she disappeared from her family's home in Glendale, Arizona, on Sept. 15, 2019, was discovered in a Montana town 40 miles from the Canadian border when she reported to a local police station, Glendale police said.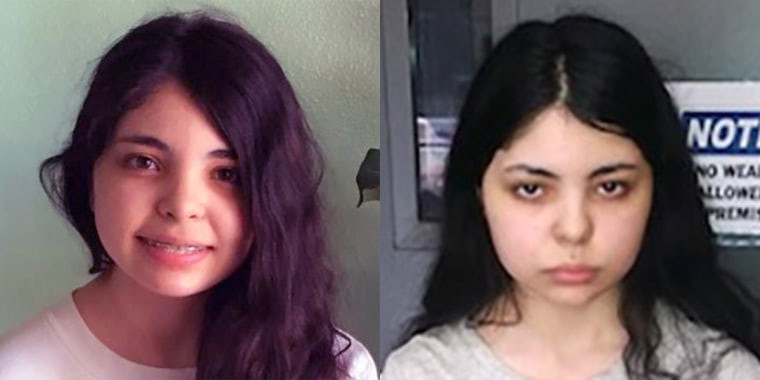 "She is by all accounts safe, she is by all accounts healthy, and she is by all accounts happy," Jose Santiago, a spokesman for Glendale police, told reporters at a news conference.
Authorities don't know if Navarro was with anyone during the time she was missing, and an investigation is ongoing, Santiago said.
Glendale police are not releasing the name of the Montana town "out of respect for the investigation," Santiago said.
Navarro was by herself when she showed up to the police station, and it's unclear how she got to Montana after her disappearance.
"From the statements that she made, this started as a runaway situation," Glendale Lt. Scott Waite said at the news conference.
She did not require any medical attention when she came to the station, Waite said.
She has now reunited with her mother, which Waite called "emotionally overwhelming" for the both of them. Waite declined to describe where and when they reunited, but said Navarro remains in Montana.
Navarro is "very apologetic for what she has put her mother through" and that the pain she caused her mother was not "intentional," Santiago said.
The teen arrived at the police station in Montana to ask her name to be cleared from a missing juvenile list, police said.
"She is not in any kind of trouble," Santiago said. "She is not facing any kind of charges."
Authorities received thousands of tips from all over the country during Navarro's disappearance, police said. The FBI and the Center for Missing and Exploited Children also were part of the search.
"We can only imagine what she's going through, mentally and emotionally, as well as her family," Waite said. "As much as we'd like to say this is the in end, we know this is probably only the beginning of where this investigation will go."
Navarro has "expressed a desire to move on with her life," and her family has asked for privacy, police said.