Three days after convicted kidnapper and rapist Ariel Castro hanged himself in his jail cell, NBC News has obtained police interrogation tapes that provide insight into how close he came to being caught — including a phone call he made to one of the victims' mothers — and personal letters in which he writes about long-held thoughts of suicide.
The 53-year-old former bus driver was sentenced to life plus 1,000 years after pleading guilty to 937 counts including rape, kidnap and aggravated murder following the decade-long incarceration of Amanda Berry, Gina DeJesus and Michelle Knight at his Cleveland home. NBC News has obtained four hours of videotape from a source familiar with the criminal investigation showing Castro being interrogated just hours after he was arrested in May. 
Ariel Castro's family claims body, coroner says
In a TODAY exclusive that aired Friday, excerpts from the video show Castro revealing several close calls with law enforcement over the years before eventually being caught. He also recounts how he abducted and abused the three women. Out of respect for the victims, NBC News is not showing Castro speaking out about the details of his crimes and has reached out to the victims' lawyers to alert them about the report.
Within hours of Castro's arrest, he began admitting his horrific crimes to interrogators. He appeared surprised by what he had gotten away with for so long, including the day he abducted DeJesus, then 14, in April of 2004. He said there were surveillance cameras at her middle school that should have captured him just 15 minutes before he kidnapped her.
When he first abducted Knight in August of 2002, Castro said he had a girlfriend who visited his house and noticed a television on in the room where Knight was being secretly held.

"She seen that I had a TV on in the upstairs room,'' Castro said in the interrogation video. "And she says, 'What is that? You have a TV on up there?' And my heart started beating, and I was like, 'OK, she's probably catching onto something."
Castro said he even once used Berry's cell phone to call her mother and tell her that Berry was alive after abducting her in April of 2003.
"I think I said something ... that I have her daughter and that she's OK and that she's my wife now — something like that, you know, probably not the exact words,'' Castro said in the police tapes.
Castro said he hung up before having any conversation with Berry's mother. Neither Castro nor any of his close relatives were ever interviewed by authorities at that time for Berry's disappearance following the phone call, he said.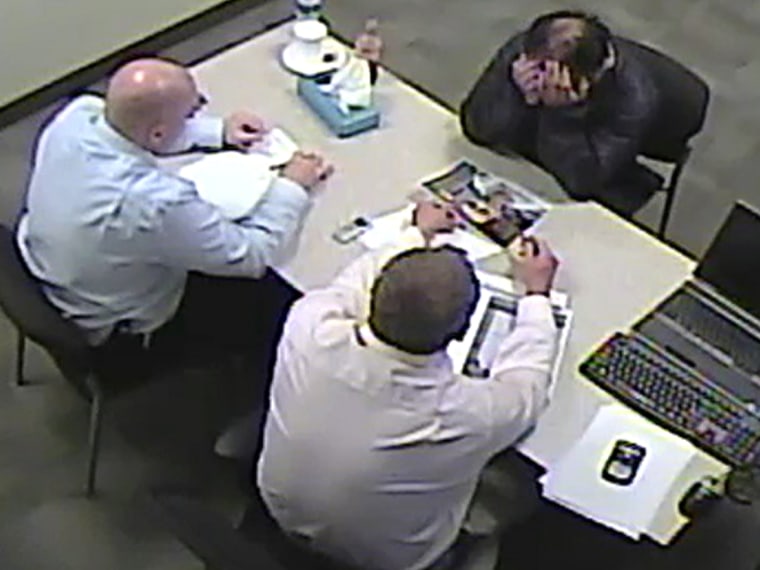 "Nothing led us to talk to him,'' FBI special agent Vicki Anderson told NBC News in May. "You know, there were no indications that we should go talk to him. We canvassed the neighborhood. We did all of those things. Nothing led us to Ariel Castro."

Castro also talked about how his now-6-year-old daughter with Berry, who was born in his house, begged him to stop locking all the doors. On the day the three captive women escaped, he left a bedroom door open, which allowed Berry to make it to the front door and yell for help. Two neighbors came over, and a hole was kicked through the bottom of the door to allow Berry to crawl through with her daughter. Berry then called 9-1-1 and Castro was apprehended.
"I know I let my guard down,'' Castro said in the interrogation video.
NBC News also obtained a pair of letters Castro wrote to his children around Father's Day while he was in jail.
"I still can't believe what I did to put me in the situation that I'm in now,'' he wrote.

Related: Ariel Castro's death is 'last slap' to victims' faces, psychologist says
"Everything he has done is indicative of a narcissistic personality disorder," forensic psychologist Dr. J. Buzz Von Ornsteiner told TODAY. "He's self-centered. He's self-absorbed. It's all about him."
When investigators searched Castro's home in May, they found a note from 2004 in which he contemplated suicide, writing, "I want to put an end to my life and let the devil deal with me." Castro was initially on suicide watch when he was first put in jail, but had been downgraded before he hung himself with a bedsheet in an Ohio state prison on Tuesday, according to his attorney, Craig Weintraub. Prison officials are investigating how he was able to hang himself, as he was supposed to be checked by guards every half hour.
His thoughts of suicide were also apparent during the interrogation.
"I just want to crash through the window,'' he said.
"These degenerate molesters are cowards,'' Tim McGinty, the Cuyahoga County prosecutor who secured Castro's conviction, said in a statement released Thursday. "They con and capture vulnerable children. This man couldn't take, for even a month, a small portion of what he had dished out for more than a decade.
"Let this be a message to other child kidnappers: There will be a heavy price to pay when you are caught. You won't enjoy the captive side of the bars."
Editor's note: An earlier version of this report identified the police interrogation tapes as FBI tapes.