/ Source: The Associated Press
The U.S. Consumer Product Safety Commission and Blair LLC, of Warren, Pa., are expanding Blair's voluntary recall of women's full length chenille robes to include additional chenille robes and three other chenille products all manufactured by A-One Textile & Towel. CPSC and Blair also are re-announcing the earlier recall of women's robes.In April 2009, Blair recalled 162,000 chenille robes after it learned of three robes catching on fire, including one report of second degree burns. Blair then received several reports of deaths allegedly due to robes catching fire. This prompted a second news release in June 2009 to again alert consumers to the burn hazard for the chenille robes.
After this re-announcement, Blair received four additional reports of deaths allegedly due to the robes catching fire. Three of these victims were cooking and a fourth was tending a pellet stove; three of the four victims were in their 80s and one was in her 70s. All nine reported deaths occurred prior to the April 2009 announcement of the recall.
Blair has received one report involving one of the additional garments catching fire; no injuries have been reported related to these garments. Blair decided to expand the recall to include all women's chenille wearing apparel manufactured by A-One Textile & Towel.
"CPSC urges all consumers to report any incidents or injuries involving consumer products, even after a recall has been announced," said acting CPSC Chairman Thomas Moore when the recall was reannounced in June. "Contact the CPSC so that we may help prevent tragic deaths or injuries like those that might be related to the Blair robes."
The products being recalled include full-length women's chenille robes (item numbers 1083401, 1083402, 1083403, 1371801, 1371802, 1371803, 1743401, 1743402, 1743403, 3470311, 3470312, 3470313, 3927211, 3470312, 3470313, 3927211, 3927212 and 3927213), women's chenille jackets (item numbers 1392801, 1392802, 1392803 and 1392804, women's chenille lounge jackets (item numbers 4526401, 4526402 and 4526403), and women's chenille tops (item numbers 1811201, 1811202, 1811203 and 1811204). About 138,000 more units have been recalled in addition to the 162,000 recalled in April.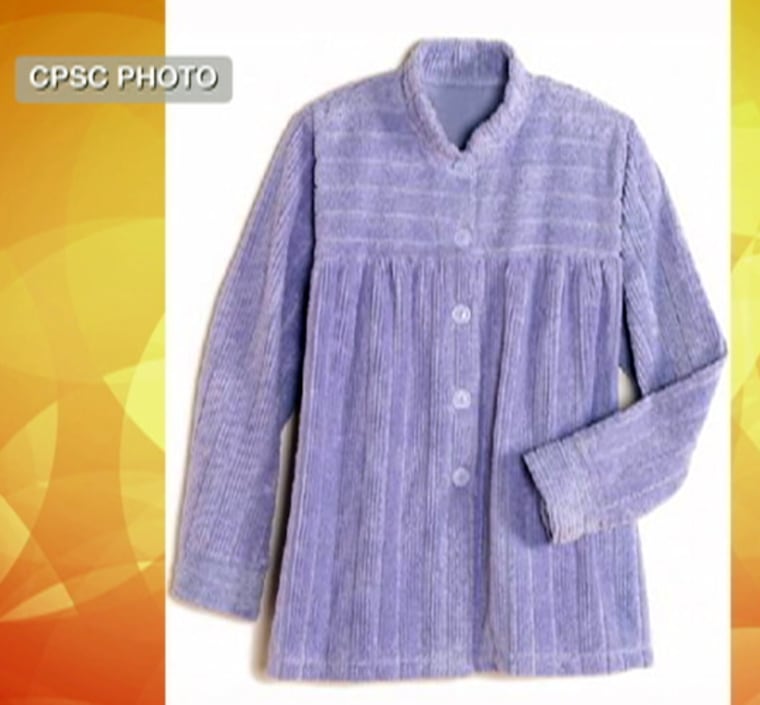 The products were manufactured by CA-One Textile & Towel, of Karachi, Pakistan. A-One Textile & Towel manufactured all of the products recalled in April 2009. Blair is expanding its recall to all women's chenille wearing apparel manufactured by A-One.
The robes were sold in Blair catalogs and on the company Web site, as well as Blair stores in Warren, Pa., Grove City, Pa., and Wilmington, Del., from January 2003 through March 2009. Consumers may return the robe to Blair and receive a refund or a $50 gift card by contacting the company at (877) 392-7095 between 9 a.m. and 9 p.m. ET Monday through Saturday, via the firm's Web site at Blair.com/recall, or by e-mail at blairproductrecall(at)blair.com.