/ Source: Tribune Media Services
Fresh conch, anyone?
Of course you have to dive for it first — 16 feet down off of Grand Turk Island. We go out with Trevor Watkins, a local who has lived on this tiny island (just 3,000 or so people) all his life and free dives every day for conch and lobsters.
"It's a good living," the 40-year-old Watkins says. "But it is hard work."
He's been free diving since he was a teen and now his 17-year-old has started as well.
The area is apparently full of conch. Our novice free divers snare 10 in just 20 minutes. We head to Gibb's Cay, a tiny island where Watkins prepares conch salad while he hands out shrimp for us to feed the half-dozen stingrays who swim around the beach waiting for their treat.
Not exactly your typical day-at-the-beach spring break. Certainly you will have fun on a cruise or in Orlando, which is Family Spring Break Central. There's nothing wrong with heading to the beach. (According to Travel Zoo, Riviera Maya, south of Cancun, has been rated a top "safe" place to visit and with expanded airfare, boasts many good deals. Check out the new Villa del Palmar Cancun , which offers fully equipped kitchens and deeply discounted all-inclusive rates through the end of April).
But the conch got me thinking about all the ways to up the adventure ante on family spring breaks this year, wherever you are going — and after the winter so many of us have endured I hope you are planning to go somewhere fun, at least for a few days.
The Grand Canyon, for example, is a terrific spring option — especially when you can trek through narrow side canyons and camp, cooling off in the waters from Havasu Falls. This is a no-work camping trip, though, because Austin-Lehman guides do all the work. Here's your chance to send a postcard from the Native American village of Supai — the most remote in the country — where mail and supplies are still delivered by packhorse.
Want to brush up on your French — or maybe introduce your littlest ones to France? Try the historic Hotel Crillon le Brave in Provence where some of its stone houses, which make up the hotel, date back to the 16th century. Hotel Crillon le Brave offers a family spring break that includes French lessons, the chance to make French desserts with the chefs, kayaking on a local river and visits to a local boulangerie to see how croissants are made. Did I mention they have an open-air spa?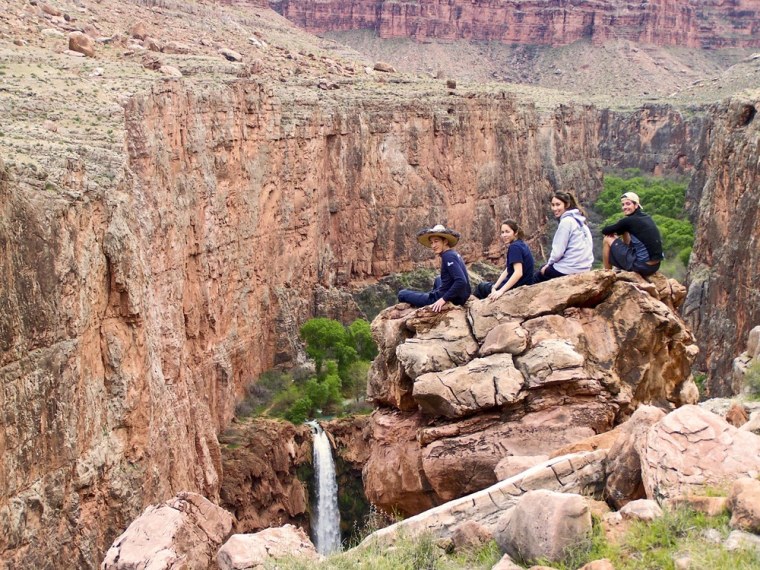 Got a junior foodie in the bunch? Boston-based Lauren Birmingham Piscitelli leads culinary tours in Italy with a focus on kids cooking — whether they are age 3 or 18, she reports. Get $100 off a Spring Break Positano trip.
Head to a ranch. Your kids might never look at chores the same way again, once they've pitched in at a place like the Rockin' R Ranch in Utah, an authentic cattle ranch where besides riding they can try their hand at barrel racing, archery, roping and more. Not only won't you have to worry about entertaining the kids, you won't have to worry about feeding them either because all the meals are included.
If you haven't had enough fun in the snow, The Vee Bar Guest Ranch, along the banks of the Little Laramie River in Wyoming, recently announced a spring break travel deal that offers families a chance to enjoy the last of Wyoming's powdery bliss before ski season ends. Located just 2-1/2 hours north of Denver, it's a place to get into the backcountry with the kids on snowmobiles, snowshoes or skis. There are plenty of other ranch options too with many opening midspring, according to the Dude Ranchers' Association. Check out the new website from a Montana mom who was raised on a ranch and is raising her kids on a ranch — http://www.top50ranches.com/ — which focuses on top riding experiences at ranches in the U.S. and abroad.
Tennis or golf more your speed? Consider Sandestin Golf and Beach Resort on the Gulf Coast of Florida where besides miles of white-sand beach, you and the kids can sign on for golf and tennis clinics that are affordably priced. Spread out in a condo or cottage (ideal for single parents vacationing together) and bike all around the expansive resort.
Head to the Caribbean to Curtain Bluff on Antigua, where the kids can attend junior tennis clinics — brand new to the resort this spring. Whale watch in the Dominican Republic and stay in Balcones del Atlantico, a new RockResort in the small fishing village of Las Terrenas on the Samana Peninsula, which incidentally is home to one of the largest breeding grounds in the world for humpback whales. As if that's not enough, visit El Limon Falls by horseback. Check out the new whale-watching package.
Get a free night at Rock Resorts in snowy and sunny climes with the "Spring Break on Us" offer. Check it out  after the mention of the Rock Resort in Dominican Republic.
Commune with the monkeys in Costa Rica. Friendly Planet Travel has some extraordinarily well-priced tours. Go to Peru or take your teens on an Everest Teenage Trek (just $1,695 per person for 13 days) with Australia-based Intrepid Travel where your trip might include a home stay with a local family. Try Sea Kayak Adventures and search for whales in Mexico's newest national marine park. (One child goes free).
Take your favorite Little Leaguer and get up close and personal with their favorite baseball team. The Fairmont Scottsdale Princess has a deal that includes $100 daily food and beverage credit. The Intercontinental Tampa promises 25 percent off the best available rate for deluxe accommodations (rates begin at $142 per night) and a Fan Tool Kit, complete with a baseball for signing, Cracker Jacks, peanuts, popcorn and more.
In case you were wondering, I didn't succeed in bringing up a conch. But the conch salad on the tiny windswept island was delicious.
For more Taking the Kids, visit and also follow "taking the kids" on , where Eileen Ogintz welcomes your questions and comments.