Director Garry Marshall, who passed away late Tuesday at the age of 81, received a multitude of tributes from across Hollywood, but one of the most poignant came from "The Princess Diaries" actress Anne Hathaway.
"I couldn't sleep last night," Hathaway wrote in a Facebook post yesterday. "The moon was too bright and my heart was too full of fresh grief at Garry's passing."
Marshall, known for films like "Pretty Woman" and shows like "Happy Days", directed Hathaway in "The Princess Diaries" in 2001. The modern-day fairy tale launched Hathaway's career, turning her into a household name, and also formed a close bond between the actress and her director.
"Garry was goodness itself," Hathaway wrote. "He was thoughtful and sweet and so funny you would pee yourself a little."
RELATED: TV and film great Garry Marshall turns 80: Pick the best of his best
Hathaway reflected on working with him on the movie, and how it transformed her.
"Before we made the Princess Diaries, he told me 'You never know if a movie is going to be a hit or not. The only thing you can control is the memories you make when shooting it. So, let's make some good memories.' That advice changed my life even more than the film did," she wrote.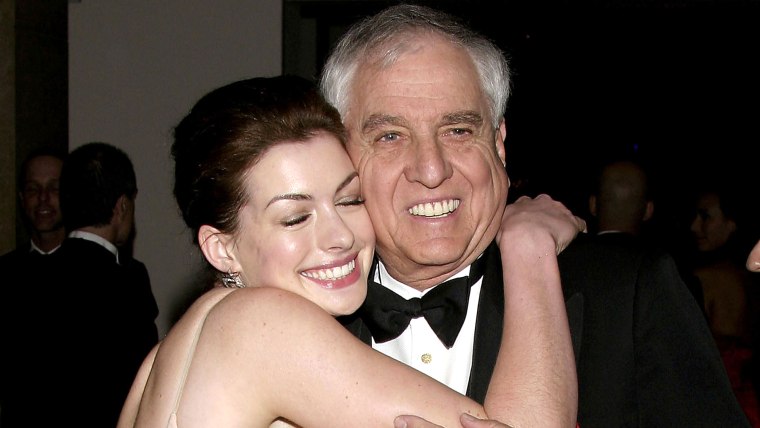 The two would later go on to work together on two more films, "Princess Diaries 2" and "Valentine's Day."
"I'm happy to have known you," she wrote. "I can never thank you enough for my life."
Hathaway also posted a tribute to Instagram. "Heaven just got funnier," she wrote. "I love you Garry. Thank you for everything."
Earlier this year, Marshall discussed the possibility of a third "Princess Diaries", and though nothing was officially confirmed, Marshall was excited about working with Hathaway again.
The love was clearly mutual as the actress expressed her feelings for her friend and mentor:
"I'm going to do my best to be just like you," Hathaway wrote on Facebook. "I love you. Safe travels, my friend."