It's a tragedy that still resonates 15 years after the day that Rusty Yates returned home from work to the horror of learning that his wife Andrea had killed all five of their young children.
In June 2001, Yates drowned children Noah, John, Paul, Luke and Mary, who ranged in age from 7 years to six months old, in the bathtub of their Houston-area home. After committing a crime that horrified the nation, Yates testified that she believed her children's deaths would save their souls.
Janet Shamlian spoke with one of the few people who remain in touch with Yates as part of this week's "TODAY's Update: True Crime" series on Thursday. George Parnham was Yates' attorney during the trial and still talks to her on a weekly basis at the Texas mental hospital where she remains today at 52 years old.
"There's not a day that goes by where she doesn't care for, talk about, is happy for her children's lives before June 20 - and grieves for her children,'' Parnham said.
RELATED: 'Preppy Killer' case: 30 years later, victim's mom says she doesn't want apology
Reporter Phil Archer of NBC affiliate KPRC can still remember the chilling scene from that night when Yates' crime was discovered.
"Cops were crying,'' Archer told Shamlian. "There was a lot of emotion there. They brought (Yates) out, and she looked like a zombie. There was a sort of wildness in her eyes."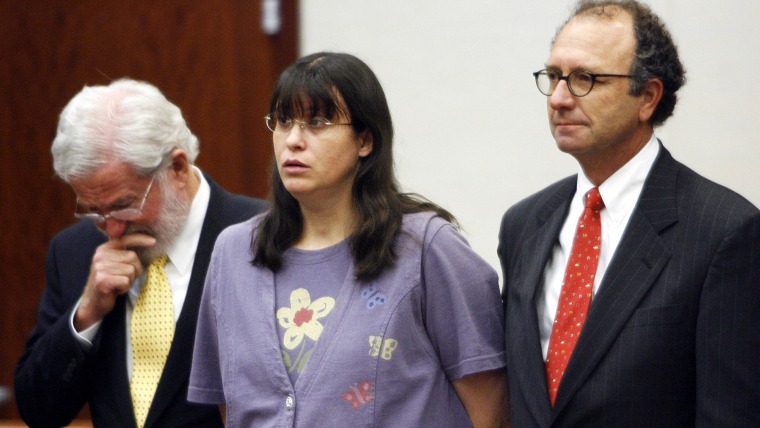 Yates was initially charged and convicted of capital murder, but the verdict was overturned and she was later found not guilty by reason of insanity in a subsequent trial.
RELATED: 'Justice has not been served,' Natalee Holloway's mother says
Yates spends her time at the minimum security Kerrville State Hospital making crafts and watching videos of her children, according to Parnham. She never leaves the hospital and has never sought to be released despite her case coming up for yearly review.
Rusty Yates divorced Andrea three years after the incident and later remarried and had a son who is now 8 years old. His second wife filed for divorce last year, according to court documents.
RELATED: 9 years after wife's disappearance, Drew Peterson sentenced in murder-for-hire plot
"It's real easy to get caught up in the fact that they suffered, or that they're gone, and what I tried to do was say, 'Look, I'm not gonna let these events steal that joy, the joy that we had for those seven years,'' Rusty told Oprah Winfrey in an interview last year.
The horror of that day still resonates with many who were connected even 15 years later.
"I can't name a worse situation than this maybe with the exception of (the) Sandy Hook (school shooting),'' Archer said. "The added element here, of course, is that the children were killed by the one person that should have guaranteed their safety."
Follow TODAY.com writer Scott Stump on Twitter.