National Transportation Safety Board official Robert Sumwalt says investigators haven't contacted Brandon Bostian, the engineer at the controls of the Amtrak train that derailed Tuesday in Philadelphia, but expect to in "the next day or so."
"We've not reached out to him but we will be doing that," Sumwalt said. "It's not uncommon for us to wait a day or so just to allow somebody to convalesce after a tragic event like this. We certainly will be reaching out to him, perhaps through his attorney, so we can set up an interview. We certainly hope to be able interview him very soon."
Seven people were killed and dozens more injured when the New York-bound train derailed Tuesday night. The NTSB said the train was traveling more than 100 mph as it entered a curve where the speed limit is just 50 mph.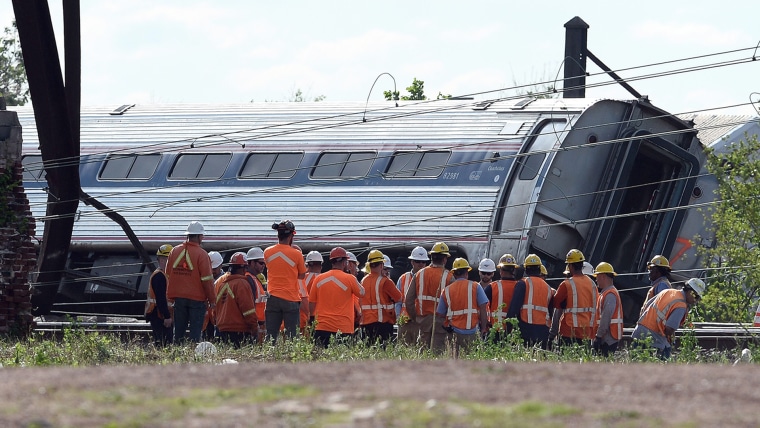 "We want to interview him. We want to understand what was going on," Sumwalt said. "We want to understand why the train was operated that way. Was it a mechanical issue? Was it some sort of human issue? That's what we're here to do."
Sumwalt acknowledged that while memory does change with the passage of time, there is also a "phenomena" right after a tragic event where people can't remember things.
"So there's sort of that sweet spot and we want to make sure they're ready. Typically, we want to make sure they're ready to do it mentally and physically and we hope to do it in the next day or so," he said.
Bostian did meet briefly with Philadelphia police but the engineer did not give a full statement. Sumwalt said that wasn't unusual.
"He's been getting a lot of scrutiny. His name is all over the media these days," he said. "If I was involved in a situation like that I would want to seek counsel as well. We see that often times, so that doesn't trouble us at all."
Sumwalt said investigators should receive Bostian's toxicology report soon. They also plan to check on the working condition of the emergency brakes, which were applied moments before the crash.
"The engineer did apply the brakes. We will be doing a brake test to check the efficacy. Everything is on the table," he said.