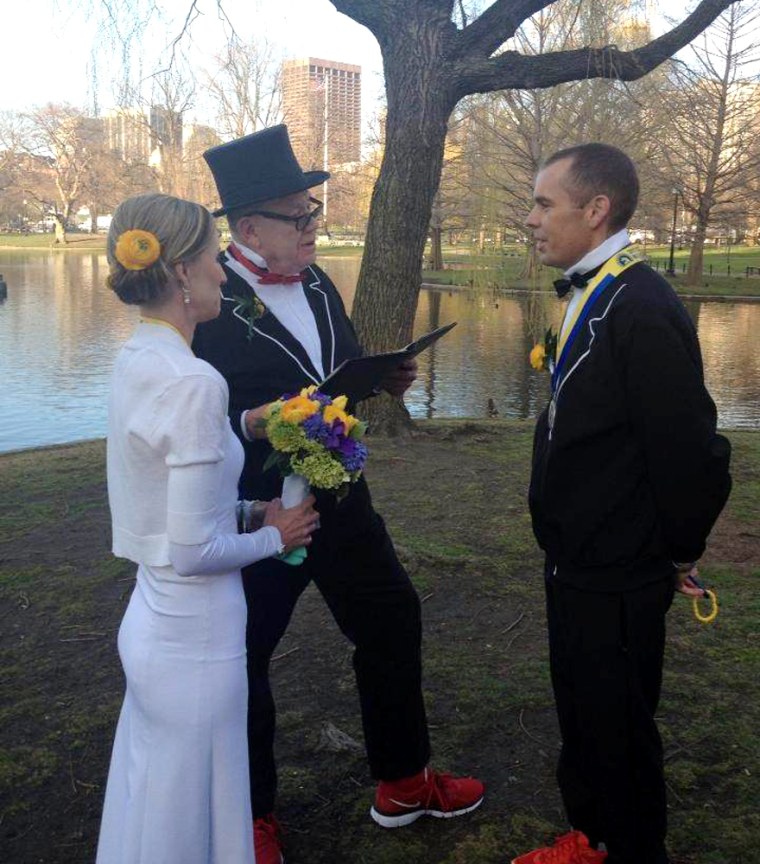 Newlyweds Kelli Johnston and Robert Watling are hoping their happy union will bring a small bit of inspiration to an otherwise dark day.
Wearing their Boston Marathon medals and running-inspired formalwear, the Dallas couple forged ahead with their plans to tie the knot Monday night, just hours after they finished the race and twin explosions rocked the finish line, killing three people and injuring more than 170 others.
The couple, both 38, were married by Johnston's father at the Boston Public Garden at about 6 p.m., as the finish line area was still in chaos. The wedding, dubbed "A Race to the Altar," had been planned for some time.
"It is one glimmer of something positive in an enormous tragedy," Watling told TODAY.com Tuesday.
"In the whole scheme of things, it's bringing some inspiration to the tragic event, that life does go on and hopefully people will return to the race and it will be bigger and better than ever next year," Johnston said.
The couple finished the race before the explosions, and were shocked, sad and angry when they learned what had happened. Watling described it as "an unbelievable feeling of sadness."
Story: 'The good outnumber you': Messages of hope for Boston go viral
They decided to carry on with their wedding.
"We were thinking about alternate plans but we figured it probably was an act of terrorism and we didn't want that occasion to be taken away from us by some terrorist, so in a sense we consider it an act of defiance," he said.
"Terrorists want us to live in fear and to alter our normal lives and we didn't want to do that, said Watling, an Army veteran who oversees a student health center and recreational sports center at Southern Methodist University. "We didn't want to live in fear."
The bombings, though, weighed on the couple.
"The whole event was filled with mixed emotions," said Johnston, a dietitian. "We were trying to celebrate, although our minds were on those that had been affected by this whole thing."
The gravity of the bombings was still sinking in for the couple on Tuesday, but they knew their anniversary will always be filled with memories, both happy and sad.
"As time goes on, not only will it be one to remember, our wedding and our unity together, but also those that lost their lives and all of those that were injured," Johnston said. "When I think about my wedding date, I know that will be a part of it."
Watling, who graduated from Virginia Tech, noted that Tuesday was the six anniversary of the shootings there.
"It's going to be a joyful day but also a day of remembrance," he said.
The couple got engaged in October on the day they ran the Chicago Marathon. At that time, Watling had already qualified and been accepted into the Boston Marathon. Johnston's time was good enough to qualify, and on that day, they decided that if she gained entry into the prestigious Boston event, they would marry afterward.
"As runners, it's the ultimate marathon," Watling said of the Boston race.
"It was a happy day although I think for both of us, our heart goes out to everybody who was truly affected by it," Johnston said.