As investigators search for answers in Monday's Boston Marathon bombing, stories of people helping strangers amid the chaos continue to emerge.
People like firefighter Jimmy Plourde and civilian Bruce Mendelsohn, who assisted a young woman injured by the blast and brought her to safety. Mendelsohn, a Bostonian who works at MIT, used a T-shirt as a tourniquet to stop the bleeding on the woman's left leg. Plourde, a burly firefighter, then scooped her up and took her to safety, which was photographed in one of the many moving images from Monday.
"I see people trying to help,'' an emotional Mendelsohn told Kerry Sanders on TODAY Wednesday. "I see America in that picture. This is what we do and this is why we will win, because we help other people.''
Strangers, pizza shop help feed Boston's first responders and victims
"She was in pain,'' Plourde told Sanders. "She was scared. I'm not sure how old she was, but she looked very young to me. I see somebody hurt. People say, 'What did you do first? Who do you help?' It's one patient at a time."
That impulse to perform one kind act at a time extended to good Samaritans like Peter de Andrade, who brought orange juice to shocked strangers on the street and brewed pots of coffee for others.
Amid Boston Marathon tragedy, taqueria gives free food, shelter, comfort
"One guy was shivering so bad, and I said, 'Do you want coffee?''' de Andrade told Sanders. "He was like, 'Oh yes,' and I brought him some coffee.''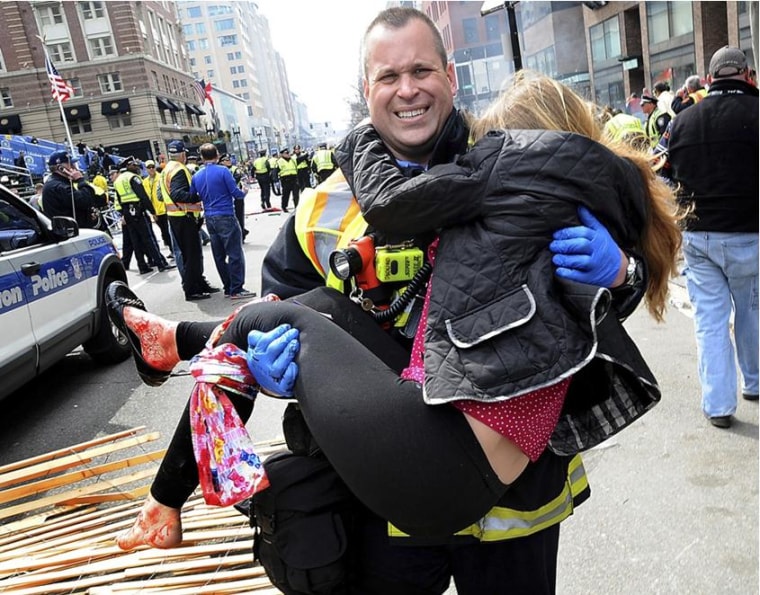 'The good outnumber you': Messages of hope for Boston go viral
Another Bostonian, Marguerite Smit, was one of many who opened their homes to runners from the marathon who couldn't get to their hotels because authorities had them blocked off.
"All I did was say, 'Well, I'm close if you want a warm place,''' Smit told Sanders.
#26Acts2: Ann Curry asks for more acts of kindness in wake of Boston tragedy
One girl who stayed with Smit wrote on her blog, "It was one of those moments when you say to yourself, 'People are good.'''
Many of those assisting strangers still don't even know the names of the people they helped, but take solace that they were able to do their part to bring some comfort. Plourde and Mendelsohn never learned the name of the girl they brought to safety, but would like to meet her someday. For now, they are just glad to know she is among the survivors.