America's oldest person passed away just two weeks before turning 114, but there's no doubt her birthday bash would have been a swinging one.
Elsie Calvert Thompson, who held the Guinness World Records title as the oldest living person in the U.S., died peacefully on March 21 at her home in Clearwater, Fla., and friends and family remembered her as a vibrant spirit who was always the life of the party.

"Walking into a room with her in it was like walking into the sun," Rev. Michael Pestel, Thompson's pastor at Skycrest United Methodist Church, told TODAY.com. "There was some deeper energy in her. She appreciated every moment of life...Anyone who got to spend time with her was amazed that someone so old was always so bright and vigorous."
Thompson would have turned 114 on Friday. Pestel, who attended her 112th birthday party two years ago, says the celebration wasn't the quiet affair you might expect for someone her age.
"When I showed up, it was kind of crazy," he said. "I came at peak of party, and we all couldn't fit in her apartment—the local news was filming and she was the center of the room."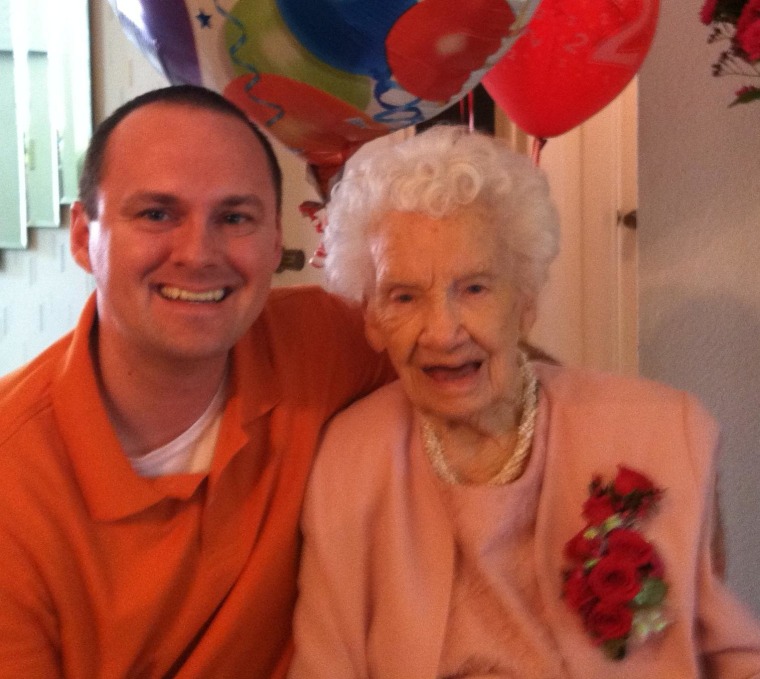 Thompson loved being a hostess and putting on parties, and even on that birthday, she was very concerned that everyone had a slice of cake and something to drink.
Her son, George, of Thousand Oaks, Calif., said she was even asking if there was "anything she could get anyone" when he visited her in February for the last time.
His mother remained surprisingly active until the last few months of her life, he said. She stayed in her home with assistance from a caregiver, got dressed every day, and still had her hair and nails done. She knew where everything was in her condo, even though she lost her sight years ago.
"She probably ate more than I did, even though she only weighted 105 pounds or so," he added.
George said he used to take care of her mail and affairs and would often receive forms back saying that her birth date — April 5, 1899 — was wrong because the year was so unusual. "It's not often you meet anyone born in the 1800s anymore," he explained.
Thompson was born in Beaver Falls, Pa., and married her late husband, Ronald, a World War I and II vet, in 1921. In addition to her son, she leaves behind a daughter-in-law, Marlo, four grandchildren, and six great-grandchildren, ranging in age from 9 to 26.
"She was a very positive person. She loved people. She was always happy, she loved music, she loved to dance," George said. "It was just wonderful to have her as long as she did."