An American Airlines agent in California is being hailed for her quick thinking after she prevented two teens from falling into a suspected human trafficking plot when she stopped them from boarding a cross-country flight.
Denice Miracle, 47, of Roseville, California, said she was immediately suspicious when the two young girls approached her ticket counter at Sacramento International Airport last August. There was no parent with them, they had no identification, and each had a one-way first class ticket.
"It just didn't feel right," Miracle, who has been working as a customer service agent for 28 years, told TODAY.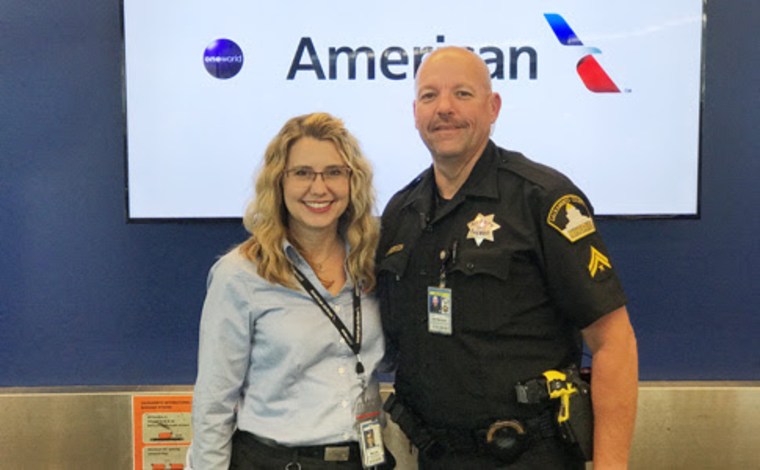 "They were young and by themselves. It's unusual to get teens traveling that far by themselves … One of the girls was texting someone on the phone to get answers. They had small bags, and I initially thought they were running away from home."
Miracle became even more concerned when the girls' tickets were flagged for potential credit card fraud.
She told the teens, who were 15 and 17, that something was wrong with their tickets and to just hang out. Meanwhile, she called the Sacramento County Sheriff's Department Airport Bureau.
Authorities soon learned the girls met a man named "Drey" on Instagram. He invited them to New York City for the weekend to earn $2,000 to perform in music videos and do some modeling. The teens didn't know their tickets were one-way, and when officials tried to get in touch with "Drey," he deleted his account.
Sacramento County Sheriff's Sergeant Scott Swisher confirmed the case was a suspected case of child trafficking. Swisher said the phone number "Drey" was using was likely a Google phone number, so it couldn't be tracked down.
"We don't believe his real name was Drey," Swisher said.
The girls later returned home. Miracle's quick thinking may have saved the girls from serious harm, American Airlines general manager Aleka Turner told TODAY.
"I'm proud of Denice and how she put her training into action to save these children," Turner said in a statement. "She is a testament to the critical role our frontline team members play each and every day in the operation and the lives of each person they come in contact with."
Miracle told TODAY that, just this week, one of the girl's mothers reached out to her on Facebook to thank her.
"That was my 15-year-old daughter," the mom wrote, according to Miracle. "There are no words to express our gratitude to you. Thank you. Because of you, my daughter is home safe with her family where she is loved and belongs."
"It's just heartwarming. It makes me feel really good, and I'm glad they're safe," Miracle added.
Unfortunately, according to Mary Frances Bowley, founder of Wellspring Living, an organization fighting childhood exploitation, the two teens' experience isn't unusual.
"That is a typical scenario about how traffickers will lure girls or trick girls into believe there is something better for them using the internet and many different apps," Bowley said.
"It may be vulnerable girls who may not have the support they need or may have just had an argument with their family who are looking for something … They are looking for someone and somehow to belong."