An anthropology professor is claiming that remains found on a remote Pacific Island are "99 percent likely" the bones of Amelia Earhart, the latest twist in an 80-year-old mystery.
Theories have circulated for decades about what became of the famed aviator and her navigator, Fred Noonan, after their plane vanished over the Pacific on July 2, 1937.
A popular theory put forth in a National Geographic exclusive in July is that they crashed on a tiny, uninhabited island named Nikumaroro, also known as Gardner Island. Human remains were discovered there in 1940.
An expert at the time said the bones belonged to a middle-aged man, but University of Tennessee anthropology professor Richard Jantz now believes they were Earhart's.
"These bones are much more similar to Amelia Earhart than they are to anyone else,'' Jantz told Joe Fryer on TODAY Thursday.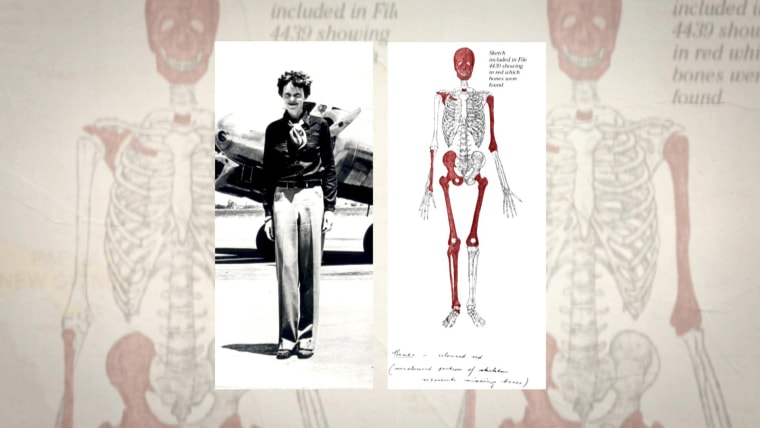 The bones have disappeared since their discovery in the 1940s, so Jantz is basing his finding on the measurements of the bones taken at the time.
The bones included a humerus and radius from an arm and a tibia from a leg. Jantz determined the length of Earhart's humerus and radius from a photograph by judging them against the size of an oil can she was holding.
He based the length of her tibia by the inseam of her pants. Jantz claims that it's "99 percent likely" they are Earhart's bones.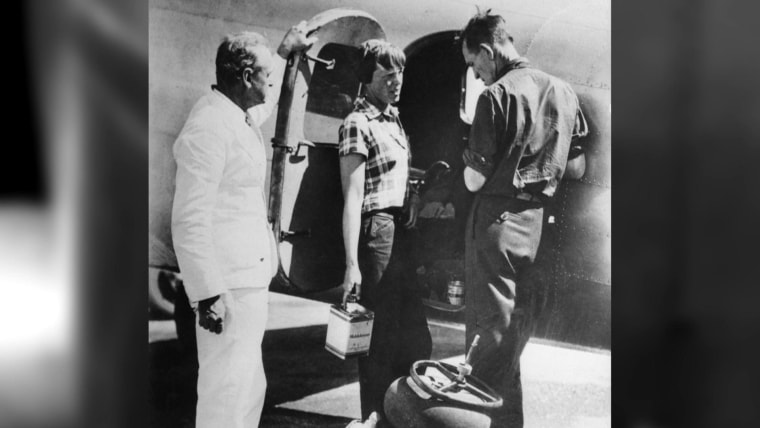 "If these bones are not Amelia Earhart, the person to whom they do belong just happened to be very similar to her, and that's unlikely,'' Jantz said.
Ric Gillespie with the International Group for Historic Aircraft Recovery has long believed Earhart lived as a castaway on Nikumaroro before dying.
This latest theory comes after a never-before-seen photo surfaced in July in a History Channel special. Investigators theorized that the photo proves Earhart and Noonan were alive on the Marshall Islands following their disappearance.
However, a Japanese military blogger discovered the same photo at a Japanese library in a book that was published in 1935, two years before Earhart and Noonan disappeared.
Gillespie believes this latest theory put forth by Jantz may go a long way to solving the 80-year-old mystery, at least for those who don't believe that Earhart and Noonan died instantly in a crash.
He also said other artifacts were found on Nikumaroro that included part of a woman's shoe and a box that once held a navigation instrument.
"For people who believe in science, and pay attention to the evidence, I'm comfortable that we have an answer that stands up to scrutiny,'' Gillespie said.
Follow TODAY.com writer Scott Stump on Twitter.