In her memoir to be released next week, Amanda Knox describes contemplating suicide and fending off guards in the Italian prison in which she spent four years before her conviction for murdering her roommate was overturned.
In an interview with People magazine, Knox talks about attempting to set the record straight regarding the death of her former roommate, Meredith Kercher, with her new book, "Waiting to Be Heard,'' set to be released on April 30.
"Her father thinks I'm the killer of his daughter, and that's painful,'' Knox told People. "I really hope they read my book."
Amanda Knox: 'Memoir is about setting the record straight'

On Nov. 2, 2007, Kercher, Knox's 21-year-old British roommate, was found with her throat slit in the villa they shared in Perugia, Italy. Knox, her boyfriend, Raffaele Sollecito, and Ivory Coast native Rudy Guede were convicted of her sexual assault and murder, but an appeals court overturned their conviction two years after the initial ruling. However, in March, Italy's higher court ordered a new trial within the next year, overturning the acquittal.
The long legal saga of Amanda Knox, an American student accused of the violent death of her roommate, British student Meredith Kercher, has made headlines around the world since it began in Perugia, Italy, in late 2007.
It has been a year and a half since Knox's tearful return to her native Seattle. Knox, 25, still expresses disbelief about the ordeal, saying she is still paralyzed by fear, and says she has no plans to go back to Italy for a new trial.
"It never occurred to me that I would be considered a suspect,'' she told People.
During the first trial, Italian prosecutors painted her as a vixen for cuddling with Sollecito in the courtroom instead of crying.
"She says that there were all sorts of moments of heartbreak that we did not see where she was weeping,'' People magazine executive editor Betsy Gleick told Kristen Dahlgren on TODAY Wednesday.
In her book, Knox writes that she is not a murderer and describes her struggles during her four years in an Italian prison.
"Amanda describes her ordeal as being also one where her privacy was invaded, where the guards were leering and touching and in her space,'' '' Gleick said.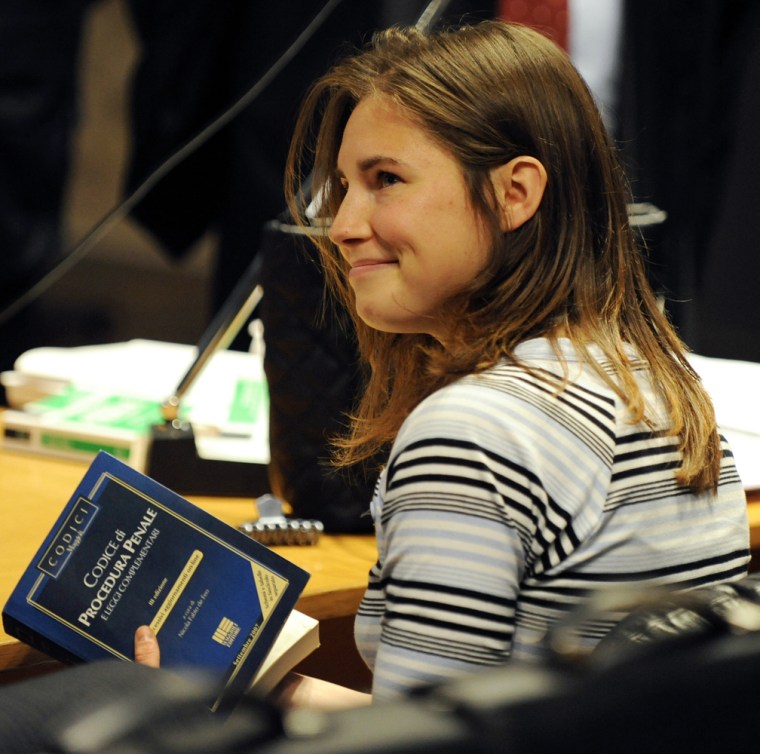 She admits to contemplating suicide, but credits her family and Sollecito with helping her persevere. She and Sollecito are no longer a couple, but Knox says they remain close and speak often. She is currently back in school in Seattle and dating an old friend who wrote her letters in prison.