In this original essay for TODAY.com, Amanda Knox, 26, envisions spending her entire life behind bars and mulls the possibility that she will never have a child. "I imagined myself 25 years down the line in prison, 50 years down the line, having lost everything," Knox explains as she prepares to face her third trial for alleged murder."What would I hold onto, and what would I do? I have always wanted to be a mother. This shows what is at stake here and what I would want to tell my child."
Watch her explain the origins of the essay to Carson Daly in the Orange Room. 
Letter to My Unborn Child, by Amanda Knox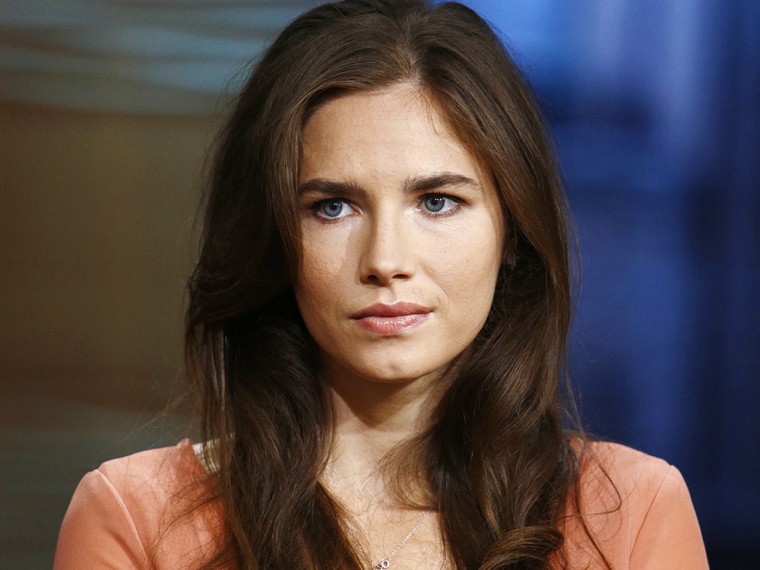 My dearest Natasha, or Lotte, or Astrid,

Today is always a new day. For a change I had tea this morning, with honey, instead of the coffee mix and watery milk. The usual fette biscottate. I work in the prison nursery, or nido, as often as I can, and today I cleaned the cribs and cabinets there from 8:30 to 11:30. The little Nigerian boy, Joseph, is learning to speak with his hands—a wave for "Hello," a thumbs-up or down for "Yes" and "No," a twist of the wrist to say, "Please open the door." You would say, "Agente, aprimi il cancello?"
At the call for aria – the prison yard - I went on my walk to stretch these dumpy limbs. The summer has passed again. A new crop of convicts have arrived, the short-timers in their faux-designer jeans and hoodless jackets. Time to write out the request form to get my sweats, sweaters and fingerless gloves out of magazzino – storage – again.
The autumn of my life. I wish you could have seen me. Not with the scars and hives, this thinning hair and rotting tooth. After the hunger strikes of the early years and the occasional assaults suffered since then, I've done my best.
I'm sorry — better not to be bitter.
My dearest Serge, or Ira, or Abe,
I'm moved by the ability of a human being to survive. I am one of so many organisms which, when sustained by bread and water and shelter, can't but live. But then, to truly survive inside, that is what I would have wanted most of all to teach you.
There is an idea that if you put in 10,000 hours, you will have mastered your art. I've surpassed 10,000 hours, 10,000 days. By now, most everyone who had a part in it has moved on or is gone. The judges and juries, the prosecutors and investigators, the lawyers and journalists. The generations that have taken their place have their own atrocities and injustices. Time can't heal when the wound is neglected, then forgotten.
There is no healing, but I like to think that I have mastered this art of survival. Survival by denying the temptation to die, by not letting myself die inside before my physical body gives out and the sentence is complete.
So when I grieve for everything that is lost — the letters I will never again receive from my mother and father, friendships and family inevitably disintegrated over distance and time, the partnership and parenthood I always wanted — I assure you, life lived somehow for love is life never wasted.
It's a constant choice, second by second. It's a reaching — maybe I can't explain it, but if it can't heal the wound, it can at least cover it. Reaching towards love can keep the wound from forever wounding deeper.
With no one else to reach to, I reach to you.
Now I have only to burn this letter and hope the words make it to the other place, the other time, the what-if-there-was-justice, when you would have existed. You survive inside of me.
My dearest, beautiful unborn,
Life is too long without you,
a
Amanda Knox talks retrial with Matt Lauer, says 'everything's at stake'