Most Americans think of the Maldives as a vacation resort destination — if they think of or have even heard of the Indian Ocean island at all.
But a political crisis is brewing in the country, and British human rights lawyer Amal Clooney, 37, is fighting to reverse the political repression, human rights abuses and rising jihadism there. She's also raising awareness about what's happening.
"U.S. values are at stake. Democracy is at stake," she told NBC's Cynthia McFadden in her first American television interview and the reason behind her recent trip to the U.S. Capitol.
The Oxford-educated attorney was in Washington, D.C. earlier this week, convincing lawmakers to introduce a congressional resolution calling for sanctions against the members of the current government regime in Maldives.
"Democracy is dead in the Maldives," Clooney said. "I mean literally, if there were an election now there would be no one to run against the president. Every opposition leader is either behind bars or being pursed by the government through the courts."
Clooney is representing former Maldives president Mohamed Nasheed, who sits in prison because of a March 2015 terrorism conviction considered bogus by the State Department and the United States.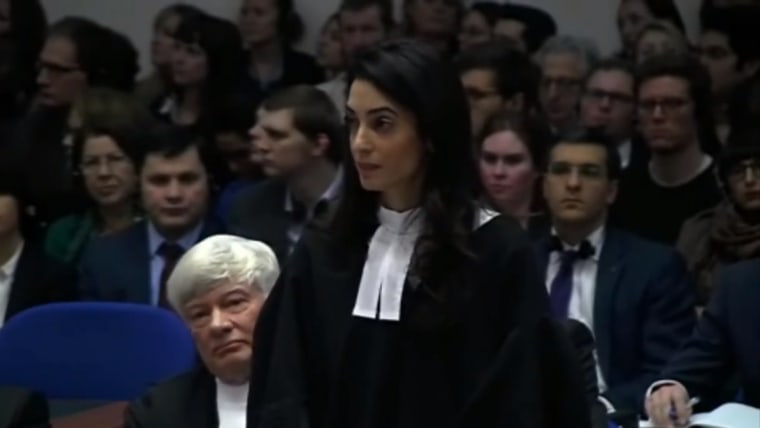 "I think it's important for tourists to know the facts of what's happening in the Maldives," she said. "I don't think people realize that there's a flogging taking place a kilometer away when they're sunbathing in their resort."
The fight for Maldives and Nasheed is nothing new for Clooney, who has spent the last 15 years pursuing human rights. But her work came under a global spotlight after her 2015 marriage to one of the world's biggest movie stars, and formerly elusive bachelors, George Clooney.
Clooney said she's been trying to steer that attention to the work she does.
"I think it's wonderful celebrities would choose to spend their time or energy or the spotlight that they have to raise awareness about these causes," she said. "I don't really see myself in the same way because I'm still doing the same job that I used to do before. So if there's more attention paid, for whatever reason, to that, then I think that's good."
Clooney and her colleagues are pushing for travel restrictions on Maldives leaders and a freeze of their bank accounts until her client is released. She said America needs to pay attention because national security may be at stake.
"At the moment the Maldives has the highest rate of ISIS fighters being recruited from that country per capita in the world," she said. "So if you look at the State Department reports and the U.N. reports, the figures are at least 200 fighters who have gone to Iraq and Syria from the Maldives."
Last September, just days before a trip she made to the Maldives to meet with Nasheed, her client's local co-counsel was ambushed and stabbed in the head. Clooney admits the attack may have been a warning to her.
"I think that's a very plausible interpretation given the timing," she said. "I mean, it wasn't the most comfortable position to be in, but you know, I was determined to go. It meant a lot to me to meet Nasheed, who I had read about and I considered a hero."
Clooney said that's why she's been trying to carefully channel some of the fame that has followed her celebrity marriage to her work.
"I think there is a certain responsibility that comes with that," she said. "And you know, I think I'm exercising it in appropriate manner by continuing to do this kind of work, and engaging with the media on issues that I think are important."
Clooney admitted she knows her mission is an uphill battle.
"If you are a lawyer and you want to take on easier cases you can prosecute traffic violations or something. You'd have a very high rate of success and you probably could sleep more easily at night," she said. "But that's not what drives me. I want to work on cases that I feel the most passionate about."
Follow TODAY.com writer Eun Kyung Kim on Twitter.
Whether playful or professional, human rights lawyer Amal Clooney always stays true to her polished personal style.