Last Sunday was a landmark occasion for 18-year-old Skyler James, and not just because she celebrated graduating from high school.
For the first time, she also got to meet the firefighter who, on a bitterly cold November morning in 1995, found her — a newborn baby — abandoned beneath a snow-laden pine tree in an Illinois cemetery.
"It's so amazing to be able to know the person who saved my life," Skyler told TODAY.com. "Without him I probably wouldn't be here right now."
Bonnie and Greg James of Charleston, Ill., adopted Skyler five days after firefighter Charlie Heflin discovered her under that tree. The couple told Skyler the story of how she joined their family as soon as she was old enough to understand. When Skyler was 5, Bonnie James began searching for Heflin in the phone books of nearby communities, but without any luck.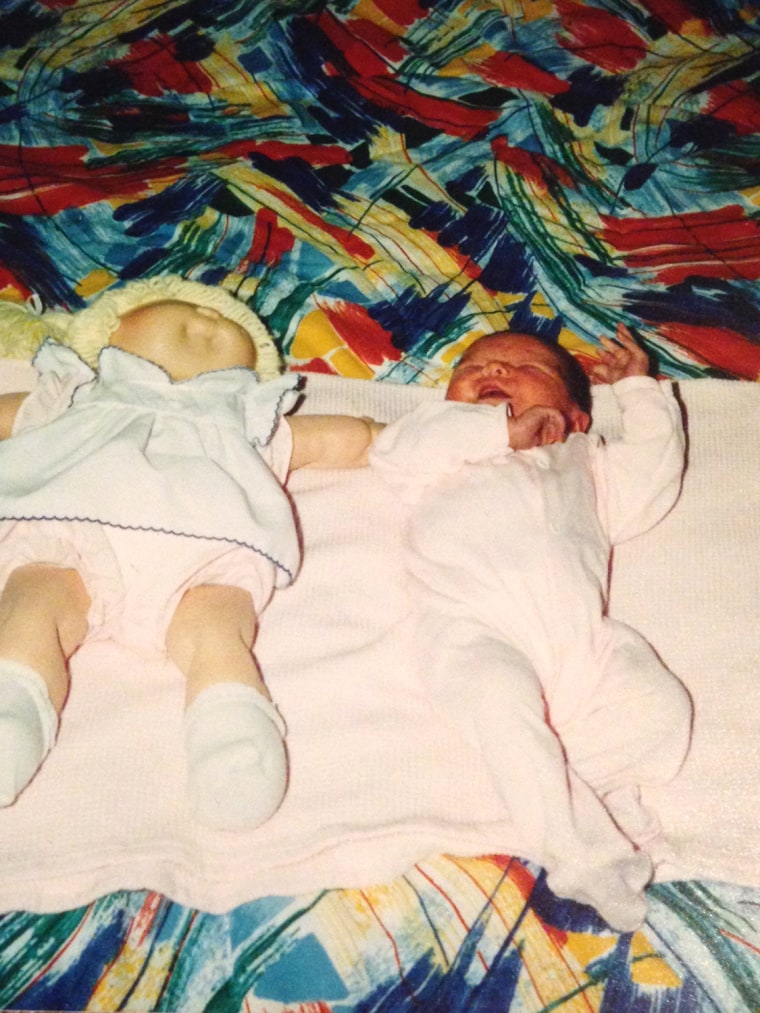 As Skyler's graduation from Charleston High School approached, her mother resumed her search once again through social media. This time she tracked down contact information for Heflin, now a communications specialist, volunteer firefighter and town board president in Patoka, Ind.
Bonnie James, 55, said she could barely keep herself together when she finally called him. She managed to ask the question, "Did you happen to find an abandoned baby?"
When he said, "Yes," each of them could hear the other's sobs over the phone line. Bonnie invited Heflin to come to her daughter's graduation. She knew just how badly Skyler wanted to meet him.
"It's an important link in her life," said Skyler's mother, a critical care nurse who reviewed Skyler's medical record from that day more than 18 years ago. "We know how cold she was, how close to death she was. Fifteen minutes could have made a difference."
Heflin, 45, learned in that call with Bonnie James that a nurse massaged baby Skyler's feet for nearly two hours to make sure she didn't lose them to frostbite.
All those years, Heflin had wondered what became of the baby he rescued that morning. He followed newspaper articles about the child, whose birth mother was never located. Through the press he learned the girl had been placed for adoption.
"Once I handed her off to the medic in the back of the ambulance, that was the last I would see her," Heflin said. "I had no idea what happened to her."
The experience affected him so deeply that he saved the jacket he wore that day and all the articles he found about it. He still remembers the day vividly: Then a volunteer firefighter in Urbana, Ill., he was working that Saturday as a supervisor for a cable company. Snow caused an outage and, though it was his day off, he accompanied an on-call worker to repair cable lines.
The air was so frigid that no one could work in it for more than five minutes at a time, so they took turns braving the elements. While his partner made repairs, Heflin listened to a radio scanner inside the warm truck. He heard that police and fire departments were responding to a 911 call from an anonymous woman who said a baby had been left under a pine tree, next to a mausoleum in Mt. Hope Cemetery.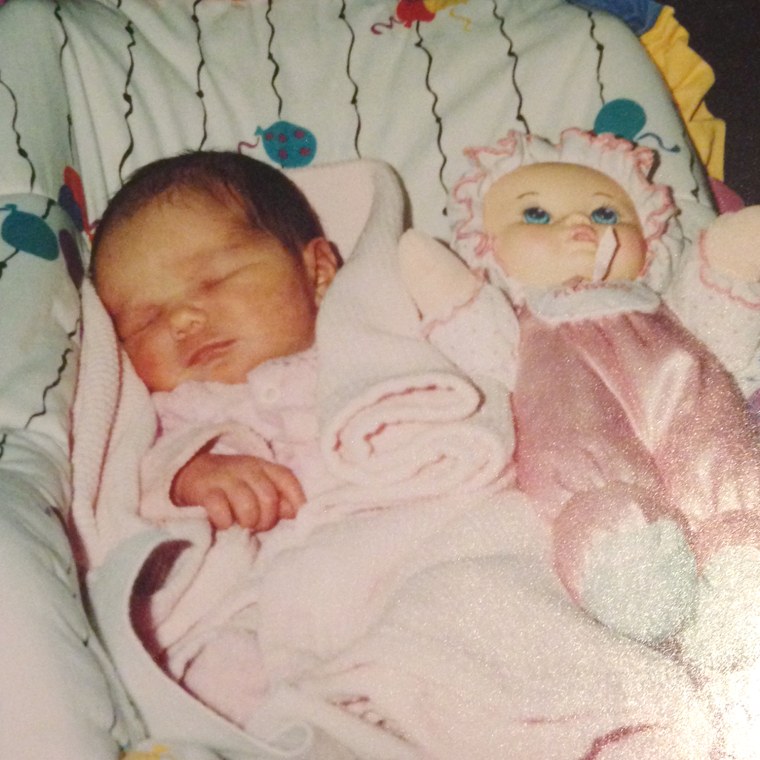 Ten minutes passed, and no baby was found. It occurred to Heflin that the caller might have named the wrong cemetery. Mt. Olive Cemetery was just four miles from where he and his partner were working, so he left his co-worker and drove to the other graveyard.
There, he found a large pine tree near a mausoleum, its branches weighed down with about a foot of snow. He searched around the trunk but didn't see a baby. Perhaps the call was a hoax, he thought. He started walking back to the truck, but then decided to search the tree once more.
"As I approached the tree again, I heard a whimper — a little baby whimper," Heflin said. "My heart sank. I dug through the limbs. There she was, wrapped in a little blanket. I picked her up. She was covered in bloody mucus. She had pine needles all over her face and in her mouth. Her umbilical cord was cut off about two or three inches from her body, tied with a shoestring."
Heflin cleared out her mouth, wiped off the needles and tucked her close to his body inside his coat, running to his truck to get her warm. He drove with one hand and cradled the baby with the other, radioing for an ambulance to meet him halfway to Urbana's Carle Foundation Hospital.
When he handed the baby off to the medic, he assumed he would never see her again. Laws protecting patient privacy meant that even though he knew all the hospital workers, he couldn't get information about what happened to anyone he assisted.
"It was hard to let her go," he said. "I wanted to know what happened with her. I wanted to go with them, but I was so elated that, at least when she left my hands, she was still alive. I was just praying she would make it."
Heflin attended Skyler's graduation ceremony on Friday, but he waited until her party on Sunday to introduce himself and to tell all in attendance the story of how he met her. Skyler said she didn't know who this man was until the story started to unfold.
"I was speechless," Skyler said. "All I could do was hug him."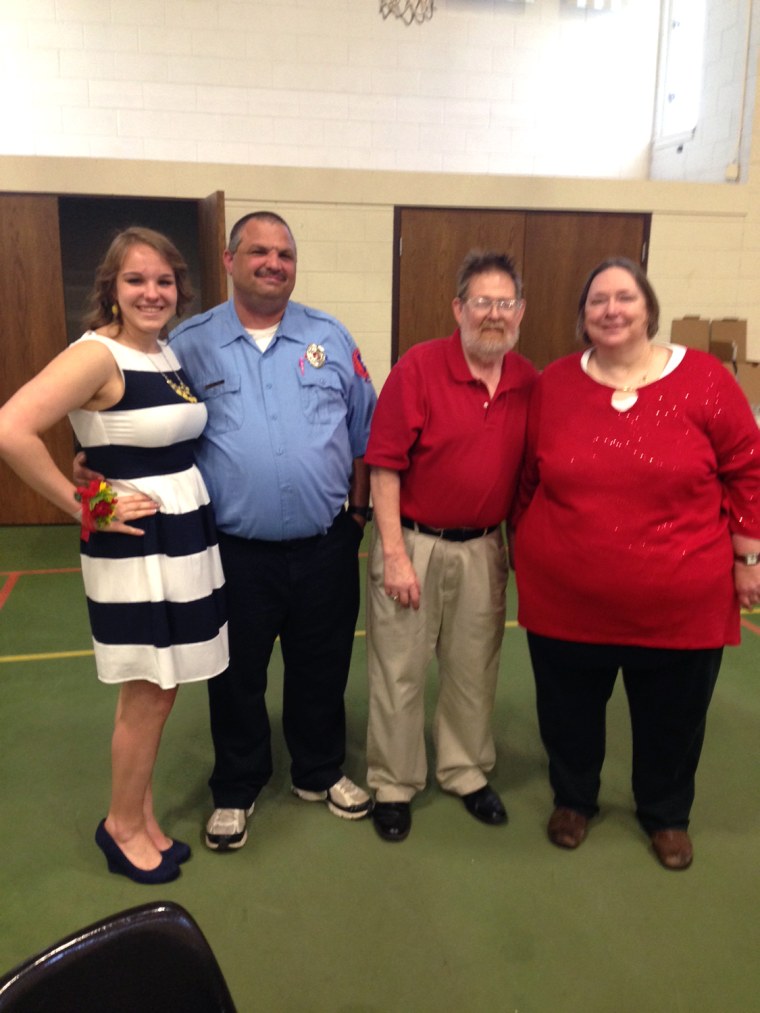 Heflin gave Skyler the jacket he wore that snowy morning 18 years ago. He also handed her a framed collage of her graduation pictures, and another framed collection of articles about her rescue, the citation he received for it, and a fireman's prayer.
Heflin learned from party guests of the impressive young woman Skyler had become — an honor student involved in school theater, choir and her church. She will attend Concordia University in Chicago and hopes to be a minister one day.
Skyler said she and Heflin have been corresponding on Facebook since Sunday and she hopes to keep him in her life.
"My parents always brought me up knowing my story," Skyler said. "I always dreamed of meeting him or my birth mother, or someone who could tell me more of my story."
About 16 months after the James family adopted Skyler, another baby was abandoned – this time in Bloomington, Ill. A baby boy was brought into a hospital by people who said they found him in their car. Today that boy is Skyler's little brother, 17-year-old Nathan.