The former Miss Universe who became headline news for being called "Miss Piggy" by Donald Trump expressed surprise that her name emerged during this week's presidential debate, but said she hopes her story will help solidify support for Hillary Clinton.
Alicia Machado, who won the 1996 pageant when it was owned by Trump, told TODAY's Natalie Morales in an interview that the Republican nominee's routine insults took away her confidence and contributed to an eating disorder she struggled for years to overcome.
"Miss Piggy, Miss Housekeeping, Miss Eating Machine," Machado said of the names Trump called her after she won the pageant. "All the time. That was really normal for him, in that moment."
She noted she was only a teenager at the time.
"You know, with 18 years old, when you are growing up, that was horrible for me," the Venezuelan native said. "My self-esteem (was) on the floor."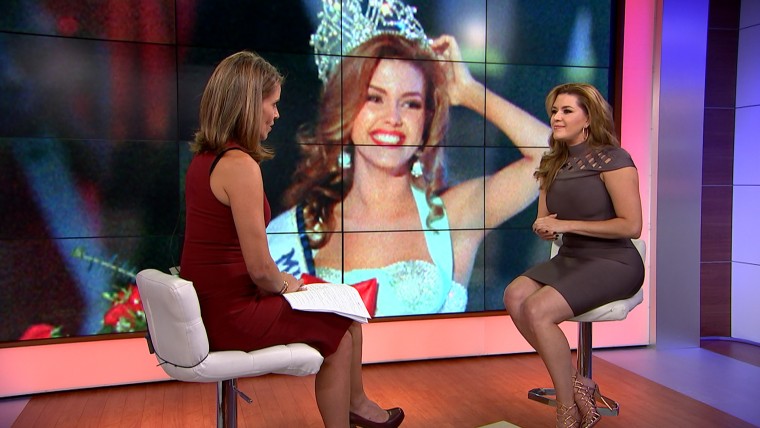 Machado has been an enthusiastic supporter for Hillary Clinton supporter and earlier participated in an ad for the Democrat in which she describes Trump as someone who "bears many grudges and harbors a deep racism."
Still, she said she was surprised when Clinton brought up her story on live national television Monday night during her first debate against Trump.
"Her name is Alicia Machado, she's become a U.S. citizen and you can bet she's going to vote this November," Clinton said, using the story as evidence of Trump's longstanding misogynistic treatment of women.
The next day, Trump went on the attack against Machado
"That person was a Miss Universe person and she was the worst we ever had, the worst. The absolute worst, she was impossible," he said during an interview on "Fox and Friends."
During a 1997 interview on Howard Stern, Trump told him Machado had gained about 55 pounds within a 9-month period.
"She was like an eating machine," said Trump, who once brought camera crews to film Machado exercising.
But Machado said she only gained a total of 18 pounds after her pageant win.
These days, Machado said she thinks about the impact Trump will have on someone like her own daughter if he wins office.
"That same person I knew, I see in each of his speeches and I see it getting worse and I see it even more harmful and even more damaging," she said.