Alex Murdaugh took the stand in his own defense on Thursday in a shocking twist to the trial where he is accused of killing his wife and son, telling jurors he did not kill either of them.
Defense attorneys began their examination by asking Murdaugh if he used a gun to "blow your son's brain out," or to shoot his wife on the night the two died in June 2021.
"I did not shoot my wife or son, any time, ever," Murdaugh testified.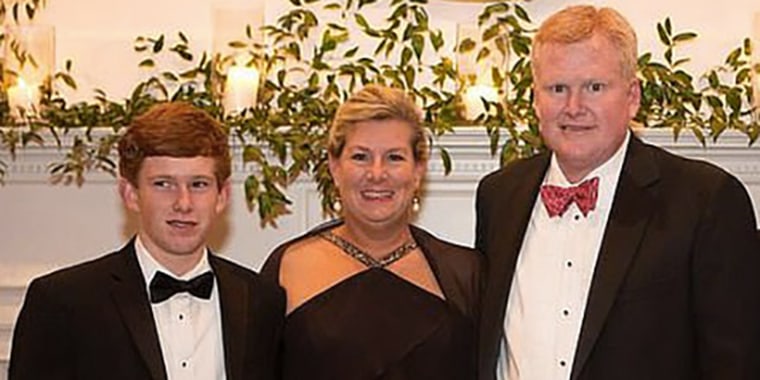 Murdaugh, 54, was charged with two counts of murder in July 2022, about a year after the night he called 911 to report that his wife and son had been shot dead on their family property outside of Charleston, South Carolina. He has pleaded not guilty to the charges.
In Murdaugh's testimony, he admitted to lying to law enforcement about his whereabouts on the night of the shootings. Earlier in the trial, the prosecution presented video evidence of Murdaugh at the family property shortly before the time of the killings.
"As my addiction evolved over time, I would get in these situations or circumstances where I would get paranoid," Murdaugh said, seeking to explain his reasoning for lying to investigators.
Murdaugh entered a drug rehab facility in September 2021 for opioid addiction, just days after authorities alleged Murdaugh hired a man to kill him so his surviving son, Buster Murdaugh, could collect on his $10 million life insurance policy.
Murdaugh used his testimony to apologize to his family for lying to investigators.
"What a tangled web we weave," he said on the stand. "Once I told a lie — then I told my family — I had to keep lying."
But Murdaugh insisted that he would never hurt his family. "I would never intentionally do anything to hurt either one of them — ever," he said.
The former lawyer began to break down when he was describing his relationship with his youngest son, Paul, who was 22.
"You couldn't be around Paul Paul and not have a good time," Murdaugh said, using a nickname for his son. (It was unclear if he was saying "Paul Paul" or "Paw Paw.")
Holding back tears, Murdaugh continued: "You couldn't be any closer than Paul Paul and I, and Buster and I."
Buster Murdaugh is the elder and only surviving son of Alex Murdaugh. He testified in the trial on Feb. 22.
"I love doing anything with Paul Paul," Alex Murdaugh said. "It was an absolute delight."
Later in Murdaugh's testimony, he began to cry again when defense attorneys asked him about finding the dead bodies of his wife and son near the dog kennels on their family property.
"Paul was so — he was so bad," Murdaugh said through sobs. He said he checked for a pulse and then attempted to turn his son's body over.
"I don't know why I tried to turn him," Murdaugh testified. "My boy's laying facedown. He's done the way he's done. His head was the way his head was. I could see his brain laying on the sidewalk. I didn't know what to do."
Murdaugh told jurors he got blood on his fingers when he was trying to tend to Maggie and Paul Murdaugh's bodies, but said he was "nowhere near" his wife and son when they were shot.
"There's no way that I had high-velocity blood spatter on me," Murdaugh testified.
Defense attorneys played a recording of Murdaugh's 911 call, where he is heard saying, "I should have known."
Murdaugh told jurors he was referring to "vile" threats his son Paul Murdaugh had been receiving on social media, which he said the family disregarded because they were "so over the top."
At the time of his death, Paul Murdaugh was out on bail after he was charged with three felony counts of boating under the influence, stemming from a February 2019 boat crash that left one of his friends on board, 19-year-old Mallory Beach, dead. It is unclear if the threats Murdaugh was referring to in his testimony were related to the crash.
Authorities dropped the charges against Paul Murdaugh after the South Carolina Attorney General's Office received his official death certificate, according to NBC affiliate WSAV.
Murdaugh also addressed comments he made on the same 911 call from the night of the killings, where he told the operator he planned to go into his home and get a gun.
When asked why decided to get a gun, he responded, "I don't know," before getting emotional. Murdaugh told jurors he did pick up a 12-gauge shotgun from his home, but loaded it with 16-gauge shells.
"That's not a mistake I would have made under any circumstances other than that night," he said.
He also addressed Google searches and FaceTime calls he made after finding Maggie and Paul Murdaugh's bodies. Prosecutors have said he searched for a local seafood restaurant and checked group messages while their bodies were on the ground.
Murdaugh said they were accidental as he frantically tried to contact family and friends about the murders.
"Obviously, they're unintentional," he said. "I mean, I'm doing something with my phone trying to call people, but I'm not trying to call those people, I'm not doing a Google search for any Whaley's Restaurant and I'm certainly not reading any texts."
Before the court recessed for lunch, Murdaugh revealed he had not spent a single night at the family's property since the murders.
When a defense attorney asked why, Murdaugh shook his head and said: "I couldn't."